Paul Allen has always been a pretty open guy.
The "Voice of the Vikings" is a well-known presence in the Twin Cities and beyond. His voice has been synonymous with games on the Vikings Radio Network for two decades. Allen has called horse races at Canterbury Park for longer and continues to host his 9 to Noon radio show on KFAN.
And although he's a public-facing figure with quite a large platform, he's never shied away from being himself, from being vulnerable. That's not always the case, he recognizes, especially among men.
"I guess I would be classified as an emotional man, where I'm open," Allen said. "I've failed a lot and I guess, professionally, I've succeeded to a certain level. Through all of that, I just know through the people I've met – specifically, men – that when there are problems, or when somebody's hurting, they will internalize."
He noted that some people may look at his professional accomplishments and experiences and assume, "He has it all figured out. [His life is] fantastic." It's important to look beneath the surface, though.
"It is [wonderful]. But along the way, there's been a lot of turmoil, and there's been a lot of pain," Allen said. "I've been a man who, I'm not afraid to open up, and I'm not afraid to talk about things that are hurting me. And it has benefited me all of my life.
"I'd say over the past couple of years, I just became more at peace and more comfortable with who I am as a person – more than 'PA' – and everything that goes into it," Allen later added. "I'm a pretty black-and-white individual, there's not much gray area with me, and sometimes that can be to a fault. Because you can overshare – whether it's about me or trying to help somebody – and not everybody's used to that. Specifically, men. It can get a little awkward, but by faith, I know the way I'm doing it is the right way to live."
Allen's faith plays a significant role not only in his everyday life but in maintaining his mental health.
Studying the Old and New Testaments of the Bible, he said, has provided a certain lens with which he sees the world.
"What's right in front of us now, it's awful. A lot of it is so awful, physically, for so many. Mentally for so many," Allen said. "But if you go back [in history], it was worse. And here we are still professing the Bible. … So it helps me stay at peace – not by convenience, but by faith. … And it helps me put things in perspective."
---
---
Saddened for what we were missing
That's not to say the past 13-plus months haven't presented challenges for Allen.
The COVID-19 pandemic has affected everyone around the world – some more than others and certainly in different ways, but the impact is undeniable.
For Allen and the entire Vikings organization, the pandemic drastically altered the look of the offseason, team practices and game day. The team significantly reduced travel groups as part of the NFL's safety protocols, meaning that Allen called road games using a live-feed monitor at U.S. Bank Stadium rather than in-person.
He recalled Minnesota's first road game of the season, Week 2 at Indianapolis, and acknowledged a slew of errors.
"I made more identification mistakes in the first half of that game than I'm going to make in 10 years. I'm very prideful with pronunciation, preparation and just laying things out the way I think the audience wants to hear it," Allen said. "[But] after I tightened that up and got things good, I feel the calls of the games [using the] TV were up to my standards. Which are incredibly high."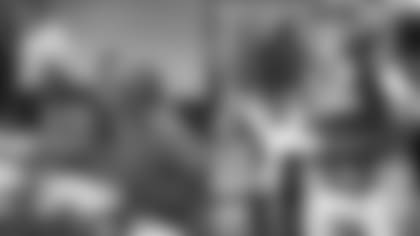 The double-edged sword of the situation, though? Allen found himself enjoying the convenience a little too much after 19 seasons of weekend travel schedules and late-night return trips before early morning radio appearances.
Throughout the 2020 season, Allen got into a routine of arriving at U.S. Bank Stadium for road weeks, calling the game off the screen and being home in time to mow the lawn before dusk.
Allen experienced some level of guilt for feeling "too comfortable" with the modified arrangement but simultaneously struggled with missing the usual experience.
"It's not just being able to see the full field from the road stadiums or feeding off the road crowds – it's everything that goes into it working with the team. … Sitting on the busses for a long amount of time, the tarmac. Getting up early to get to the stadium three hours early. A lot of it can be a grind, especially [if] the team's not winning. But it's our grind. It's the team grind. And we're all doing it together.
"What I really love and adore is the intimacy and personal contact of being part of that team. And it was gone. I understand why it was gone, but it doesn't mean it felt good." - Paul Allen
Allen, like many, navigated a more isolated environment where the main method of connection was virtual.
Postponed were the days of spending time getting to know the Vikings draft picks – he has yet to meet Justin Jefferson – or conducting in-person interviews. He yearned for the small, behind-the-scenes conversations in the locker room following games or practices.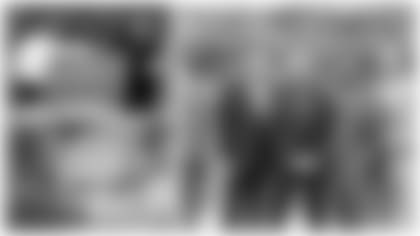 And he deeply missed the atmosphere at U.S. Bank Stadium.
"I was sour at the end of the year," he said honestly. "I mean, those home games with nobody in [the stands] – and again, we completely understand why – were just awful. It was just awful. The home games were more difficult than the road games because I just became saddened … for what we were missing.
"[But] taking hits like that, that's me," Allen continued. "Other people are taking job-related, health-related, financial-related hits all throughout the year. And the physical damage COVID has done, that's obvious, and people can see that."
Allen shared his firsthand journey with COVID-19 and how the experience has left a lasting impact.
On Feb. 28, Allen's longtime partner Lisa – "the love of my life" – tested positive for COVID-19. By the following day, Allen; Lisa's brother, Jimmy; and their 81-year-old mother Armeny, who was battling cancer; also tested positive.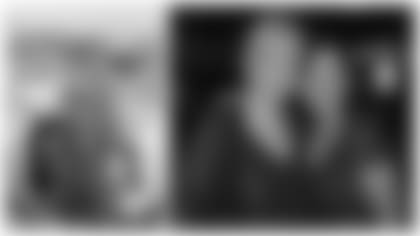 The fatigue symptom hit Allen the hardest. And for those who know him, it's nearly impossible to slow him down.
"It was like a freight train just rolled me over. I mean, people were texting and/or emailing. I'd look at it and I couldn't respond – I was just wiped out," Allen recounted. "Lost taste, lost smell, no respiratory problems – thank heavens."
The usually energetic individual found himself unable to do any of his day-to-day activities. Exhaustion interrupted his regular prayer and Scripture time, and even watching TV or looking at his phone seemed too difficult. Rather, he spent two days sleeping 16-plus hours in the living room recliner.
On Day 3, Allen and Lisa headed to her mother's house, where Allen read Bible verses to a rapidly declining Armeny.
"Then I go to leave, I get in my car, and I can smell. And I can taste. And my fatigue is gone," Allen said. "I had COVID [for] 40 hours. And thank heavens, however you want to look at it, I only had it 40 hours. Because two days later, Lisa's COVID became COVID pneumonia, and she ended up in St. Joseph's Hospital in St. Paul for eight days."
With Lisa unable to receive visitors due to safety protocols and no longer able to care for her mother, a hospice team proposed to Allen a 24-hour care service for Armeny. He ultimately declined, however, feeling his heart tugged to provide care himself.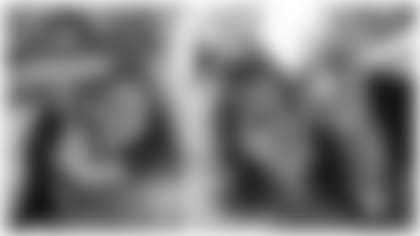 " 'I believe I got healed to be here to guide this woman to the end. And that's what I'm going to do,' " Allen said. "Not surprisingly, KFAN and the Vikings were awesome during that time."
For the next week, Allen and Jimmy spent nearly every full day at Armeny's side. Allen offered support from all angles, whether helping her FaceTime with Lisa, praying with her, helping to unlock her jaw to keep her hydrated or getting her to smile and laugh.
Armeny passed away peacefully on March 14.
"[Having] the responsibility of providing comfort and care for a woman who was dying … is the greatest honor ever bestowed upon me in my life. That's the only way to put it," Allen said, his often-velvety voice thickened with emotion.
He called the experience "impactful, meaningful and unbelievable"; it doesn't seem an exaggeration to say that week spent with Armeny – while unable to be with Lisa – has altered Allen's outlook on life.
"I'm a person who's non-confrontational, and I'm generally at peace. But this elevated it," Allen reflected. "So I guess that's the serendipity of it. Somebody died, and her daughter couldn't be there with her, and through it all – thanks to the honor bestowed on me – I look at things with more patience. And I look at things with more grace. Because I've had so much given to me in my life that I'm not worthy of, and I was not worthy to be in that position. But I was put it in, and I came through. So that's impacting my relationship with other people in positive ways."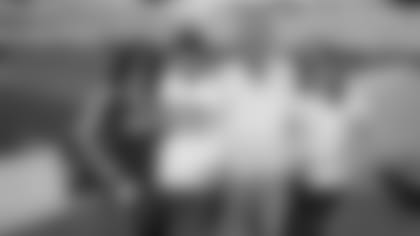 As Allen moves forward and, like the rest of us, anticipates what the 2021 Vikings season might look like and awaits the end of a global pandemic, he'll continue to be open about his thoughts and feelings.
He encourages others to do the same.
"I'm not going to pigeonhole just men with this, but for a lot of men, to open up and say that they're struggling, and it's more than obvious things – 'I took a pay cut.' 'I'm check to check.' 'It's really difficult to pay the bills' – all of that is real, and all of that counts," Allen said. "But [it's sometimes even] deeper, and the pandemic year has, whether it's drug-abuse, alcohol, [health and employment challenges], all of that. That hurts people. And some people are too prideful to find somebody with whom they can chat about it.
"So just taking that first step – it doesn't necessarily have to be counseling or therapy, maybe it is," he continued, "but just opening up to people and taking that little step, it seriously is one tiny step for you but a massive step for mankind if a lot of people do it."
---
---
You are not alone. If you or a loved one are struggling today, please reach out for support.
National Suicide Prevention Lifeline: 800-273-8255
NAMI (National Alliance on Mental Illness): nami.org
This is the 11th installment of our Getting Open series. Check out earlier features and keep an eye on the Vikings digital platforms for upcoming features: