Tony Richardson's time in Minnesota was, as they say, short but sweet.
After signing as an undrafted free agent with Dallas and then playing 11 successful seasons for Kansas City, Richardson in 2006 swapped the Chiefs Red for Vikings Purple.
The fullback signed a two-year deal with Minnesota, saying it "just felt right," but fully intended to hang up his cleats after that contract.
"My first year, I had an injury and was out part of the year. The second year, we brought this guy in by the name of Adrian Peterson," Richardson smiled, pointing over his shoulder to a framed photo of the former teammates at the 2008 Pro Bowl that hangs on the wall of his apartment in New York City.
"AP is literally like taking an older dog who starts slowing down a little bit, and you get him a puppy. I got me a puppy," Richardson quipped. "He gave me life, just to be able to see a young man that gifted, to be able to work in the community [with him] – it was a great opportunity."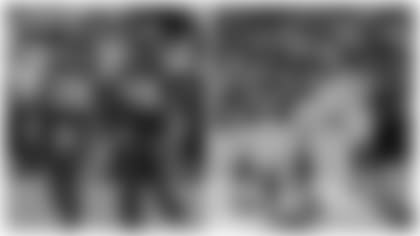 The first-round pick revitalized Richardson, who helped Peterson rush for 1,341 yards and 12 touchdowns as a rookie, and he went on to play three seasons for the Jets before retiring.
The offseason that followed Richardson's final season included the 2011 NFL lockout, a work stoppage that lasted from March 12 to July 25. He served on the NFL Players Association during a time that proved trying both mentally and emotionally.
Richardson took some time away from the league to "clear [his] mind" and figure out what was next. After a brief respite, though, he knew he wanted to remain connected to the NFL family. He welcomed an opportunity to join the NFL Legends Community, where he serves as a coordinator for the northeast division.
"I was thinking to myself, 'You know, I kind of wish I had someone who pulled me through that transition.' One thing in life we realize: We're always transitioning. You know what I'm sayin'? If you're 80, if you're 90, there's some transition of some form in your life, and the more people that you can have around you, the easier that transition is going to be," Richardson said. "The number one thing is making sure our guys are doing well after football and [helping them] understand the power of the [NFL's] Shield and the opportunities they can have by staying connected with their NFL clubs."
Richardson also works closely with an organization called Merging Vets & Players (MVP), a support group founded by Jay Glazer and Nate Boyer for military veterans and former NFL players.
The nonprofit is near and dear to Richardson's heart, not only due to his football background, but also because his father and sister served in the U.S. military for 32 and 28 years, respectively.
Richardson pointed out the potential identity crises associated with retirement from both careers.
"I saw my dad transition, being an alpha male and being somebody in a leadership position, and having soldiers everywhere he went saluting him, and suddenly he comes home and my mom's not saluting," Richardson said with a chuckle. "So I saw him kind of go through that transition of, 'What's next?' Nate actually served with Pat Tillman … [Nate and Jay] started to see that veterans and professional athletes kind of go through that same type of loss of identity, trying to figure out what's next.
"Doing something at the highest level, and all of a sudden – boom! – it's over," he added.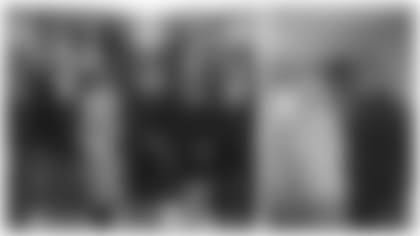 ---
---
Leading a new type of huddle
Whether working with the NFL Legends Community or MVP, Richardson's consistent focus is mental health awareness, resources and support.
MVP's model is a 30-minute workout followed by "The Huddle," a supportive peer-to-peer talking and listening session.
"A true huddle, like you have in football, and you just talk. You share," Richardson explained. "It's unbiased; there's no judgement, there's no politics, we don't force religions. We really don't force opinions unless someone asks for [specific] help.
"It's just an open opportunity to sit and just talk," he continued. "Because I think as men – and as women, because there's servicewomen, as well – we harbor this stuff."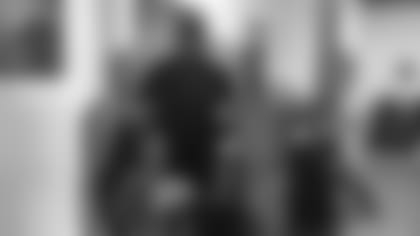 Richardson noted that, just as a physical injury is treated, mental illness or trauma should be met with a dedicated approach.
"I think what our society has kind of raised us to say is, 'When you're hurt inside, if you're feeling lonely, if you're feeling sad, you've got to toughen up. You've got to build that scar tissue and just keep going.' And in life, you can't do that." - Tony Richardson
"You cannot go through life building that up. Eventually, build up, build up, build up, and there's going to be an overload," Richardson said. "And unfortunately, bad things [sometimes] happen."
Due to the COVID-19 pandemic, Richardson has helped launch hybrid Huddles from New York to Seattle that combine in-person and virtual participants.
MVP has become like family.
"I look forward to it. People share wins, and they also share [challenges] they need to talk about," Richardson said. "And I when you have that community, it's like having 60 therapists anytime you need them."
Therapy is something Richardson truly believes in when it comes to maintaining – or improving – one's mental health.
Within the Legends Community, he works closely with NFL Vice President of Wellness and Clinical Services Dr. Nyaka NiiLampti to provide resources and support for retired players. And mental health professionals are always a part of the MVP Huddles, as well.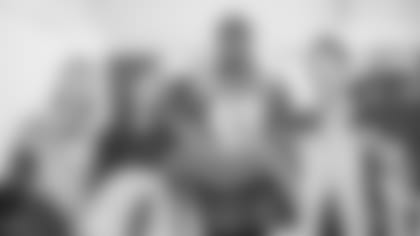 "I'm so glad that we're able to talk about mental health," Richardson emphasized. "Before, there was such a stigma. If somebody had a therapist or you said you were seeing a therapist, people would put you in a corner like, 'Oh, something's wrong with him.'
"Just like if I go to the gym and do bicep curls, I'm building my bicep muscle. If I'm doing squats, I'm building my quads. You definitely have to keep working on your mental health," Richardson continued. " 'Mental health' is not a bad thing. Mental health is mental health. Can there be mental health disorders? Of course. But the more we get out in front of it and the more we can say, 'Hey, I'm not actually doing so well today. Hey, I actually need to talk to someone.' That's when we really can start to make a difference in our society."
---
---
'It wears on you. You hurt.'
Life can be difficult for anyone at any time, and these past 12-plus months have certainly accentuated that for many.
The COVID-19 pandemic has caused financial insecurities, social isolation and the death and long-term illness of loved ones.
"Even within our NFL family, we've seen the tragedies week-in and week-out," said Richardson, who referenced former Jets receiver Al Toon's daughter being killed in front of her 8-month-old daughter. "That's some real heavy stuff. … It wears on you. You hurt for him. You hurt for that family. You hurt for that community."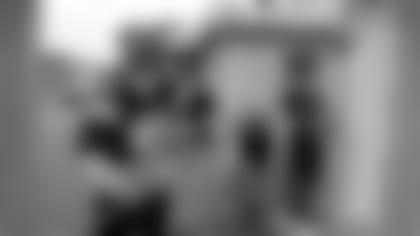 The murder of George Floyd in Minneapolis last May shined an even larger spotlight on police brutality and race relations across the country. Although a majority of the resulting protests were peaceful, pockets of increased violence also affected cities.
"The Black Lives Matter movement – did it directly affect me in my day-to-day life as far as the streets? Yeah, when I could look out the window and see that," he later added. "And when you see people who are angry in the street, all of a sudden – even if I'm not out there marching – I still feel that. I still feel that weight and feel their pain."
Having a professional to speak to during tumultuous times is imperative, Richardson said.
"There are times where I almost don't want to turn the TV on because I'm afraid of, 'OK, what's going to be the news of the day?' " acknowledged Richardson, who also is a spokesperson for youth in the antibullying space. "All that stuff preys on your mental health. I'm glad we're able to get out in front of it, to talk about it and share that [dealing with] mental health [challenges] is OK. It's OK to have a therapist; it's welcome to have a therapist."
Living in an NYC apartment throughout the COVID-19 shutdown, he said, has not been easy.
"Some days it felt like the walls were closing in," reflected Richardson.
He utilizes meditation, yoga and bicycling as ways to unplug and focus on his mental health.
And although he's thankful for the companionship of his dog Rambo, Richardson also is thoroughly grateful for regular conversations with his therapist.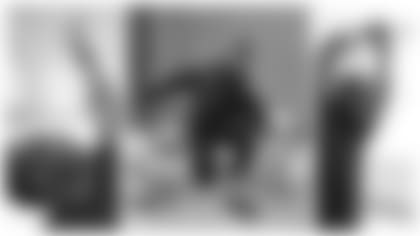 He encouraged others to "just drop the stigma" that might deter people from seeking mental health support.
"I can talk to Rambo, but he's not going to talk back," Richardson quipped. "I would tell anyone, it's healthy. And it's needed. [Even if] you're married, sometimes your spouse might not be that person. Because you might be sharing some things that you just need to work through [personally]. So just having somebody to talk to and having somebody that's trained in that space, I think, is really, really helpful."
A year-plus of a global pandemic has provided Richardson plenty of reflection and processing time, and he's continued to "pull back the layers" with a new therapist since early in 2020.
"You start thinking, 'Man, maybe the things I'm dealing with at age 49 [is the result] of something I didn't address when I was 3.' You know what I mean? All of that goes hand-in-hand," Richardson said. "So I would tell anyone that's hesitant about seeing a therapist, 'Just go for it.' It's the best thing I have going on in my life, and I wish I would have done this a lot earlier."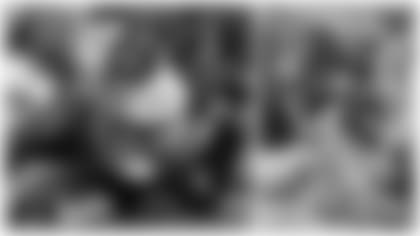 In the 11 years since Richardson last played in an NFL game, he's been pleased to see the stigma around mental health slowly but steadily breaking down in society and, specifically, professional sports.
He offered praise for the league's emphasis on mental health, pointing out that the current Collective Bargaining Agreement that passed in 2020 requires teams to have a mental health clinician and psychiatrist on staff.
And if it was up to Richardson? He'd make regular, brief counseling sessions mandatory for players.
"I applaud the NFL because it's a thing that we should have been doing a long time ago," he said. "We play a sport, and I know for a fact, the day I signed my first NFL contract was the day they were already trying to replace me. That's just the nature of how our business goes. But I think we owe it to these young men who come into the National Football League to not just build up their football body but build up their overall body."
"So I'm so glad that the NFL is out in front of it, I'm glad the teams are supportive. Now we just have to get more players to understand that it's OK to say, 'I'm not OK.' " - Tony Richardson
It's easy to think that professional athletes have it made. After all, they have celebrity status, fan followings and finances to deal with life's lemons, right?
"More money, more stress. And people do think, 'If you have a lot of money, you can solve all your problems.' When actually, a lot of times, the most successful people are the loneliest," Richardson said. "You isolate yourself, and you climb that ladder, and as you climb, you're weeding people out. And all of a sudden you get to the top of that mountain, and there's no one there. You're left to yourself and it's like, 'I have no one to really talk to and no one to share with.'
"[Mental illness] doesn't discriminate. It's not a Black problem, it's not a white problem, it's not a Hispanic problem. It's a societal problem," he continued. "We have to continue to be open and understand that there's a lot of people out here who are hurting, and [oftentimes] when people are hurting, they hurt people."
Take time for yourself, Richardson reminded, but also check in on your loved ones. Your coworkers, your parents, your siblings, your friends. Make sure your neighbors know they're valued.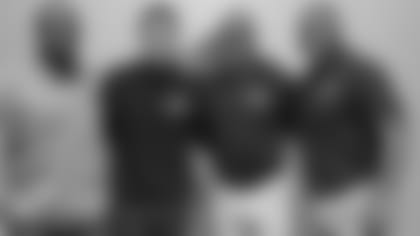 The three-time Pro Bowler challenged those reading to check on two or three people a week, whether through a text, FaceTime or phone call.
"And don't let them give you, 'Oh how are you doing?' 'I'm doing great' and just keep moving. No, ask them, 'how are you really doing?' Richardson said. "I think when people know someone really cares about them, they know there's another day that they can live. We've unfortunately seen people take their lives, and we need to get our arms around that."
---
---
You are not alone. If you or a loved one are struggling today, please reach out for support.
National Suicide Prevention Lifeline: 800-273-8255
NAMI (National Alliance on Mental Illness): nami.org
This is the 10thinstallment of ourGetting Open series.Check out earlier features and keep an eye on the Vikings digital platforms for upcoming features: