Jalyn Holmes recognized that he needed help.
Drafted by Minnesota out of Ohio State with the 102nd overall pick in 2018, Holmes knew he'd be better able to face 300-pound offensive linemen – and all the other challenges for an NFL rookie – if he first faced his personal struggles head-on.
For years, he'd felt there was something different about the way his mind and body reacted to certain situations. He recalls experiencing things in his hometown of Norfolk, Virginia, that no middle schooler should have to experience, from losing people he knew to gun violence to witnessing everyday trouble and injustices at his school.
"Growing up where I was from, you would see people you go to school with get shot. Guys were going to jail for shooting classmates," Holmes said. "It was kind of the norm. We were going to funerals for our classmates. Some guys were selling drugs, some guys were in gangs – I couldn't even make a big deal of it because it was such the norm.
"It wasn't [abnormal] for me to watch the news, and a 16-year-old had been shot, and it's like, 'Oh I knew him. I played football with him.' Or 'I had class with him.' It got to a point where that's just what happened."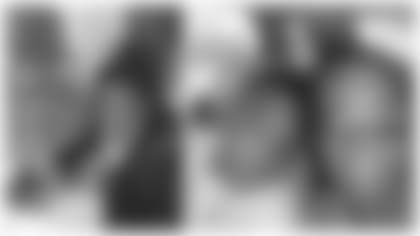 Through the years, Holmes noticed how easily he became overwhelmed. His thoughts raced, tumbling over and over like clothing in a dryer, and it seemed no matter what he did, he couldn't quiet his mind.
"Small tasks seemed like such huge tasks," Holmes explained. "I could be at football practice, then something could pop up family-wise, and it starts to kick in, and suddenly going to get a haircut seems like the toughest thing to do.
"And when I first started struggling with it, I didn't know what 'it' was." - Jalyn Holmes
He would later be diagnosed with an anxiety disorder.
"That's not something you get taught at school," Holmes said. "I never really had people tell me about the symptoms or [anything] about mental health.
"As I grew as a person and grew as a father, as a man, I started to acknowledge the things that were making me feel different," he continued. "And I just tried to attack it, really, from there."
Holmes, 25, has dealt with varying levels of anxiety and, at times, periods of depression. But it's the anxiety he defines as an "everyday battle" that he's steadily learning how to control.
"When it really got brought to my attention and I knew I had to act on it was when I got to the NFL," he said.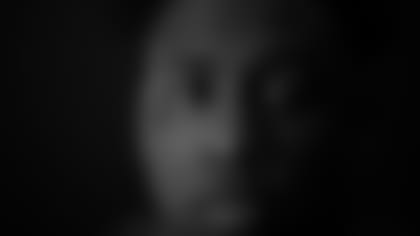 "When I first got to the League, I didn't know what – there was so much going on. I was in my own head," Holmes explained. "I'm an overthinker. I overthink every day. And that sometimes is a blessing, and other times it can definitely be a curse. When I first got to the NFL, I had no way."
Football has often been an outlet for Holmes, a healthy conduit of stress relief where he can "leave [my worries] in the car" at TCO Performance Center. But the same passion can other times create immense pressure.
It's not uncommon for professional athletes to feel the burden of being pulled in several directions at once. It goes without saying that the NFL carries with it an image, expectations and a paycheck. Then there's the roller coaster that comes with wins and losses, and the navigation of unforeseen roadblocks … like a worldwide pandemic.
"A lot can be happening at one time, and everybody comes to you," Holmes said. "Sometimes you forget to take care of you. A lot of times when I'm game-planning, practicing, rehabbing, family – everything's coming at you at one time, you try to attack everything at one time, but then you look up and you're overwhelmed."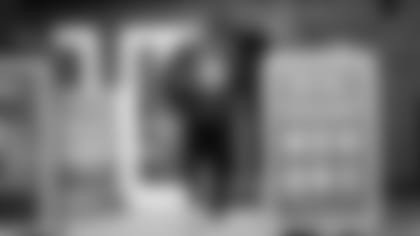 "I break down. I don't know what to do," he said. "I turn my phone off, I've got an attitude with everybody, and then I snap back out of it. I never [used to know] what that was. And then I went to therapy, and my therapist was like, 'Bro, that's anxiety. You've gotta deal with that.'
"Especially with guys in the NFL or athletes [in general], you've gotta deal with those things," Holmes emphasized. "A lot of us are the heads of our family, and you can't forget to take care of yourself because you're taking care of so many other people."
He's been thankful for his mom and dad, who stepped wholeheartedly into parenthood at a young age and have provided unwavering support over the years. And Holmes also has embraced professional resources in the specific area of mental health.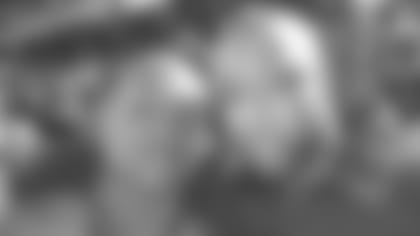 Just as if Holmes would work with the Vikings medical staff if he suffered a physical injury, the defensive lineman has incorporated therapy into his regular routine. Talking about his experience with mental illness – and helping to raise awareness for others – is what's been most helpful for him.
Generalized Anxiety Disorder affects 6.8 million adults in the United States (about 3.1 percent of the country's population) in any given year. According to the CDC (via the National Alliance on Mental Illness), mental health disorders account for more disability that any other illness, including cancer and heart disease. And yet, many strive to manage these disorders in isolation.
Vikings team clinician Brownell Mack, PsyD, LP, emphasized the stigma that persists around mental health.
"People can see physical disabilities or perhaps the symptoms of chronic or acute illness on the outside. So if those difficulties are recognizable, we tend to have more empathy for them," explained Mack, who also operates a private practice. "The mental health issues, of course, tend to be more invisible, and people will tend to suffer with them silently because they may, on some level, believe that those difficulties aren't as legitimate as physical ailments or challenges."
"I think we have unfortunately set up a dynamic in our society where people feel like they have to go at it alone if they're struggling with something that is more emotional or internal." Team clinician Brownell Mack, PsyD, LP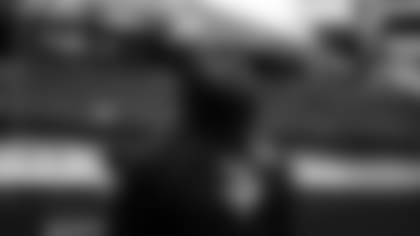 It's for this reason that Holmes frequently posts about the topics from his personal Instagram account, @jayholmes_ and shares resources from outlets such as The Depression Project.
If Holmes' messaging helped just one of his 31,500-plus followers on Instagram, he said, it would be worth it.
But his efforts have already impacted so many more. It's not uncommon for him to receive comments or direct messages from people who can resonate with the content, and he understands the difference something that simple can make.
"Once you've found people who can relate to the same things you're going through, it makes it a little easier. You don't feel as crazy," Holmes said. "Sometimes you feel like you're going through this big anxiety battle, or whatever mental health battle you've got going on, and you think you're the only one who's going through that.
"When you hear somebody else share the same things, it's like, 'Oh, I'm not crazy. I'm not trippin'," he added. "You can share those different stories, and it honestly helps."
One of those people in Holmes' life has been former Ohio State teammate Tracy Sprinkle, one of Holmes' closest friends and the godfather of his 2-year-old son, Jalyn II.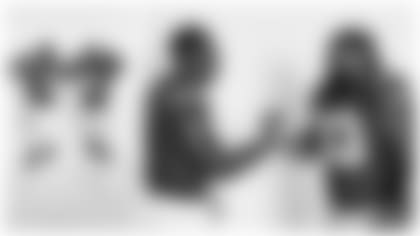 Sprinkle struggles with anxiety, as well, and the pair has developed an even closer bond through their shared experience.
"We both have been battling this together, in a way," Holmes said. "Some days his anxiety will be going a certain way, and he'll tell me, 'Bro, I'm struggling right now. I need help.' And then it's vice versa. I'll tell him, 'Today is not a good day, Man. I need some help.' "
A willingness to be vulnerable has been key to Holmes' recovery.
"Once you've got people that you can trust and you can talk to, be completely vulnerable with them. They can help you. You can't do this all by yourself," he encouraged. "I had that mentality, 'I take care of my family, I take care of my son, I take care of so many people.' I have two businesses, I have people who work for me, and you've gotta be 'The Guy.' But sometimes, you've gotta lean on someone else. I'm blessed to have friends that I can do that with."
Asked if he believes there's a stigma surrounding mental illness throughout society and, at an even deeper level, among athletes, Holmes offered a knowing smile and emphatic nod before even hearing the entire question.
"Yes," he said. "No question."
Although discussions around mental health are becoming generally more and more accepted, the stigma surrounding a mental health diagnosis persists, and it does so even stronger within particular populations.
According to Mental Health America, more than 6 million men suffer from depression per year and more than 3 million men have a panic disorder, agoraphobia or other phobia. And yet men also are less likely to acknowledge or talk about such a disorder than women.
"Anecdotally … men are more likely to deny the threat of mental illness and to rely on personal resolve to overcome problems or personal challenges," Mack said. "We do know that help-seeking patterns are a little bit different between men and women. Women are more likely to seek help and at earlier stages. Men seem to endorse this idea that you can tough it out and, again, not wanting to signal any signs of weakness; they may identify closely with being providers and protectors of women and children, which means that they are going to be less-inclined to remove themselves from those roles to seek help or to even acknowledge that they might be struggling with something on an emotional level."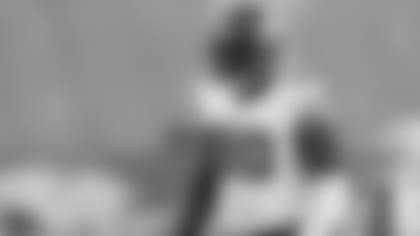 Holmes, along with other athletes across pro sports, are working to break down those walls.
Five-time NBA All-Star Kevin Love has shared his personal struggles through The Players' Tribune, and fellow All-Star DeMar DeRozan has opened up about similar experiences.
In September, Cowboys quarterback Dak Prescott disclosed his bout with depression following his brother's tragic death. The Hayden Hurst Family Foundation was founded in response to the Falcons tight end's battles with mental illness, which included a suicide attempt in college, and Vikings running back Alexander Mattison has worked to educate himself and others on mental wellbeing.
Individuals across the country and likely the world have been positively impacted by these athletes sharing their stories, and Holmes also hopes to make a difference.
"Especially being an African American athlete, within our community that's not talked about at all," Holmes said. "I had a conversation with my dad about it. We were at dinner [recently], and we were just talking about being vulnerable, gender roles, masculinity, all of those different things. Those are not conversations that are had, you know, in a lot of these inner cities around the country."
Mack confirmed Holmes' observation, saying it's "backed up by research and … clinical wisdom" that's been accumulated over the years.
"[Jalyn] is on to something important," Mack said.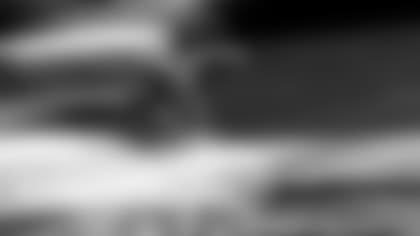 He pointed out that historically, the Black community hasn't had equal access or opportunity to mental health professionals. There also can be a problem of distrust if a Black man or woman has previously experienced being misunderstood – or mistreated – by a white individual, being that whites make up the majority of mental health professionals.
"The Black community tended to rely on more indigenous forms of helping and healing to get by. There is a strong survivor's ethic," Mack said. "The expression 'You keep on keepin' on,' that's really an expectation. [The message that] maybe the only way, sometimes, to cope with difficulty is to put your head down and keep fighting and not to feel sorry for yourself or expect that anybody is going to come to your rescue. Also, a belief that it's not safe sometimes to reveal your vulnerability."
Holmes believes strongly in the positive impact that he and other athletes can have by sharing their stories.
"When you've got Dak Prescott and myself … who are talking about it, look who's watching our every move: [kids] watch everything that we do," Holmes continued. "They try to dress like us, they try to act like us on the field – everything. Now [maybe they'll] try to mimic you being vulnerable, talking about the things that you do. That only helps them, and that helps give them an advantage at an early age."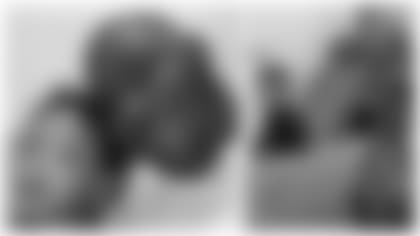 Through self-care that has involved seeing a therapist, meditation, and intermittent and intentional breaks from social media, Holmes has learned to cope more effectively with anxiety and in turn has become a more focused athlete, businessman and father.
"It's definitely made me more gentle … my son, he's my best friend," Holmes said with a smile. "He just got his first haircut recently. [I make sure to say] encouraging words to him all the time, doing different things to be those small building blocks that add up, to where he can be strong – and not just physically."
Just like an NFL season, Holmes still has ups and downs.
"There's times where I can get overwhelmed … and there's times where I'm good and I can get things done," he said. "I'm a perfectionist, in a way, so certain things have to go a certain way, and sometimes anxiety can have another plan for you."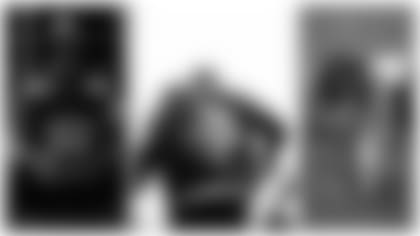 But even in the tough moments, he's proud of his progress, optimistic about his future and excited about helping others along the way.
"I just feel like, if I can share as much helpful information as I can, and if I can help one person, [they might say], 'OK, I know Jalyn. I see him.' … and it just helps people feel more comfortable," Holmes said. "And that's what I want. I want to normalize talking about mental health and not seeming like you're crazy. 'Crazy' and 'mental health' get put together too much, and that's not it because, if that's the case, then all of us are crazy.
"We're all dealing with it [in different ways]," he added. "I just want to normalize the conversation."
Continue following Jalyn Holmes on Twitter and Instagram as he shares additional resources, including a podcast coming later this spring.
You are not alone. If you or a loved one are struggling today, please reach out for support.
This is the first installment of our Getting Open series. Keep an eye on the Vikings digital platforms for upcoming features.