John Randle no longer dons his No. 93 jersey on Vikings game days.
He no longer applies the Batman-esque eye black – except for an occasional hype video – and he doesn't have much need for the calculated and creative trash-talking directed at opposing quarterbacks.
But make no mistake about it: Randle remains very much a part of the NFL family.
The Hall of Famer still lives in Minnesota, where he relishes family time with his wife, Candace, and the couple's twins, Ryann and Jonathan – and is a regular at golf courses around the state. He also proudly serves as one of five directors for the NFL Legends Community, an organization that launched in 2013.
Randle focuses on the "central north" region of the country, engaging with former players from all teams and backgrounds. He reaches out to players who are entering the post-football world, checking to see if there's anything he can do to ease that sometimes difficult transition.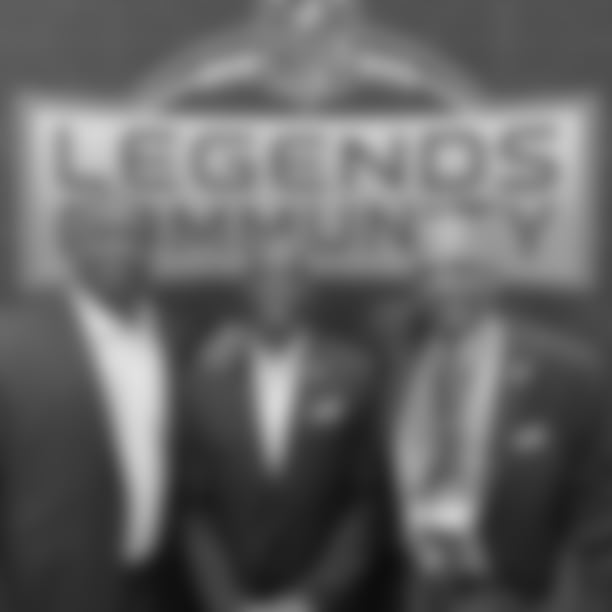 "That may be getting into college coaching, or maybe you want to go back to get your college degree. Or you're thinking about getting into radio or television. That's what we're trying to do," said Randle.
The Legends Community initiative has grown to now being involved at some of the year's biggest events, including the NFL Scouting Combine, NFL Draft, the Super Bowl and the Pro Bowl. Randle and his comrades even have a presence at the Senior Bowl.
Randle has been passionate about the role he's held since 2019.
"I love doing this," he said. "Being in the National Football League, first of all, was an honor and a pleasure to play a game that so many people wish they could have played. … I looked up to so many guys who came before us – that's the Randy Whites, the Howie Longs, the Alan Pages, the Jim Marshalls – who made this game what it is today. So this allowed me to give back to other former players who have done so much for the game.
"Being around these guys, I see it as 22,000 former players in a huddle, allowing me to be in the huddle and to assist those guys – finding ways to make their transition or their second career better," Randle continued. "It's a great role, it's a fun role, and it allows you be a part of the NFL but just in a different capacity."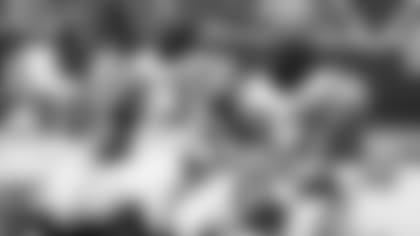 Mental health resources are offered as part of the support system available for NFL Legends.
The conversation around mental illness is slowly but steadily becoming more accepted – and even encouraged – throughout society and specifically within professional sports, and Randle hopes to continue breaking down that stigma within the alumni community, as well.
He highlighted the NFL Life Line, which provides confidential and 24/7 support to members of the NFL family experiencing a personal or emotional crisis or suicidal thoughts, as well as the NFL Total Wellness program.
Randle and the other Legends Community directors spend time each year with NFL Vice President of Wellness and Clinical Services Dr. Nyaka NiiLampti. Beyond having the opportunity to discuss any personal challenges they are facing, the group works with NiiLampti to ensure they are well-equipped to support and direct former players in the area of mental health.
"It's a great thing to talk to her," Randle said.
According to the six-time All-Pro and seven-time Pro Bowler, mental health is a topic that must remain at the forefront. While he doesn't personally deal with significant challenges in this area, he understands the stressors that often affect NFL players during and after their playing careers.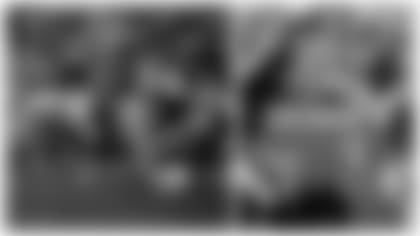 "It was a very stressful game. I've had this conversation in different manners with current players and former players," Randle said, "and I can remember Jerry Rice wanted to grade out from a game – he wanted 100. And he said he could never get 100. He was talking about all the pressure he put on himself trying to get that grade of 100.
"I know as a former player that the things you go through, through that week of practice, coaches are coming up to you and telling you they're depending on you to do 'this,' they're depending on you to do 'that,' " he added.
Peek behind the curtain, and you'll see that the role of professional athlete isn't all glitz and glamour.
Randle emphasized the responsibility of not only providing for one's immediate family but potentially financially supporting parents or others. And then there are the aspects of life everyone deals with: family conflicts, illness of a loved one, and so on.
"Say that a player and his significant other are having issues – how would he perform on the field knowing that his personal life wasn't all straight?" Randle pointed out. "I remember going through things like that and having guys come in and all of a sudden our coach telling them, 'You're not starting this week.' Or, 'We're looking at maybe putting you in a backup role.'
"In high school and college, you're playing a game. You get to the professional level, and it's more of a business. Your contract depends on it, your pay depends on it, and there's so many different narratives that can change it. I see it as a lot of pressure on those guys." - John Randle
During a successful NFL career that stretched from 1990-2003, the first 11 seasons being in Minnesota, Randle found different ways to decompress and focus on his own mental health. He may be known for his one-of-a-kind, high-energy pregame rituals, but Randle embraced the quiet when given the opportunity.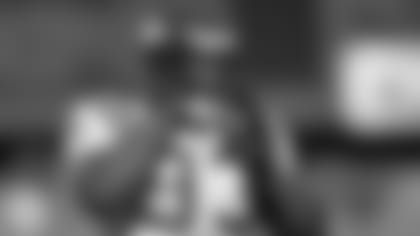 After every season, Randle got into his car and drove 15-plus hours from the Vikings Winter Park facility to his home in Texas.
"It's such a long drive, but it's a drive that gave me a chance to just relax and kind of get at-ease about the season," Randle said. "If we didn't have a good season … I would definitely take my time getting home and go and see my mom. It just kind of relieved the stress."
Additionally, he joined teammates in a Bible study led by longtime team chaplain Tom Lamphere, who remains in the same capacity with the Vikings.
"[It] would allow guys to come in and talk about what was going on in their lives," Randle recalled. "Maybe not a lot of other teams were able to do that, but being on the Vikings and having that Bible study really took a lot of stress off of guys."
Randle also reiterated a recurring theme throughout the Getting Open series: a support system is crucial.
For some, it's a mental health professional; for others, family members or friends. Sometimes a combination of all three.
Family is everything to Randle, who called Candace his "best friend" with whom he can talk about anything.
"Besides golf," he quipped with that big-hearted laugh. "But, she's the person that I confide in."
Every NFL player is different, Randle noted. Some don't have the type of immediate network when things get tough, and it's important to remember that not every career comes to the same close. Randle played almost his entire campaign with one team – and only two teams in total – and essentially had the luxury of retiring "on my own terms," while many pro athletes have starkly different stories.
"The transition was a little bit easier for me," Randle said. "But a lot of guys don't [have that]."
He's seen numerous former players struggle mentally and emotionally with life after football and not always utilize the right resources; rather, several turn to excessive drinking or other hurtful habits.
Randle is committed to helping.
Whether NFL Legends or current players facing pressures and challenges Randle can relate to mental health, it is a topic that must not be ignored.
"It's a focal point because it affects our players, it affects us as fans and it affects the team," Randle said. "It can cause guys having weight problems, guys having fatigue [and it can even lead to suicide]. There's so many ways that mental health can affect us … that we know about. Those are some of the reasons that I believe it's so important, and I'm glad that we're focusing in on it.
"It used to be where guys really didn't want to talk about it, and now we're putting it out there, we're telling people it's OK to talk about it, and I'm thrilled about that." - John Randle
As part of his role within the NFL Legends Community, Randle will continue to do whatever he can for those within the unique brotherhood.
"I know from [Dr. NiiLampti] from the NFL office that mental [illness] usually affects one out of five Americans. So looking at those numbers, it's going to affect somebody that I know," Randle said. "Since I talk to a lot of former players, I'm usually talking to a guy who's either dealing with it or somebody in his family is dealing with mental health [challenges].
"If there's somebody who's played in the National Football League who I can reach out to and try to make things better, then I'm going to reach out," he continued. "Like I said, the NFL isn't just a game. It's a family. And if there's somebody hurting, man, I'm going to try to do something for them. … Charity starts at home, and for me, the NFL is home. So I want to try to do as much as I can."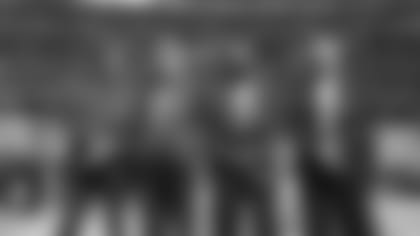 As the stigma around mental illness continues to break down, Randle anticipates lasting impact that comes from vulnerability.
Take it from the "Motor Mouth" himself: There's no such thing as too much conversation around this topic.
"I think it shows the rest of the world that they're human. That they have problems just like everybody else does. I mean, that's for every athlete who's played sports," Randle said of those who have shared their stories. "For guys who can talk about it, to me, that puts those athletes on [an even] higher pedestal. Because you can talk about your personal problems. You can talk about things you have going on. You can say that you cry. You can say that you get emotional. You can say that your day isn't perfect."
He emphasized the common misconception around professional athletes:
"That's one of the biggest things [fans sometimes] believe – that athletes are perfect. For me, I'm not. If I was, I'd have a great golf game," Randle laughed. "Especially in this 2021, you've got to let people know that you're normal. Mental health is so important. It may not affect you or I, but it affects someone that we know, that we care about, and if we can do something to help support our friends and family, why not?"
---
---
You are not alone. If you or a loved one are struggling today, please reach out for support.
National Suicide Prevention Lifeline: 800-273-8255
NAMI (National Alliance on Mental Illness): nami.org
This is the ninth installment of our Getting Open series. Check out earlier features and keep an eye on the Vikings digital platforms for upcoming features: