Irv Smith, Jr., is healthy and raring to go.
The tight end spoke to Twin Cities media members Wednesday after missing all of last season with a knee injury. Smith pointed out a new butterfly tattoo on his neck and explained the meaning behind the inked insect:
"It's like a new beginning," Smith said. "All the things I've done in my past, I still reflect on, but I'm excited for the future and what the future holds for myself, the team, the offense. We're just going to take it one day at a time, but it definitely is a new beginning for me, I would say, and I'm really excited about it."
Smith isn't the only one feeling confident about his fourth season. Pundits around the league are anticipating a big season for the tight end, and that includes NFL.com's Gregg Rosenthal. He recently projected "candidates to make the leap" for every NFC team entering the 2022 campaign, and in Minnesota he pointed to Smith.
Vikings fans and fantasy heads have been waiting for Smith to break out for a few years now […] there's no reason he can't thrive now. New Offensive Coordinator Wes Phillips was a tight ends coach in Los Angeles, and the offense the Vikings want to run asks a lot of the position. Smith profiles as a souped-up receiver who can take passes in stride and rack up yards after the catch.
Who else around the division does Rosenthal expect big things from? For the Bears, he highlighted receiver Darnell Mooney.
It's hard to imagine Mooney getting more than the 140 targets he did in 2021, although he has even less competition around him now. Expect this year's targets to lead to more efficient, explosive production. [Former Bears Head Coach] Matt Nagy had Mooney running way too many curls and flats, which didn't take advantage of his deep speed. Mooney is a perfect match with Justin Fields' skill set, and their timing should prove better than a year ago.
Rosenthal also went with a wide receiver for the Packers breakout candidate, tabbing Allan Lazard. Rosenthal said he was "leaning toward" Lazard and Aaron Rodgers' comments about "going from Hall of Famer to Hall of Famer" with Lazard replacing Davante Adams "sealed the deal."
Rodgers knows the value of a callback; I can already imagine a Week 17 postgame press conference celebrating the team's NFC North title, with Lazard's winning score getting him over 1,200 yards and Rodgers quipping, "I told you he was a Hall of Famer." Comedy is all about timing – and so are random monster seasons from role players like Lazard, whom Rodgers has been gassing up all offseason as his WR1 because there are no other options. This may not always be the case, but believe Rodgers here.
And in Detroit? Rosenthal opted for an entire position group – the defensive line – rather than one individual player.
Consider it a great sign that the Lions had a lot of options for Making the Leap, including second-year T Penei Sewell. The line play on both sides should be outstanding, but this blurb's dedicated to the defensive front. Second-year pros Levi Onwuzurike and Alim McNeill provide beef in the middle. The younger Okwara brother (Julian) is hitting his third season. While a pair of rookies (including No. 2 overall pick Aidan Hutchinson) don't quite fit the parameters of this exercise, the Lions are rolling 8-to-9 deep in quality up front. The D-line can go from one of the league's worst to a top-10 unit quickly.
Former Vikings RB's thoughts on returning on scouting fellowship
The Vikings drafted running back Doug Chapman out of Marshall University in 2000, two years after tabbing Randy Moss from the same program.
In his first NFL start, Chapman racked up 90 yards rushing, the most allowed by Green Bay's defense through six weeks of the regular season. He went on to play four seasons for Minnesota before signing in 2004 with the Chargers, with whom he suffered a career-ending injury.
Chapman currently serves as the Marshall Director of Player Development but is returning for a stint in Minnesota, as he recently was accepted into the NFL's Nunn-Wooten Scouting Fellowship with the Vikings. The team has participated in the Nunn-Wooten Scouting Fellowship since 2015 and this year has named it the Gilliam-Reichow Personnel Fellowship in conjunction with the program in honor of Frank Gilliam and Jerry Reichow.
According to the NFL, the seven-year-old program "will give participants hands-on experience as full-time members of an NFL scouting staff, shadowing NFL scouts during a season-long internship that develops their ability to spot talent."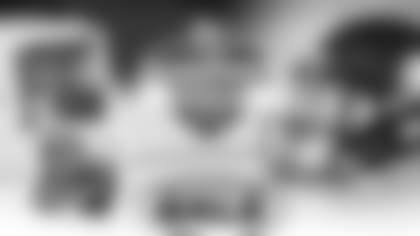 2022 Vikings Training Camp
Find out everything you need to know about Vikings Training Camp including schedule, tickets, activities and more.
Following a year back at his alma mater, Chapman is preparing for his week-long stint with the Vikings in the Nunn-Wooten program – a move that benefits the Herd family and further amplifies Chapman's career arc.
He got the call from an old friend.
"Actually, the person who reached out to me to let me know that I had been selected was [Director of Legends Relations] Tom West, who was one of the first people I met when the Vikings had drafted me," Chapman said of West, who previously worked in the Vikings communications department. "He said, 'Hey, you've been selected for the Fellowship.'
"It's just been one of those deals where two of the biggest decisions, biggest impacts in my life, one to attend Marshall and two for the Vikings to have drafted me, those places have continued to give back to me," Chapman added. "It's been a blessing. Surreal."
Chapman will join former Vikings DB Tyrell Johnson (2008-11) and Shantel Rodgers, a football operations intern with Exclusive Sports Group, at camp from Aug. 2-8.