EAGAN, Minn. — The butterfly is ready to spread its wings, and The Hulk is ready to smash.
Irv Smith, Jr., spent considerable amounts of time this offseason rehabbing the torn meniscus he suffered in the 2021 preseason finale that cost the tight end all of his third pro season.
He also found a bit of time to get new tattoos in New York.
"I got a butterfly right here on my neck. It's like a new beginning," Smith said Wednesday. "All the things I've done in my past, I still reflect on, but I'm excited for the future and what the future holds for myself, the team, the offense. We're just going to take it one day at a time, but it definitely is a new beginning for me, I would say, and I'm really excited about it."
He additionally got a tattoo of his mother, Rose Matamoros, on his neck to show his love and appreciation for her, and he got The Hulk on the top of his left hand "so we 'bout to smash on folks."
Smith spoke from the podium at Twin Cities Orthopedics wearing colorful hair ties and bright, mirrored sunglasses.
He expressed appreciation for the help with his recovery, including new and returning members of the Player Health and Performance staff.
I stayed here and trained with [Executive Director of Player Health and Performance] Tyler [Williams], [Head Athletic Trainer] Uriah [Myrie] and [Director of Rehabilitation] Matt [Duhamel], and the whole staff here, so it was awesome being here and just moving forward, the work I've put in since I started recovering," Smith said. "I'm back on the field now, moving around. It feels good. I missed the game of football, so it's just a blessing to be back out here and healthy."
Smith turned in a promising rookie campaign, playing in all 16 games and making seven starts. He set a Vikings record among rookie tight ends with 36 receptions, totaling 311 yards and two touchdowns. Of those receptions, 17 were for first downs or scores.
The 2019 second-round pick followed with bigger plays in his second season. He missed three games but totaled 365 yards and five scores on 30 catches, increasing his yards per reception from 8.6 as a rookie to 12.2. A total of 22 catches that season gained first downs or put points on the board.
Based on last year's training camp and preseason games, it appeared Smith was in line for a huge role in the offense, which was preparing plentiful looks with two tight ends (Smith and Tyler Conklin).
Instead of blocking, releasing, catching and spiking (variations of words on Smith's T-shirt Wednesday), he became a bystander, watching helplessly from a suite during a roller-coaster season.
"You can't take anything for granted. You gotta take it one day at a time. Being away from the game, it definitely — you know I love this game so much, and it was very, very frustrating, but it's just like an extra fire built within yourself," Smith said. "When you get back on the field, it's an extra push. It can be taken away at any time, so you gotta go out there and compete and have fun and give it your all."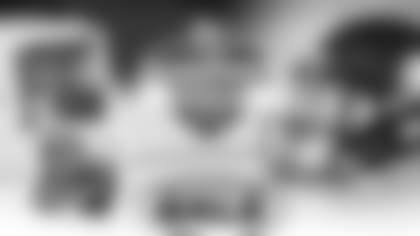 2022 Vikings Training Camp
Find out everything you need to know about Vikings Training Camp including schedule, tickets, activities and more.
Now Smith is learning more and more about his potential role in a new offensive system led by first-year Head Coach Kevin O'Connell and Offensive Coordinator Wes Phillips, the latter of which coached tight ends for multiple seasons.
"Coach O'Connell, he's done an amazing job of how he wants to use us. In L.A., [the Rams] did a lot of great things with the tight end, Tyler Higbee. He made a lot of plays and stuff," Smith said. "So seeing the film and what he's done and using my skill set to what I'm capable of doing, because we're different players and everybody's a different player. So this camp will be cool because he gets to see what I can do, and he'll be able to see how he can implement me in different ways and implement all of us."
O'Connell said Tuesday he liked what he saw from Smith during Minnesota's voluntary offseason program and when he and other players who reported Monday did some on-field work.
"I thought he had a good spring for what he was able to do for us. He was great in the classroom, he was great in that walk-through, jog-through setting, but then to see him moving around yesterday – we got out on the grass with those early-report guys – you can tell the work's been put in," O'Connell said. "You can tell there's a real mindset for Irv, and I'm really excited about him."