The Vikings 2020 schedule was released last week, and there are a plethora of matchups and storylines to anticipate.
Minnesota is scheduled to play six contests against division rivals in Chicago, Detroit and Green Bay. The Vikings are slated to open the 2020 season in historic fashion at home against the Packers, and will then close out the regular season on the road against the Lions.
But take away the recurring NFC North battles, and there are still 10 games that include plenty of top-level competition.
Intriguing matchups between the Vikings and their non-division foes include the following:
Week 2 at Colts: WR Adam Thielen and CB Xavier Rhodes | by @Eric_L_Smith
In recent years, one of the best battles in training camp practices was when Adam Thielen lined up against Xavier Rhodes.
This was especially true in 2017 when Thielen made his first Pro Bowl and earned Second-Team All-Pro honors after recording 91 catches for 1,276 yards and four scores. Rhodes, meanwhile, turned in a First-Team All-Pro season at cornerback and was a Second-Team All-Pro selection as a defensive back.
In 2017, and other years, the Thielen vs. Rhodes matchup made for great practice theater. Now, the former teammates will try to best one another in Indianapolis, and both should have something to prove.
Thielen navigated through a frustrating 2019 season in which he dealt with a nagging hamstring injury that limited him to 30 catches, 418 yards and six touchdowns in 10 games. He had 26 of those catches for 366 yards and five touchdowns in Minnesota's first six games before suffering the injury during a touchdown catch at Detroit.
Rhodes was released by the Vikings in March, seven years after the team made him a first-round pick. He was recently signed by the Colts, and will make his home debut against his former team.
Week 3 vs Titans: LB Eric Kendricks and RB Derrick Henry | by @Eric_L_Smith
This matchup features two of the best players at their respective positions.
Kendricks stands at 6-foot and 232 pounds, and is actually smaller than the bruising Henry, who is listed at 6-3 and 247 pounds.
But there's a reason the linebacker has led the Vikings in tackles since he was a 2015 second-round pick. He also raised his national profile in 2019 by nabbing First-Team All-Pro honors.
Kendricks could face his toughest challenge of the year in Henry, who led the league with 1,540 rushing yards and tied for first with 16 rushing scores in 2019. And that was before he ripped off back-to-back games with 180-plus rushing yards in the playoffs to help the Titans reach the AFC title game.
This early-season matchup could have a playoff feel with the physicality that is expected between these two.
Week 4 at Texans: RT Brian O'Neill and DE J.J. Watt | by @Eric_L_Smith
Brian O'Neill blossomed into one of the NFL's top young right tackles in 2019, as analytics website Pro Football Focus noted he did not allow a sack during 969 offensive snaps in the regular season.
A second-round pick in 2018, O'Neill has bulked up and become a leader on the Vikings offensive line.
But he'll face a likely future Hall of Famer on the road in Week 4 when lining up against Texans defensive end J.J. Watt, who is tied for fourth among active players with 96.0 career sacks.
Watt is a three-time NFL Defensive Player of the Year and has garnered five First-Team All-Pro nods and five Pro Bowls in his nine-season career. He has been bitten by injuries in recent years, playing in just 32 total games over the past four seasons.
But when healthy, Watt is among the most dominant players in the game. It's a test that O'Neill will certainly welcome and embrace.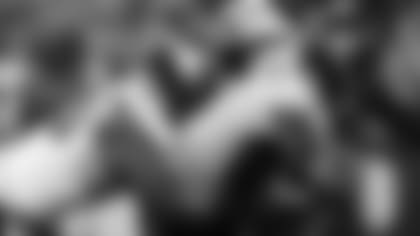 Week 5 at Seattle: DE Danielle Hunter and QB Russell Wilson | by @LindseyMNSports
Stop me if you've heard this one before … the Vikings will face the Seahawks on the road – in prime time.
It will be the third consecutive season for Minnesota to play in Seattle, but this matchup will take place on Sunday Night Football and in October rather than December. Will the Vikings be able to end their four-game losing streak at CenturyLink Field?
Hunter could play a big part in the equation when Week 5 rolls around.
In the Vikings past two regular-season meetings with the Seahawks, Minnesota defenders have been able to sack QB Russell Wilson just four times total; Hunter has accounted for two of those. Wilson has proven to be Houdini-like, demonstrating an ability to scramble, get out of tough situations and make a play at the last second.
Wilson notched his third career 4,000-yard season in 2019. He finished the campaign 341-of-516 passing for 4,110 yards, 31 touchdowns and just five interceptions (a career-low). His passer rating was 106.3.
Hunter had quite the season himself.
The defensive end started all 16 games and racked up 14.5 sacks. Hunter, who turned 25 in October, became the youngest player in NFL history (since 1982) to record 50 career sacks when he surpassed the benchmark against the Lions in Week 13.
While Wilson isn't Seattle's only weapon, containing him will be key in having a shot at the West Coast win – and Hunter is raring for his third-straight chance at the six-time Pro Bowler.
Week 6 vs Atlanta: Vikings Young CBs and WR Julio Jones | by @pcraigers
The Vikings rebuild at the cornerback position this offseason is well-documented with the selection of Jeff Gladney (first round), Cameron Dantzler (third round) and Harrison Hand (fifth round). The Vikings longest-tenured corners are 2018 first-round selection Mike Hughes and his classmate Holton Hill, an undrafted free agent.
It's also no secret the Falcons can air it out. Even though Atlanta has given quarterback Matt Ryan multiple options, Julio Jones remains the focal point. The receiver ranks third among active players with 12,125 career yards.
Jones' total of 1,394 yards in 2019 ranked second in the NFL but was 283 fewer than his league-leading 1,677 in 2018.
The seven-time Pro Bowler has averaged 96.2 receiving yards over the course of 126 regular-season games. In four games against Minnesota since 2014, however, Jones has averaged just 48.3 yards per game.
Minnesota implemented a variety of methods that included Rhodes shadowing Jones, as well as blending some other coverages. The Vikings pressured Ryan with a sack by Anthony Barr on the first play of the game and never really let the quarterback settle into a rhythm.
Anthony Harris recorded the first of two interceptions on the day by taking advantage of help over the top and undercutting Jones' route. Eric Kendricks also recorded two pass breakups on passes intended for Jones, who finished the day with six catches, 31 yards and a late touchdown on 11 targets.
Seeing Head Coach Mike McCarthy on an opposing sideline is nothing new for Vikings Head Coach Mike Zimmer.
Seeing McCarthy leading Zimmer's original NFL team, however, certainly is.
Zimmer, who served as the Cowboys defensive coordinator from 2000-06 (and as the DBs coach from 1994-99), will face Dallas in its first season under McCarthy after the team moved on from Jason Garrett.
McCarthy most recently served as the Packers head coach from 2006-18, during which Green Bay was 125-77-2 in the regular season and 10-8 in the playoffs. In the five seasons McCarthy and Zimmer overlapped in the NFC North division, Minnesota went 5-4-1 against Green Bay.
The two coaches have faced each other a total of 14 times since McCarthy became an offensive coordinator (Saints) for the first time in 2000; in that span, Zimmer's teams are 7-6-1 against McCarthy's squads.
Since Zimmer took the helm in Minnesota in 2014, the Vikings are 1-1 against the Cowboys.
Worth noting, however, is that Zimmer missed the 2016 Thursday Night Football game at U.S. Bank Stadium due to emergency eye surgery.
Week 12 vs Carolina: S Harrison Smith and QB Teddy Bridgewater | by @pcraigers
Smith has shown his talents as a blitzer and a bluffer over the years, particularly within Zimmer's system since 2014, which conveniently was Bridgewater's first season in Minnesota.
The safety has made five consecutive Pro Bowls, is the franchise leader among defensive backs with 13 career sacks and ranks seventh in team history with 23 career interceptions.
Bridgewater won 17 of his first 28 starts for the Vikings and was ready to take another step forward in 2016 but suffered a devastating, non-contact knee injury during the final practice before the regular season. He only appeared in one game thereafter for the Vikings, a sentimental reward for his perseverance in 2017.
After two seasons in New Orleans, including 2019 when he went 5-0 in filling in for Drew Brees, Bridgewater is poised to be Carolina's top QB and make his first start against the team that drafted him.
Week 13 vs Jacksonville: RB Dalvin Cook and Jaguars Run Defense | by @pcraigers
Call it Dalvin against "DUUUVAL."
The Miami native will face the team that is located in Duval County, which has lended itself to a chant embraced by Jaguars fans, for the first time.
Jacksonville ranked 31st in the NFL in rushing touchdowns allowed (23) and average yards per rush by an opponent (5.1) in 2019. The touchdowns allowed were up from 16 in 2018 and nine in 2017, which ranked 21st and sixth, respectively, in the NFL.
Cook burst loose for 13 rushing touchdowns a year ago, which ranked fourth in the NFL, after totaling four scores on the ground through his first two seasons.
The Jaguars also ranked 28th in rushing yards allowed last season at a clip of 139.3 per game after ranking 19th in 2018 (116.9) and tying for 21st in 2017 (116.3).
A total of 1,069 of the 2,229 rushing yards allowed by Jacksonville in 2019 were gained after contact, which was the second-greatest yardage allowed in the NFL last season behind only Cincinnati.
Cook ranked ninth in the NFL with 596 yards after contact in 2019 when he rushed for a career-best 1,135 yards.
Week 14 at Tampa Bay: LB Anthony Barr and QB Tom Brady/TE Rob Gronkowski | by @LindseyMNSports
Fans will see a famed duo in Week 14 … but in different colors and at a different stadium.
When the Vikings travel to Tampa Bay, they're slated to match up against former Patriots QB Tom Brady and TE Rob Gronkowski, the latter of whom did not play in 2019 but came out of retirement and was acquired by the Bucs via trade.
After a full two decades in New England, Brady is entering Season 21 with a new team but will be plenty settled in by the time the Vikings come to town.
While his numbers did see some decline last season, he's a six-time Super Bowl champ. Brady finished the 2019 campaign 373-of-613 passing for 4,057 yards with 24 touchdowns and eight interceptions. His passer rating was 88.0, the lowest since 2013 (87.3).
Gronkowski played 13 games for the Patriots in 2018 and recorded 47 catches for 682 yards and three touchdowns, a drop-off from 2017's 1,084 yards and eight scores.
The longtime teammates should be a fun matchup for Barr, who's played against them as Patriots twice since being drafted by the Vikings in 2014. Most recently, Barr made six solo tackles (press box stats) – including a stop of Gronkowski that helped stop New England's drive just before halftime – against the Patriots in 2018.
None of Barr's 15.0 career sacks have come against Brady, but he'll have a chance come December.
The last time Barr played at Tampa Bay was his rookie season when he forced a fumble by tight end Austin Seferian-Jenkins and returned it 27 yards for a touchdown in overtime.
Week 16 at Saints: QB Kirk Cousins and DE Cam Jordan | by @Eric_L_Smith
Kirk Cousins has had plenty of big wins in his career, but perhaps none have been as massive as the Vikings 26-20 overtime thriller over the Saints in the Wild Card round in January.
The Vikings quarterback — who played turnover-free football and had a passer rating of 96.4 — engineered a beautiful, game-winning drive in overtime that helped him notch his first postseason win.
Cousins will now return to the Mercedes-Benz Superdome, the site of that win, for another big-time matchup against an emerging rival. And this one comes on Christmas Day for a national audience.
Saints defensive end Cameron Jordan knows the Vikings well. He was at U.S. Bank Stadium last year when his father, former Vikings tight end Steve Jordan, was inducted to the Vikings Ring of Honor.
But there's no love lost between Jordan and the Vikings. The prolific pass rusher with 87.0 career sacks and five Pro Bowl appearances has also been on the losing end of some bitter postseason losses to Minnesota.
Cousins will try to replicate his sterling performance in a high-stakes matchup, while Jordan will be the one trying to bring him down.
Become a Vikings Ticket Insider
Learn more about Vikings ticket availability, including single game tickets, season tickets, premium seating and more, by becoming a Vikings Ticket Insider.