Going plus-four in turnover margin usually correlates to a win, but there were other elements that impacted the victory, including a collective defensive effort to shut down Atlanta's marquee receiver Julio Jones.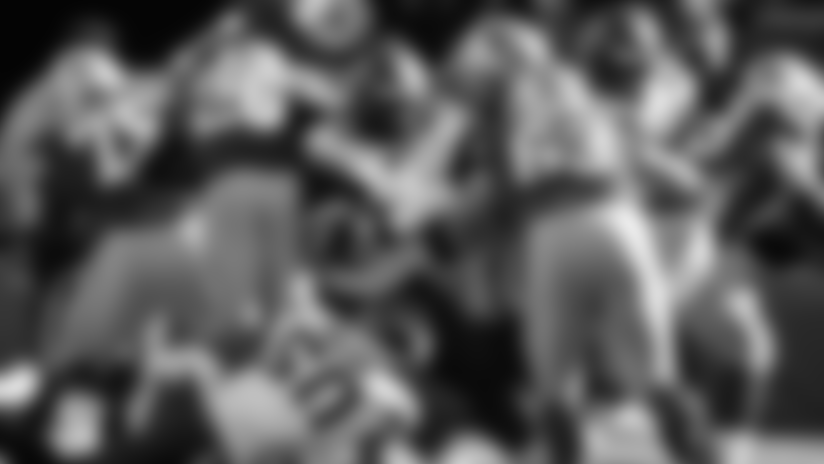 Watch Saturday's Game Online
Start 7-day your free trial of NFL Game Pass today and watch back Saturday's game against the 49ers...
Pregame question: How would the Vikings try to limit Julio Jones, and would they be successful doing it?
Minnesota implemented a variety of methods that included Xavier Rhodes shadowing Jones, as well as blending some other coverages. The Vikings also got to Matt Ryan with a sack by Anthony Barr on the first play of the game and never really let the quarterback settle into a rhythm.
Facing a 21-point deficit at the half and 28 by the start of the fourth quarter, the Falcons frequently took to the air. Ryan attempted 46 passes, targeting receivers on 45 of them, and he was sacked four times.
Jones was targeted 11 of those times, accounting for 24.4 percent of the 45. His six catches accounted for 18.2 percent of Atlanta's 33 receptions on the day, but his 31 yards were just 11.4 percent of the Falcons net 272 yards passing on the day.
What's more, Jones wasn't targeted a single time on half of Atlanta's 10 possessions, including a three-and-punt to open the game, Atlanta's first possession of the second quarter, the Falcons final three snaps of the first half, Atlanta's opening drive of the second half and the Falcons first possession of the fourth quarter.
The first time he was targeted resulted in the first of two interceptions by Harris, who had help over the top and undercut the route. He also didn't let Jones make a play on the ball, which he's been known to do on his way to multiple Pro Bowl appearances and twice leading the NFL in receiving yards in a season.
Jones had catches of 6 and 4 yards on three targets during Atlanta's third possession and zero on the fourth. He was targeted twice on the Falcons fifth possession, making a 10-yard grab that was his long for the day. Eric Kendricks broke up the other pass intended for Jones.
Kendricks again broke up the only pass intended for Jones from the start of the second half until three minutes remained in the game.
Jones recorded catches of 6 and 5 yards before a 2-yard touchdown against rookie cornerback Mark Fields with 1:09 remaining.
"It all works together. Xavier is a tough, competitive kid, and we've been working real hard on his technique. He still has work to do, just like we all do, but it's nice to have another big, strong guy in there that can move on a guy. It's not always Xavier all by himself, but it is sometimes. So it's good. It helps." —Vikings Head Coach Mike Zimmer
"We're all out here just competing. We know how much of a good athlete he is, but that's why we go out there and prepare each week and put ourselves in position to make plays. Once you're in position, it's about finishing." — Anthony Harris
"When guys get to the quarterback, we make plays on the ball forcing [Matt Ryan] to make bad throws and make bad decisions. I give thanks to the d-line and the front seven for making our jobs a lot easier today." — Xavier Rhodes 
"There's still going to be time where Xav' has to do his thing over there. But a player like that, there's a reason he got that contract the other day. We have to be aware of where he's at." — Harrison Smith
"With that team, you've got to stop the run, you've got to shut down Julio. Whether it's one guy, two guys, three guys, whatever it takes. We were able to do that for the most part. I don't know what he finished with, but we limited his production today." — Anthony Barr
"I feel like we contained him very well. He got a couple of catches at the end of the game, a late touchdown, but as a whole, I think we did a pretty good job. We've just got to work on the penalties. The penalties almost hurt us, so we have to really work on that." — Linval Joseph