FARIBAULT, Minn. — Linval Joseph's battle against bullying took him down an alley last week — a bowling alley, that is.
Joseph and teammates Riley Reiff, Brian O'Neill and Brett Jones made the trek to Faribault Bowling Center, which also features Basher's Sports Bar & Restaurant, to connect with fans outside of the Twin Cities and support anti-bullying efforts.
Joseph, a bullying victim himself when he was younger, has long committed to raising awareness about the problems that different types of bullying can cause. He has embarked on treks across Minnesota and ventured into North Dakota and South Dakota to pass along the message, raise money for anti-bullying efforts and show his love and appreciation for farther-flung fans supporting the Vikings with great passion.
"Man, it was great," Joseph said. "A lot of people can't afford to come to a football game, so I've been trying to go out of the Twin Cities and give people the opportunity to meet a professional athlete — spend time with them, talk to them, let them know they're not alone and we're all in this together.
"A lot of the kids at the event have been bullied," Joseph said. "It made me feel good for them to come up to me, 'Thank you for what you're doing. You're inspiring me.' "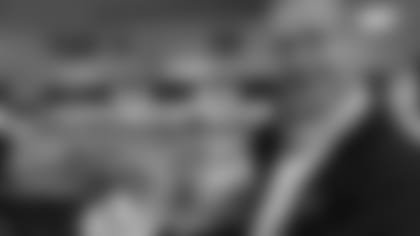 The bowling center has been owned by Don and Denise Clayton for a little more than a year. The Clayton family and their three children moved from Illinois to acquire the business and are working to connect with folks in their new home. They were proud to host the event and help the cause.
"It's an awesome event, because we truly believe in the anti-bullying effort," Denise said. "I think having the Vikings here for our small town in Faribault is very important. Having this is a huge opportunity for us and these kids.
"I have three children, two of which were bullied. It was very hard for them," Denise added. "I think everybody, once in their life, has either experienced being bullied or dealt with bullies or were bullies, so I think it's a very important program that should be out there for all kids. I know many children have taken their own lives because they didn't know how to deal with it. That's horrible. Having my own kids go through it, I'm a very strong believer in anti-bullying efforts."
The evening began with an autograph session/meet-and-greet that was followed with the Vikings players hitting the lanes alongside people from Faribault and well beyond.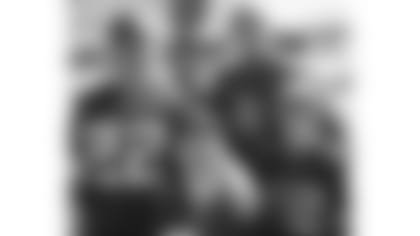 Joseph and Jones teamed up against Reiff and O'Neill for a game. The host heaved a strike on his first roll and turned to blow kisses to the crowd, similar to the love he sends to folks in stadiums after recording a sack.
Reiff (125) picked up multiple spares during the game and edged Joseph by four pins. O'Neill came on strong late to finish with a 114. Jones ended with an 89. The friendly competition prompted smiles from the football players and laughs from the crowd.
When Reiff, O'Neill and Jones needed to head home, Joseph stayed for an extended visit, making sure he bowled with every lane and stepping beside anyone who asked for a photo.
"It was far, but it was really worth the trip. I had a great time and feel like the other guys had a great time, as well," Joseph said. "I stayed extra because I donate my time to my cause. I love this cause, and I know it changes people's lives. I always make all of my events longer than normal so I can have more time to interact with the fans."
Matt Engelmann had previously met Joseph in Sioux Falls, South Dakota, during a signing over the summer. Engelmann had gotten a picture with Joseph holding his 2-month-old daughter Clara, who is now 5 months.
He brought an enlarged copy of the photo to Faribault and reconnected with Joseph. Engelmann said he plans to put the signed photo of Joseph holding Clara above his television in his "man cave."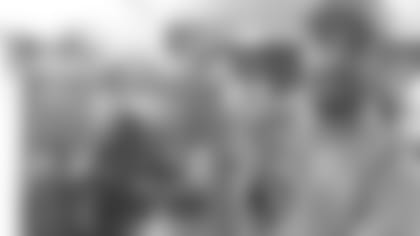 "It's cool that the professional athletes will come to smaller towns and mingle with the fans," Engelmann said. "It means a lot to the small-town people who don't make it up to the Cities all of the time."
Kris Scott drove from Willmar, taking the opportunity to visit earlier in the day with a friend in Faribault. Scott brought a unique leatherhead-style helmet that he had acquired in a fundraising auction.
Chris Butterfield and his son, Mason, along with Mason's cousins (Weston, Ryder and Gus) were the first in line for the autograph. Chris and Mason had attended the Vikings-Eagles game in October when Joseph was featured on the cover of the Playbook and read that the event was scheduled for Faribault.
"We got here early, were really excited for it," Chris said. "It's great these guys do things like this. It means a lot to all of the kids, too."
Joseph said it was great to see Engelmann again, sign the special photo and spend time with new people.
"It means a lot to me. It shows that what I'm doing is working," Joseph said. "Hopefully, one day at a time, we can make changes and make this world a better place for our younger generation."
Sacktober Finishes with boost
Vikings linebacker Eric Kendricks is committed to helping end food insecurity. He led a pledgeit.org drive that raised money for The Sheridan Story. Fans committed donations per sack recorded by the Vikings during the month of October.
Minnesota racked up 12 sacks during its four-game win streak, helping raise more than $6,000, which received a big boost via a $15,000 donation from Cargill: