The Vikings and Crown Royal partnered again this year for the "That Deserves a Crown" program to recognize people making a positive impact in the community by living generously in their daily lives.
Each award recipient received two tickets to a Vikings home game as well as pregame sideline passes, autographed footballs and recognition on the videoboard.
Nominees were from a variety of industries or affiliations. This year's recipients are Tom McKenna, Jeff Scherfenberg, Trish Thacker, Matt Ryan, Dorren Erny, Michael Allen and Ta Leia Thomas.
Here is some more information about them:
Officer Matt Ryan has been at the Bloomington Police Department since November 2007. He has served as a crime tech, Explorer advisor, field training officer, investigator, reality-based training instructor and SWAT team member with the department. Officer Ryan's positive attitude and dedication to serving his city and the Bloomington Police Department has made him an informal leader and an example of what the department means to the community it serves.
Officer Ryan was diagnosed with leukemia on Sept. 19, 2019. He received his first bone marrow transplant on Jan. 8, 2020, from his brother Justin. Officer Ryan reached his first "Day 100" on April 17, 2020, four days after his father's passing. He returned to work in July 2020 and to patrol from January to July 2021. In mid-July, Officer Ryan was again diagnosed with leukemia. He received his second bone marrow transplant on March 2, 2022, from his brother Mike.
Tom served four years in the United States Marine Corps until 1996 and was part of a close-quarters battle team. He was also on a Recapture Tactics Team and flew on TACAMO aircraft.
He has overcome adversities as a combat veteran to become a strong advocate to this struggling population.
Tom's mission is to help veterans work through past trauma, heal soul wounds, increase their self-worth, bring honor back to their brotherhood, find purpose and be a positive addition in their communities.
In 2010, Tom began a nonprofit organization called Every Third Saturday, which distributes clothing, personal hygiene items and other necessities to veterans.
In May 2022, Every Third Saturday opened a new headquarters close to the Minneapolis Veterans Affairs Medical Center. It includes a coffee shop on the ground floor, a Veterans Resource and Empowerment Center, fitness center and a free store for veterans.
Mrs. Erny is a remarkable teacher who sees her students at their full potential and encourages them to see their worth and value. When she engages with the students, they feel important, valued, respected and heard. Her love for the students emanates from her, and she makes an impact each day in the students' lives. She truly is a blessing to the students and would be deserving of a crown. Here is a note from her class website:
This first-grade year will be filled with unique learning opportunities. My goals for this school year:
· To create and promote a positive self-image in each student
· To foster a learning environment which focuses on cooperation and respect for others
· To individualize educational approaches in order to meet your child's needs
· To become a community of learners who communicate compassion
Jeff Scherfenberg – Nov. 20
Jeff is an outstanding person. He has been serving his country in the United States Marine Corps since 2007 and has completed multiple overseas tours of duty. He is currently serving in the Marine Corps Reserve and is working on entering law enforcement after completing his military service so he can continue to serve his community.
Jeff is a single father to his little girl who means the world to him. He continues to work hard day in and day out to provide the best life for her as possible.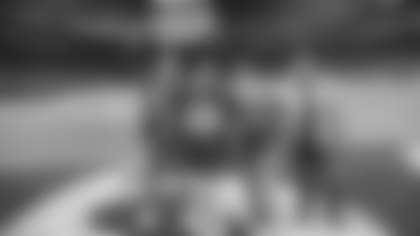 Trish currently serves as Executive Director of The Salvation Army's Harbor Light Center in Minneapolis. She's a licensed, clinical social worker with experience working with homelessness, mental health and substance abuse issues.
Managing one of the largest homeless shelters in the region, Trish and her staff every day attend to the needs of more than 200 people experiencing homelessness. Together, they exhibit grace, respect and dignity to people dealing with tragedy and trauma.
Trish is routinely consulted to work with Hennepin and Ramsey Counties on issues concerning the unhoused. When the COVID-19 pandemic hit, one of the first concerns was creating a safe environment for the homeless community. The counties called on Trish and other leaders to help craft a solution to protect the most vulnerable among the unhoused, and she did not hesitate to offer the services of The Salvation Army to manage some of the emergency housing locations.
Michael founded My Very Own Bed in 2014. A nonprofit organization, My Very Own Bed provides new beds to youth ages 2 to 17 who are moving into stable housing in the Twin Cities area and its suburbs.
Prior to starting My Very Own Bed, Michael worked in social services and helped families move from shelters into their own homes. There, he saw the need to provide children with an improved sleeping environment.
From 2014 to 2022, Michael and My Very Own Bed gave more than 4,000 beds and dream kits to youth. In 2022, My Very Own Bed surpassed its goal of 1,400 beds and dream kits and provided roughly 1,600 beds.
On Nov. 29, My Very Own Bed partnered with the Vikings and U.S. Bank to surprise 50 local youth at U.S. Bank Stadium with Sleep Number 360® smart beds, bedding, pillows, mattress pads, stuffed animals and books.
Ta Leia goes by the nickname "Ace." On Dec. 6, "Ace" became known as a good Samaritan by thinking on her feet — literally and figuratively.
Ace was working her shift at a Brooklyn Center Liquor store when she noticed a homeless man without shoes on going through the store's trash bin. The man grabbed a couple of boxes and tried to create makeshift shoes to help protect himself from the cold.
That's when Ace sprang into action.
She approached the man, took off her own shoes — a pair of purple retro Air Jordans — and gave them to him.
The encounter was captured on the store's security camera. Ace's manager posted her act of kindness to social media, where it instantly became a viral sensation.