Vikings fullback C.J. Ham and his wife Stephanie on Thursday announced the creation of the Ham Family Scholarship Fund.
The endowed scholarship will support students of color near C.J.'s hometown of Duluth, Minnesota, as well as Superior, Wisconsin.
It will be managed by the Duluth Superior Area Community Foundation and begin helping students in 2023. The scholarship fund is presented by Essentia Health.
"Our attention and focus has always been on how we can help give kids in the Duluth and surrounding areas the best chance of succeeding in life, and this scholarship fund is going to allow us to help more and more kids every year," C.J. and Stephanie Ham said in a collective statement. "This has been a goal of ours for some time, and we're so excited to see it all come together."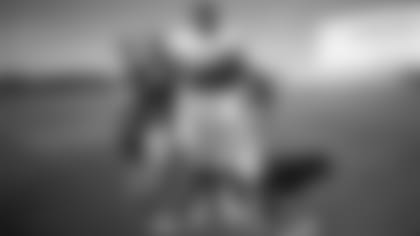 The scholarship builds on other community efforts the Ham family has done on behalf of youth that include hosting football camps and clinics and the adoption of families during the holiday season.
"Trailblazers like C.J. Ham lead by example and also pay it forward," Duluth Superior Area Community Foundation Shaun Floerke said. "We are grateful to the Ham family for lifting up students of color in the Duluth-Superior area, offering the opportunity to advance their education and achievements through this scholarship. Our community needs each and every child to reach their full potential!"
For more info on the scholarship, or to donate to it, click here.