After consecutive road trips where the Vikings pushed their current streak of winning games by one score to seven, Minnesota (8-1) returns to U.S. Bank Stadium Sunday to start a key stretch of five home games in six weeks.
The Vikings will kick things off against the Cowboys (6-3) at 3:25 p.m. (CT) on CBS. Dallas is Minnesota's second consecutive opponent with a winning record.
Alec Lewis and Jon Krawczynski of The Athletic recently broke down what they will be watching during Sunday's game and what the Vikings biggest concerns and opportunities are heading into Week 11.
Lewis said he will be focused on Minnesota wide receiver Justin Jefferson and how he can follow up his performance of 10 catches for a career-high 193 yards and a touchdown, not to mention a one-handed catch that resulted in his gloves and arm sleeve being sent this week to the Pro Football Hall of Fame.
[Jefferson's] on pace for 130 catches and 2,002 receiving yards. He has the most contested catches (14) in the NFL, per Pro Football Focus. He snagged an important third-down grab a few weeks ago against Arizona. He followed that up with multiple impressive catches against the Commanders. And his performance in Buffalo? Nothing more needs to be said.
What's next? How can he top it? It's hard to imagine that possibility. But this is a 23-year-old who has pushed the boundaries of possibility. He's a must-watch every week.
Krawczynski will be turning his attention toward the Vikings secondary, specifically cornerback Patrick Peterson, who recorded two end zone interceptions against Bills quarterback Josh Allen last week, including the game-sealing pick in overtime.
The guy is 32 years old, the time when cornerbacks typically move to safety or retirement. But Peterson just keeps coming up with big plays when this bend-but-don't-break defense needs them the most. He is playing with supreme confidence, and that is trickling down to the rest of the unit.
It may not be the Purple People Eaters or the Millard-Doleman-Studwell crew that dominated in the late '80s, but the defense is improving every week and starting to find itself. Peterson is a big part of that, and the Vikings will need him again on Sunday against CeeDee Lamb and the Cowboys.
Lewis noted a key concern will be the Cowboys pass rush. The Vikings will face their third consecutive opponent who ranks in the top 10 in pressure rate, with Dallas holding the top spot.
Lewis said Cowboys Defensive Coordinator Dan Quinn will continue to change his coverage Sunday, with linebacker Micah Parsons and defensive end DeMarcus Lawrence leading the way on pressure packages.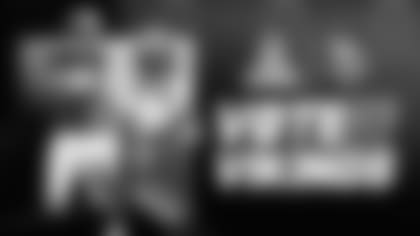 2023 Pro Bowl Voting Open!
Cast your vote to send your favorite Vikings to the 2023 Pro Bowl Games.
Purple Insider: QB Cousins doesn't have to be different from what he's done so far
Vikings quarterback Kirk Cousins entered the season with a 59-59-2 record as a starter.
So what's changed this year to the tune of Cousins leading Minnesota to its best record since 2009? To Cousins, nothing.
"To me this feels the same right here as it does every week," Cousins said. "The team meeting felt the same, lunch felt the same, walk-through feels the same. I go to my house, I play with my kids, I come back here and grind, and it's really boring back and forth."
Matthew Coller of Purple Insider recently compared this season with former ones turned in by Cousins.
[Cousins'] average PFF grade between 2015 and 2021 was 80.0. This year, it's 72.5. By Cousins' adjusted yards per pass attempt, completion percentage, traditional rating and ESPN's QBR, he's been less efficient than in years past.
Coller noted that 44 percent of Cousins' pass attempts this season have come when the Vikings have trailed in the game, the exact same percentage as last year. He also said Cousins has tossed 57 passes this season that could be contested (6.3 per game), compared to 94 last year (5.5 per game) and a 66.0 quarterback rating under pressure so far while last year's rating was 72.5.
When it comes to the final few minutes of the game, Cousins has recorded a QBR of 102.8 this season when Minnesota is trailing, attempting 29 passes. In 2021, he had 59 attempts in the same scenario and a 97.3 QBR.
Coller said while Cousins' numbers could be improved, he doesn't plan on doing anything differently.
Things are ideal in 2022 and Cousins has done his job, putting the Vikings in position to be a Super Bowl contender. That's how the team envisioned it going in 2018 when they signed him but there was always something in the way. That doesn't mean Cousins is different as a player. It means his skills and circumstances have aligned for the Vikings to win week after week.
"This is Year 8 of starting week after week. You have your routine, you have your process and you just don't deviate," Cousins said. "When you lose, you don't deviate. When you win, you don't deviate. You just sort of methodically go about your process week in and week out, and that's what I'll keep doing."