The Vikings (8-4) will host the Lions (3-8-1) at noon (CT) Sunday at U.S. Bank Stadium.
The stadium gates will open at 10 a.m.
Players will be able to don custom cleats for the third-annual My Cause My Cleats game, showing support for family, friends and organizations that are important to them.
Tickets are accessible via the Vikings app or the online My Vikings Account portal and can be saved to fans' mobile devices. No hard tickets or printed PDFs are available. Digital tickets allow for better communication between the team and fans, reduce fraud and counterfeit tickets, provide flexibility to manage, transfer or sell tickets at any time and offer quick and easy entry into the stadium using a smartphone.
Step 1: Download and open the free Minnesota Vikings App (available for Apple and Android devices).
Step 2: Navigate to the Tickets tab and sign in using email and password for My Vikings Account.
Step 3: Select the event to attend and click View Barcode to load ticket(s) ahead of time to scan for entry.
Step 4: View ticket barcode before arriving to the event. Swipe left to view more than one ticket.
* Fans can also add the tickets to Apple Wallet for guaranteed easy access on game day.
For more information regarding mobile entry, click here.
The game will be televised by FOX (KMSP in Minneapolis/St. Paul). It also will be broadcast on the Vikings Radio Network (KFAN 100.3-FM/KTLK 1130-AM are the flagship stations).
Click here for all of the ways to watch/listen/stream the game.
Road construction information
Logistics, events and activities
Here's a look at logistics, events and activities inside and outside of U.S. Bank Stadium.
Delta Vikings Village and Medtronic Plaza open: 9 a.m.
Stadium gates open: 10 a.m.
Visit vikings.com/stadium for additional information about parking, tailgating, public transportation and ride-share pick-up and drop-off locations.
For the third consecutive season, the NFL and Vikings are celebrating the My Cause My Cleats campaign, which allows players to wear custom cleats in support of causes and charities that have been selected by the players. More than 50 Vikings are participating in the program to bring awareness to initiatives and help others. Visit Vikings.com/mcmc for additional My Cause My Cleats content.
Vikings Table Presentation:
Members of Dalvin Cook's family will present a check for $10,000 to the Minnesota Vikings Foundation/Vikings Table charity food truck. The money was raised through the sale of special "The Chef" merchandise bearing Cook's likeness and through events hosted by the running back.
There are multiple ways to support the Minnesota Vikings Foundation, including through participating in game-day auctions. You can bid on unique memorabilia and unforgettable experiences offered at every home game. Use bidpal.net/vikings2019 to register. Bidders do not need to be present to win. Visit vikings.com/foundation to learn more.
Player warmups: DJ Skee, a native of Saint Paul and creator of Dash Radio, will return for his fourth season as the official Vikings pregame field DJ. He will curate a set list based on requests by Vikings players.
Color Guard: Members of the United States Marines will present the colors.
National Anthem: Multi-platinum songwriter and Minnesota native Caitlyn Smith will perform the National Anthem.
All-State Team: The Minnesota Vikings 2019 All-State Team presented by FVP will be recognized along with the Coach of the Year. Click here to see the team.
Honorary Captain: Jerry Reichow, a receiver on the first four Vikings teams (1961-64), will be the honorary captain. Reichow began his career with the Lions in 1956. He has worked for decades in Minnesota's personnel department and is retiring.
Vikings Legends will sign autographs at multiple locations inside and outside of U.S. Bank Stadium and in the Delta Vikings Village. Autographs are scheduled from 10:30 a.m. to 11:30 a.m. and are subject to change at any time without notice.
Locations inside U.S. Bank Stadium (game ticket required):
Delta Sky360° Club: Doug Sutherland
Medtronic Club: Dave Osborn
Polaris Club: Dontarrious Thomas
Little Six Casino's Club Gold: Dave Dixon
Mystic Lake Club Purple: Ted Brown
Locations outside U.S. Bank Stadium:
Delta Vikings Village (no game ticket required): Willie Howard and Ukee Dozier
Players were able to invite two guests with ties to their My Cause My Cleats organizations to Sunday's game. Those guests will be recognized, and there will be a special tribute to Tom Schultz.
Tom was a statistician for the Minnesota Vikings for 25 years who suffered a fatal brain aneurysm in 2014 at age 56. In his death and through his decision to become an organ donor, Tom provided the miracle of life for Quinton Jones, a native of Bermuda who traveled to the Mayo Clinic in hopes of receiving a life-saving heart and liver transplant.
Quinton was in the final stages of his life when he learned that Tom's organs were a match. Quinton became a Vikings fan to honor the life of the man whose heart beats inside him. Quinton will attend the game with Tom's family.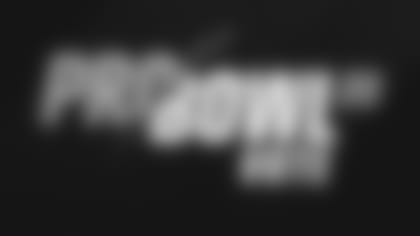 Pro Bowl Voting
Last chance! Vote to help make sure all your favorite Vikings make the 2020 Pro Bowl in Orlando. Voting ends Dec. 12, 2019.
The U.S. Bank Hometown Heroes program honors individuals who have gone to extraordinary measures to make positive differences in the community. If you would like to nominate someone, visit Vikings.com/fans/promos/hometown-hero.
Sunday's Hometown Hero is 5-year-old Tucker Forrester, who was born with a very rare chromosome abnormality called Supernumerary Ring Chromosome 1. Tucker is a patient who has been served by Crescent Cove Respite and Hospice Home for Kids. Pat Elflein has visited Crescent Cove, which is represented on his cleats this weekend.
U.S. Bank Huddle for 100 Headquarters:
New this year, U.S. Bank's Huddle for 100 Headquarters will serve as an in-game destination for fans to participate in the NFL's Huddle for 100 initiative. Fans can participate in photo ops, use interactive video screens and sign up to help reach the NFL's goal of 100 million minutes of volunteerism.
The Huddle for 100 HQ is located on the main concourse near section 113.
Pepsi Sound the North Stage:
DJ Inferno will perform from 9:30 a.m. to noon
CenturyLink, Crown Royal, Fleet Farm, Highland Park, Hy-Vee, KFAN, Miller, Mystic Lake, North Memorial Health, The Salvation Army, Star Tribune and Xcel Energy are scheduled to have fan-engagement areas.
The Longhouse will be open before and during Sunday's game to fans with or without game tickets.
Vikings Table, a charity food truck outreach initiative of the Minnesota Vikings Foundation, will sell food from the Delta Vikings Village. Proceeds will then be used for future distributions of free food. Caribou Coffee and hot chocolate will be available at Vikings Table.
Aramark will be selling tailgate fare from inside and outside the Longhouse and the permanent building in Delta Vikings Village. Beer, wine, the "Purple Passion" drink and an "Apple Cider Hot Toddy" will be available for purchase in multiple locations.
The Vikings Locker Room Store will have two merchandise trucks located in the Delta Vikings Village.
Activities in the Delta Vikings Village:
Chuck for Charity – The Vikings social impact department will be raising money for the Minnesota Vikings Foundation by challenging fans to make a 30-yard throw to an inflatable target. Winners will receive prizes of varying types each game.
Other activities – face-painting, tailgate games, inflatable bag toss, QB Challenge, a coloring station and photo ops
Check your bag for $10 per item (cash only) at our secure bag check located at the corner of Park Avenue and 4th Street.
Fans are encouraged to avoid bringing bags to games. If, however, fans opt to bring a bag, it must comply with the NFL's clear bag policy.