In addition to being the 123rd overall meeting between the Vikings and Bears franchises, the noon (CT) Sunday kickoff will be Minnesota's annual Crucial Catch home game presented by Mystic Lake.
Mystic Lake will distribute Crucial Catch items on the plaza outside U.S. Bank Stadium before the game.
The Vikings will honor those who are currently battling cancer, pay tribute to those who have passed away from the disease and show solidified support for patients and caregivers.
How to connect with the game
The game will air on FOX (KMSP FOX 9 in the Twin Cities).
KFAN (100.3-FM), KTLK 1130-AM and the five-state Vikings Radio Network will broadcast the game.
New this year, Minnesotans will be able to listen to the Vikings Radio Network broadcast through the iHeartRadio app on their smart devices.
Click here for all the ways to watch/listen/stream the game.
Minnesota Vikings mobile app
Keep the Vikings nearby wherever you go with the Minnesota Vikings mobile app. A source for news and exclusive features, the app also will stream video broadcasts of games for people in the market/broadcast area of each game.
Vikings.com Staff Writer/Editor Lindsey Young will host a live chat from U.S. Bank Stadium beginning at 10 a.m. (CT). Join the conversation with Editorial Assistant Sam Thiel and Senior Editor Craig Peters before the game and stay connected with in-game updates.
Vikings Playbook (digital version)
The Vikings Playbook cover features Adam Thielen, who recorded his 50th career touchdown reception against Detroit in Week 3. Thielen took us through some of his most memorable grabs to share stories behind the scores.
A digital version of the Playbook is available for all at vikingsplaybook.com and in the mobile app.
You can view the web version of the cover story and a cool video here or within the book at the above link.
Can't catch this one live or attend in-person? NFL+ and NFL+ Premium have you covered.
Getting to U.S. Bank Stadium
Vikings.com/stadium includes information regarding health and safety protocols, parking, tailgating, rideshare and public transit options. It also includes an A to Z guide, maps and information about the NFL's bag policy and the fan code of conduct.
Among the helpful information on that page is a reminder that U.S. Bank Stadium now only accepts cashless payments.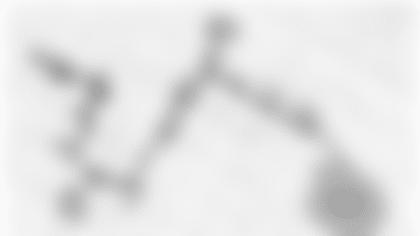 Health & Safety Protocols
ASM Global – U.S. Bank Stadium's management team – continues to execute its VenueShield program, ensuring the facility is clean and certified at the highest standards of health and safety. VenueShield focuses on six key components of venue management best practices for health and safety and is specialized for sports and entertainment facilities. VenueShield's environmental hygiene program specifies protocols for disinfection of surfaces, enhanced cleaning methods and applications, and infection control plans.
The Vikings, ASM and the MSFA also implement extensive cleaning, disinfecting and sanitization measures on game days and adhere to guidelines set forth by the CDC and the Minnesota Department of Health. All high-touch surfaces throughout the stadium — including seats, railings, food and drink surfaces, elevators and escalators — are cleaned, disinfected and sanitized before, during and after games. Hand sanitizer locations are located throughout U.S. Bank Stadium, including at entrances, concourses, premium areas and restrooms.
U.S. Bank Stadium offers a clean and safe environment for guests through the virus-fighting protection of a bi-polar ionization system, which is installed in every air handling unit in the venue. This state-of-the-art technology actively contributes to better health by restoring indoor air to its natural state through an ionization process, mitigating or limiting airborne viruses and keeping the air inside the stadium cleaner and healthier. The system installed at U.S. Bank Stadium has been proven in labs to effectively improve indoor air quality. Stadium officials also monitor air flow and take reasonable steps to maximize air exchange.
Downtown Minneapolis/U.S. Bank Stadium Security/Safety
The Vikings and our stadium partners collaborate with multiple law enforcement agencies, including the FBI, Homeland Security, the Minneapolis Police Department and the Hennepin County Sheriff's Department, to ensure the appropriate number of law enforcement officials are on site and that U.S. Bank Stadium and the surrounding areas are safe for Vikings fans, players and staff. Additionally, together with BEST Security, the team contracts with hundreds of security personnel on game days to ensure a strong security presence throughout the stadium. For 2022 night games, fans will see easily identifiable safety ambassadors present throughout several blocks surrounding the stadium and lighting towers will be strategically placed near parking lots and parking ramps. For additional information regarding public safety downtown, please visit the City of Minneapolis, Meet Minneapolis and the Minneapolis Downtown Council web sites.
U.S. Bank Stadium has earned the Ecolab Science Certified seal. The program combines hospital disinfectants and food-contact sanitizers approved for use against the COVID-19 virus with public health and food safety protocols, training and periodic auditing, giving fans confidence that practices are repeated and checked. Fans will see the Ecolab Science Certified seal displayed in participating areas throughout the stadium. For more information on the Ecolab Science Certified program, visit www.sciencecertified.com.
3M Durable Protective Film
3M's clear Durable Protective Film with Antimicrobial Technology is located in various high-touch areas throughout the stadium. The film has 24/7 surface protection with an EPA-registered antimicrobial agent to inhibit growth of harmful bacteria and is specifically designed to withstand repeated cleaning.
Face coverings are not required inside U.S. Bank Stadium. Fans who feel more comfortable wearing them in public settings are welcome to continue using face coverings for Vikings games.
For the safety of all fans, players and game-day staff, if you have tested positive for COVID-19 within five days preceding the game, please stay home. Additionally, if you are experiencing COVID-19 related symptoms or are feeling generally unwell but have not yet received the results of your test, please stay home. Should you begin to feel unwell while at U.S. Bank Stadium, please notify a game-day staff member immediately; appropriate facilities and resources are available as necessary.
Pending unforeseen weather issues, the world's largest glass doors will be open throughout the fall, creating an indoor-outdoor experience and further increasing air flow inside U.S. Bank Stadium.
Proof of COVID-19 vaccination is not required to enter U.S. Bank Stadium.
Delta Vikings Village (outside U.S. Bank Stadium)
The Delta Vikings Village will open at 9 a.m.
It will include the following activities:
Food and beverages available from Aramark at The Pendleton Whisky Longhouse (opens at 9 a.m.) and additional locations throughout the plaza
Bag check (on Park Avenue, just south of 4th Street and north of the Light Rail tracks; open from noon until one hour after the game; cost is $10 per bag; open from 10 a.m. to one hour after game ends)
Autographs by Vikings Legends Stu Voigt and Bob Lurtsema from 10:30 to 11:30 a.m.
An appearance by Minnesota Vikings Cheerleaders from 10:30 to 11 a.m.
The Commons (outside U.S. Bank Stadium)
Numerous family friendly activities are planned for The Commons, including the following:
Minnesota Vikings Chuck for Charity
Inflatable games, tailgate games and face painting
An appearance by Minnesota Vikings Cheerleaders from 10:15 to 10:45 a.m.
The All Square and Los Ocampo food trucks will be selling food near the Commons
NATIONAL ANTHEM: JaQuita Morris, a Twin Cities native who has defeated cancer twice and is currently battling the disease again, will sing.
HOMETOWN HERO: Jack Simon, 16, was diagnosed with Stage 2 Hodgkin's lymphoma in April. The tight end on the Wayzata High School football team launched a fundraising campaign called "Simon Strong" that has raised more than $9,000 for the Randy Shaver Cancer Research & Community Fund.
HALFTIME: Wyn Starks, a pop/soul artist originally from Minneapolis, will perform his song "Who I Am" while 100 individuals impacted by cancer are recognized on the field. "Who I Am" is dedicated to Starks' late twin brother, Caine.
GJALLARHORN: Charlie Huizinga, a child diagnosed with Acute Lymphoblastic Leukemia in May 2021, will sound the Gjallarhorn. Charlie has undergone multiple hospital stays and treatment. He is currently in a "maintenance phase" with clinic visits every three months.
LEGENDS AS CELEBRITY BARTENDERS
The following Vikings Legends are scheduled to be celebrity bartenders:
Delta Sky360° Club — Captain Munnerlyn (starting at 10:30 a.m.)
Polaris Club — Rickey Young (starting at 10:30 a.m.)
Vikings Fancam Presented by U.S. Bank
The Vikings Fancam captures your excitement throughout the game. Tag yourself and enter to win prizes at vikings.fancam.com.
Hy-Vee Fuel Saver + Perks®
THEY score, YOU save! Shop your local Hy-Vee store following game day to receive great fuel savings. Simply spend the same amount that the Vikings scored and earn a one-cent credit on your Hy-Vee Fuel Saver + Perks® card. If the Vikings score 14 points, spend $14 or more the next day and earn 14 cents of credit on your Hy-Vee Fuel Saver + Perks® card. Promotion valid at all Minnesota Hy-Vee locations; some limitations apply. See stores for details.
Opening Drive Sweepstakes Presented by Kwik Trip
Purchase any fully guaranteed gasoline at Kwik Trip with your Kwik Rewards card and you could win free fuel during the Vikings Opening Drive. Earn a $10 Kwik Trip gift card for every yard gained, plus a $500 bonus when the Vikings score. One potential winner will be selected for each game, and all are finalists for a chance to win a 2023 Ford F-150 from the Northland Ford Dealers at the end of the season. Stop by any Minnesota Kwik Trip store for details.
Sacks for Apps Presented by Buffalo Wild Wings
Buffalo Wild Wings brings you "Sacks for Apps" during all Vikings home and away games this season! When the Vikings record two or more sacks in a game, all fans score a free appetizer with a minimum purchase of $20. Offer is valid for three days after each eligible game. Visit vikings.com/bww for your digital coupon and offer details.
Field Goals for Charity Presented by Innovative Office Solutions
In partnership with the Minnesota Vikings and Post-It Brand, Innovative is proud to present the Field Goals for Charity Program. During the NFL regular season, each time a Minnesota Vikings kicker successfully kicks a field goal, Innovative and Post-It Brand will donate $250 (up to $5,000 total) to Be The Match!
Fan of the Year Presented by Captain Morgan
Does your Vikings fandom go beyond the game? The Vikings and the NFL are celebrating extraordinary fans who are a positive influence and inspire others through their love of football. Nominate yourself or others for a chance to win a trip to Super Bowl LVII in Arizona! Enter at nfl.com/fanoftheyear.
#VikingsHAIR Presented by Spalon Montage
Spalon Montage is giving one lucky fan a $100 gift card. Tweet a photo of you at the game to @vikingspromo using #VikingsHAIR for a chance to win.
Simply scan your Pepsi cup with the Vikings app or select "Augmented Reality" within the Vikings app to unlock Vikings photo filters. Share yours using #VikingsGameFace for your chance to win! Visit Vikings.com/VikingsGameFace for full contest rules and details.
Vikings I.Q. Presented by Pepsi
Check out Vikings I.Q., presented by Pepsi, now in the Vikings App. Watch the game together with other fans and have the chance to win great prizes.
Are you the Absolut® Vikings Homegater? Whatever you do on game day, celebrate your Absolut® best this football season by submitting your photo as the Absolut® Homegater of the Week. Fans will have a chance to win a Vikings and Absolut® weekly prize pack, and one super fan will be dubbed the Absolut® Homegater of the Season, winning a co-branded mini-fridge. To enter, got to Vikings.com/homegater and submit your fan photo today.
Charity Auction Benefiting the Minnesota Vikings Foundation
Bid on exclusive Vikings memorabilia and experiences at vikings.com/auction. Visit the auction kiosk by Section 101 to view this game's auction items. All proceeds support the Minnesota Vikings Foundation.
Split The Pot Raffle Benefiting the Minnesota Vikings Foundation
You could be the game-day lucky winner to share the Jackpot! Purchase your raffle tickets from Split The Pot kiosks or sellers roaming through U.S. Bank Stadium. The winning ticket will be selected by a random drawing and posted online after the game. Winner has 30 days to claim the cash prize. Split The Pot supports the Minnesota Vikings Foundation's youth health and education initiatives. Visit vikings.com/splitthepot for details.