Dalvin Tomlinson packs seven Sharpie markers ahead of every Vikings game.
Green, purple, blue, red, orange, yellow, black. It's become as natural as adding a toothbrush or change of clothing to the bag.
Before kickoff, Vikings trainers wrap white athletic tape around each of Tomlinson's wrists, reinforcing the joints. The defensive tackle then takes out his markers and adds another layer of support.
He colors a solid circle below each knuckle on his right hand, then one larger, yellow circle in the center. These represent the Infinity Stones of the Marvel Universe: Time, Power, Space, Reality, Soul. The yellow one is Mind.
Comic book fans will recognize that Tomlinson creates his own version of Thanos' golden gauntlet.
When Tomlinson dons his Purple helmet, lines up, bends down and fixes his fist in the turf, he feels – like the warlord Thanos – unstoppable.
A native of the fictional planet Titan, Thanos saw the danger his people faced from overpopulation and pursued an extreme and deadly solution – the elimination of half the population, at random and without prejudice, in order to make life better for the planet as a whole. In a single snap of his fingers, he turns half of humanity into dust.
Thanos is known throughout the Marvel universe as a supervillain. And yet, he sees justification in his actions.
"It's almost like playing football, in a sense," Tomlinson said. "I'm playing to try to stop the run game, or to hit the quarterback. And on my side, I think it's right. But on the opposite team, their point of view, it's wrong. To them, I'm the villain."
Tomlinson's connection to the comic book world runs deep.
As a kid, he remembers running around with his older brother, Labronzo, and playing superheroes.
He learned about the X-Men from Labronzo, who read the comic books, and watched television shows like Teen Titans, Static Shock and Justice League. He didn't much differentiate at the time between Marvel and DC, gravitating toward characters from each company.
"I loved The Flash," Tomlinson said, smiling.
In between Halloweens as a ninja or Power Ranger, Tomlinson dressed up as Iron Man. He and his childhood friend, Bobby Taylor, once painted themselves green in high school and went to Costume Day as a pair of The Hulks.
On the field, Tomlinson sees himself as Thanos. But off the field, he identifies much more as Tony Stark, the suave, oft-sarcastic tech genius who builds the iconic, red-and-gold Iron Man armor suit.
"I used to always love the Iron Man animated series," Tomlinson said, "and then when I saw the first [live-action] Iron Man, [I just fell in love with it]."
Tomlinson lit up as he referenced the final line of the 2008 film, in which Stark discloses in a press conference, "I am Iron Man."
"One day, I'm gonna get an Iron Man suit and wear it to the game," Tomlinson said. "He's amazing. I love Tony Stark."
Like Stark, Tomlinson is a lover of technology, science and innovation.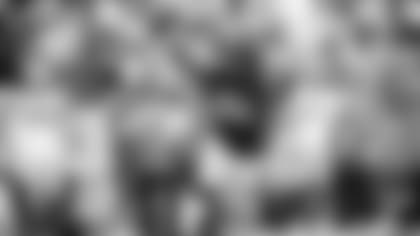 During the COVID-19 quarantine in 2020, Tomlinson learned how to build his own gaming PC; he's since constructed two more. He plays trumpet, multiple percussion instruments, piano and guitar. And when he's not watching game film or streaming the newest Marvel series on Disney+, Tomlinson enjoys drawing.
"I get into drawing Marvel stuff," he said. "And I wanted to draw myself animated, so I'm working on that one now."
Tomlinson truly challenges every "jock" stereotype out there, he acknowledges with a laugh.
"I love it. I'm a well-rounded person," he reflected. "I feel like all the interests I had as a kid, I could do them. I liked so much different stuff, I just went different routes with everything. I had a great childhood."
Tomlinson's adolescent years were filled with superheroes, imagination, art, sports and music. They also were dotted, however, with profound loss that inspires his real-life "heroism" and commitment to making the world a better place.
Pay close attention to Tomlinson on game day, and you'll notice his right wrist isn't the only one that's been personalized.
On his left wrist, the 28-year-old uses the black Sharpie to ink large letters – R.I.P. MOM – to honor his mother, Melinda, who passed away just before Tomlinson's senior year of high school.
"My mom was my 'why,' " Tomlinson said. "It's to show respect for her."
In the past few years, he's added to the left wrist. There's a M.T. for his aunt, Mary Tomlinson, who passed away in 2021, and J.B., for the mother of his best friend, Jonathan Jean-Bart, who died two years ago. Both served as important mother figures in Tomlinson's life.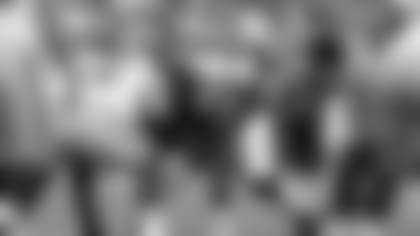 Above the ode to his mom, Tomlinson writes # 22. It's the jersey number Jean-Bart wore at Georgia State before two torn ACLs cut short his football career.
"Jonathan didn't get the opportunity to play in the league. We used to always talk as kids that we were gonna play in the league together," Tomlinson said. "So I put 22 on my wrist because it's my way of showing respect to him – 'Even though you're not out here physically, we're still playing together.' It means a lot.
"We're pretty much like brothers," Tomlinson continued. "It means a lot to him that I show respect to his mom and his number on my wrist while I'm playing. Most people don't even know what it is. But it means a lot because no matter what, he has my back. And I know my mom, my aunt and his mother, also."
On one wrist, power. On the other, his heart.
Every time Tomlinson takes the football field, he's grateful for the journey he's on. From winning the College Football Championship with Alabama in 2015, to being drafted by the New York Giants in 2017, playing four seasons and joining the Vikings as a free agent in 2021, Tomlinson has found success.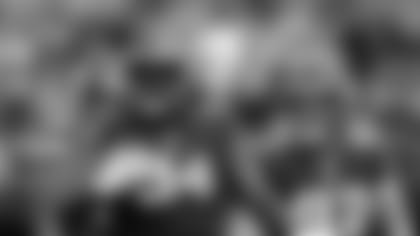 Tomlinson has 20 starts under his belt in Vikings Purple. In four games this season, he has 16 tackles, 1.5 sacks, three quarterback hits, a forced fumble and a recovered fumble. He forced the fumble in London against the Saints, knocking the ball loose and pushing it toward Harrison Phillips for the recovery.
Like so many of the comic book characters he admires, Tomlinson transforms into a dominant, crushing force beneath a bold helmet and uniform.
"And I think my creative side helps a lot," he said. "We've got to get creative sometimes on the football field, too. With rushes … you might do something you've never done before and, 'Oh, man. I like this. Let me try this now.' You're open to trying new stuff, too.
"You can learn different things to bring to your game," Tomlinson continued. "And a younger guy may give you a new move you never thought you'd try, and now it's one of your favorite moves. … Everybody brings something different to the table in our d-line room."
Tomlinson began adding the Thanos marking last season, and his nod to the Marvel universe has gained plenty of fan attention this year through Vikings TikTok and Instagram posts.
"It's super fun," he said. "I get to bring something off the field, what you enjoyed as a kid growing up, and bring it to the NFL, your profession. Something you do every day.
"It's amazing. It's super dope," Tomlinson added. "It reminds you that you're still just a big kid."
Is it pushing the analogy too far to call Minnesota's front seven The Avengers?
Probably. But when Tomlinson lines up in the tunnel at U.S. Bank Stadium, he truly feels like he's living a storybook life.
"When they announce your name, and the lights cut off, it gets dark in there and you run out of the tunnel, it just doesn't feel real. It feels like a dream," Tomlinson said. "After you get out there, you're like, 'OK, this is real. It's a dream come true.'
"But it feels like you're in a movie every single day," he added. "It's crazy."