MINNEAPOLIS – For 7-year-old Kale Griffeth, a day spent at U.S. Bank Stadium watching his favorite team was well worth a nearly 4,000-mile trip.
He and a friend, along with Kale's mother, Katy, made the trek from Oahu, Hawaii, to Minnesota to watch the Vikings defeat the 49ers Sunday.
A belated celebration of Kale's July birthday, the game was originally planned as a family trip but was altered when Kale's father, U.S. Army Chief Warrant Officer 2 Randall Griffeth, was deployed to Afghanistan.
The Vikings were made aware of the Griffeths' story and worked to make Katy and Kale's experience at U.S. Bank Stadium extra special. They received a pregame tour of the venue that included a stop at the Vikings Voyage – where Kale enjoyed "catching passes" in the virtual reality simulator – and a large birthday cake.
Kale snapped a photo with Viktor the Viking and even got to present the coin-toss coin to the game official.
Nothing was more special, however, than a surprise message.
Kale was told that he and his mother would get to be on the mammoth video board during pregame warmups. As they waited to wave for the camera, a familiar face instead appeared.
There on the screen was a video message from Kale's father: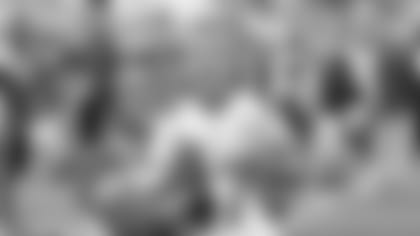 "I want to give a special shout-out to my son, Kale, for his birthday. Happy belated birthday, buddy. I miss you," CW2 Griffeth said. "I also want to say thank you to my wife Katy. I don't think people understand the sacrifices that families have to make for a deploy to Afghanistan. So thank you, and I love you, Katy.
"I also want to say thank you to the Vikings," CW2 Griffeth added. "I appreciate this opportunity – it's awesome. Go Vikings – beat those 49ers!"
As tears welled up in Katy's eyes, Kale beamed wide-eyed at his father.
"Emotional. Extremely emotional," Katy said shortly after viewing the message from her husband. "Just seeing him and knowing that he would do anything to be here, too. I know it's got to be hard knowing that we're here and he's not here.
"I think that's the best thing – just knowing that this means the world to him," Katy added.
Katy and CW2 Griffeth have been together for 18 years, 13 of which have been spent in the military.
A native of North Dakota, CW2 Griffeth is a diehard Vikings fan, and he and Katy travel nearly every year to watch a Vikings game at a different stadium. They hadn't been to Minnesota since attending a game at the Metrodome six or seven years ago.
"We're usually the [visiting fans] in the crowd, so this is amazing," Katy said. "And being down here and being in the thick of things is amazing."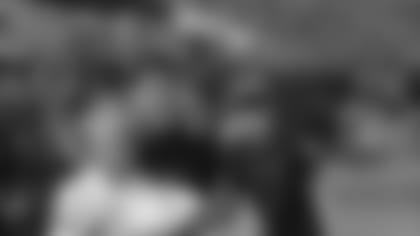 Making the long trip to Minnesota was exhausting, but Katy called it "totally worth it" as she watched Kale stand in wonder on the sideline, pointing out each player he recognized.
When asked about his favorite players, Kale didn't hesitate.
"[Stefon] Diggs and [Harrison] Smith," he rattled off. "Because they're really good. Smith is my dad's favorite."
Katy explained that the youngster couldn't bring himself to choose the jersey of Smith or Diggs because he was concerned about making the other "feel bad." Instead, Kale wore a white, custom-made jersey with No. 47 in honor of the Boeing CH-47 Chinook his father pilots.
Kale grew excited, though, to watch the Vikings own 47, Kevin McDermott, work out with the specialists before kickoff. Special Teams Coordinator Mike Priefer then invited Kale and his friend to Minnesota's bench to meet McDermott, who chatted with the young fans and snapped a photo.
"He was amazing with the boys," Katy said of McDermott.
She and Kale also were welcomed by Vikings assistant defensive line coach Robert Rodriguez.
Before the Vikings ever played a snap, they had Kale completely in awe. Katy pointed out that the quiet demeanor contrasted the boisterous energy she's used to from her 7-year-old.
"He literally doesn't know what to think right now. He's just in another world," Katy said. "I love it. I love seeing him live his dream."