Eagan, Minn. (November 13, 2019) – Vikings RB Dalvin Cook has been named NFC Offensive Player of the Week for his performance against the Dallas Cowboys in Week 10.
Cook paced the Vikings in both rushing yards (97) and receiving yards (86) to lead Minnesota past Dallas, 28-24, on Sunday Night Football. With 183 total yards in the contest, he has surpassed 100 scrimmage yards a league-leading eight times in 2019. Cook's 86 yards through the air also tied a career high.
Through 10 games, the former Florida State Seminole leads the NFL with 991 rushing yards and 1,415 scrimmage yards, while his 10 rushing touchdowns rank third in the league. Cook's 1,415 scrimmage yards also set a franchise record and is the highest 10-game total in the NFL since DeMarco Murray's 1,514 scrimmage yards in 2014. Overall, his 991 rushing yards through Week 10 are more than 15 NFL teams have totaled all season.
It's the second NFC Player of the Week award of Cook's career, having also earned the title after his Week 15 performance vs. Miami in 2018, Vikings offensive coordinator Kevin Stefanski's first game calling plays.
The Vikings have had 17 different players claim 21 total NFC Player of the Week Honors since Head Coach Mike Zimmer's hire in 2014.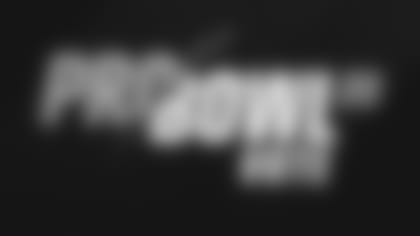 Pro Bowl Voting
Last chance! Vote to help make sure all your favorite Vikings make the 2020 Pro Bowl in Orlando. Voting ends Dec. 12, 2019.
VIKINGS NAMED NFC PLAYER OF THE WEEK UNDER ZIMMER
2014, Week 8, at Tampa Bay
2014, Week 13, vs. Carolina
2015, Week 9, vs. St. Louis
2015, Week 10, at Oakland
2015, Week 16, vs. NY Giants
2015,Week 17, at Green Bay
2016, Week 1, at Tennessee
2016, Week 2, vs. Green Bay
2016, Week 3, at Carolina
2016, Week 11, vs. Arizona
2017, Week 1, vs. New Orleans
2017, Week 7, vs. Baltimore
2017, Week 16, at Green Bay
2018, Week 1, vs. San Francisco
2018, Week 9, vs. Detroit
2019, Week 1, vs. Atlanta
2019, Week 5, at NY Giants
2019, Week 8, vs. Washington