Through the years, the Vikings have built a strong reputation along the defensive line.
The Purple People Eaters dominated the 1970s, while others such as Keith Millard and Chris Doleman were stars a decade later. John Randle then put his stamp all over the '90s.
The current group features a trio of Pro Bowlers in Danielle Hunter, Everson Griffen and Linval Joseph, meaning opposing quarterbacks have had tough tasks going against Minnesota defensive lines for most of the past 50 years.
With such a rich history, it's no surprise that a trio of former Vikings defensive linemen were recently named finalists for the NFL's All-Time Team.
Carl Eller is one of 17 finalists at defensive end, while Alan Page and Randle are among 16 finalists at defensive tackle. The team will be revealed Friday at 7 p.m. (CT) on NFL Network with seven defensive ends and seven defensive tackles making the final team.
Eller played in 209 career games with the Vikings from 1964 to 1978, making 201 starts and racking up a franchise-record 130 sacks. He was a five-time All-Pro, six-time Pro Bowler and was enshrined in the Pro Football Hall of Fame in 2004.
Eller played in all four Vikings Super Bowl appearances, and he is one of three players in team history to have made 200-plus starts in Purple. He was inducted into the Vikings Ring of Honor in 2002.
Page also played in each Super Bowl. The defensive tackle changed the game with the quickness he displayed in Minnesota from 1967 to 1978. In 1971, he was the first defensive player to be named the NFL MVP. A four-time NFC Defensive Player of the Year, Page was selected to nine Pro Bowls.
Page tallied 148.5 career sacks (108.5 with Minnesota), blocked 28 kicks and recovered 23 fumbles. He was enshrined in the Pro Football Hall of Fame in 1988 and a charter inductee in the Vikings Ring of Honor in 1998.
Like the two greats before him, Randle is also in the Pro Football Hall of Fame (2010) and the Vikings Ring of Honor (2008). An undrafted free agent, Randle spent 11 seasons in Purple (1990-2000) and recorded 114.0 of his 137.5 career sacks with the Vikings. His career sacks total leads all defensive tackles in league history and is also tied for 10th all-time.
Named to the All-Decade Team in the 1990s, Randle was selected to six straight Pro Bowls from 1993-1998. He had double-digit sacks in each season from 1993 to 2000.
The NFL's All-Time Team will consist of 100 players and 10 coaches. It is selected by a 26-person panel made up of coaches, team and front office executives, former players and media members.
Accuracy has helped Cousins thrive in 2019
Kirk Cousins is playing perhaps the best football of his career, as he is thriving due to his skills, solid coaching and the playmakers around him.
But there is one area where the Vikings quarterback has really stood out in 2019, and it's helped him climb into the MVP conversation.
Keegan Abdoo of NFL.com recently took a look at seven potential MVP candidates and highlighted what they've done best this season with Next Gen Stats. For Cousins, it was relying on his pinpoint accuracy.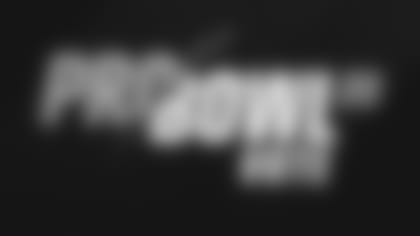 Pro Bowl Voting
Last chance! Vote to help make sure all your favorite Vikings make the 2020 Pro Bowl in Orlando. Voting ends Dec. 12, 2019.
After a slow start to the season, Kirk Cousins has been playing lights out since Week 5, defeating noted boogeyman narratives that have haunted his career (such as an inability to beat winning teams and win prime-time games). Cousins' case for MVP starts with his accuracy, especially relative to the difficulty of his passes.
Cousins has completed 70.6% of his passes this season, which is +7.2% above expectation (best in the NFL). Cousins' performance has been no fluke. He has excelled when not pressured, which is the metric we can expect to be most stable going forward. Cousins has the highest TD rate (7.5%) when not under pressure and trails only Russell Wilson in passer rating (121.0).
Cousins has also completed 48.6% of his deep passes (third-highest rate in the NFL), throwing 7 TDs with 0 INTs on such passes. Play-action has been critical to his success, as he's thrown 12 TD passes when using play-action (five more than any other QB).
Cousins has completed 226 of 320 passes (70.6 percent) for 2,756 yards with 21 touchdowns and three interceptions. Cousins' completion percentage ranks fourth in the NFL, but he leads the league with a passer rating of 114.8.
Abdoo highlighted six quarterbacks on his list, including Russell Wilson, Lamar Jackson, Dak Prescott, Aaron Rodgers, Cousins and Deshaun Watson. Saints wide receiver Michael Thomas was also on the list.