Stefon Diggs caught a career-high three touchdowns and got involved on a couple of trick plays, and Kirk Cousins finished 22-of-29 passing for 333 yards. He tied a career best with four touchdown passes.
Here are three stats that stood out:
Cousins and the Vikings took advantage of Philadelphia's focus on stopping Minnesota's vaunted run game by finding 1-on-1 coverages against Diggs and letting it fly.
Diggs' first touchdown of 62 yards occurred on a post route. His second touchdown was a 51-yarder on a "takeoff" route.
According to the passing zone chart below from NFL.com's Next Gen Stats, Cousins attempted six passes of 20 or more yards through the air, completing three for 142 yards and the two scores, generating a passer rating of 135.4.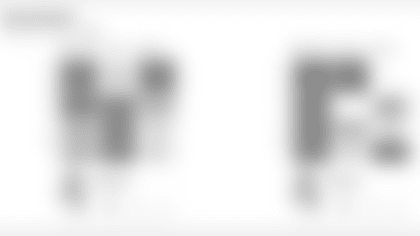 Eagles QB Carson Wentz also attempted six passes that traveled at least 20 yards, completing two for 55 yards with one touchdown, an interception and a passer rating of 68.1.
Cousins led all quarterbacks in Week 6 (does not include Monday's game between Detroit and Green Bay) with averages of 9.8 completed air yards and 12.9 intended air yards, as well as the longest completed air distance (60.5 yards on the first touchdown to Diggs) of any throw.
This is a definition of CAY and IAY from Next Gen Stats:
Air Yards is the vertical yards on a pass attempt at the moment the ball is caught in relation to the line of scrimmage. CAY shows the average Air Yards a passer throws on completions, and IAY shows the average Air Yards a passer throws on all attempts. This metric shows how far the ball is being thrown "downfield." Air Yards is recorded as a negative value when the pass is behind the Line of Scrimmage. Additionally, Air Yards is calculated into the back of the end zone to better evaluate the true depth of the pass.
While he was effective on the deep shots, Cousins was even more surgical in the red zone with different types of throws to Adam Thielen on a 6-yard touchdown pass and a dart to Diggs from 11 yards for his fourth scoring pass of the day.
According to Next Gen Stats, the pass to Thielen had a completion probability of 24.1 percent, and the one to Diggs had a rate of 24.2, which ranked sixth and seventh, respectively, as the least likely completions of Week 6.
The game featured three of the 18 longest plays and three of the 16 longest tackles of Week 6. Longest plays are not measured solely by yardage gained. They instead include the entire distance traveled by a player.
Diggs ranked ninth in the category, covering 68.2 yards on his longest score of the game.
Eagles running back Miles Sanders traversed 64.1 yards on his 45-yard reception, which occurred early in the third quarter, to rank 13th.
As expected, long pass plays involve a lot of distance, but how about Diggs' 8-yard improvisational run on a double-reverse with an option to pass?
It turns out Diggs covered 60.7 total yards in escaping tackle attempts from Brandon Graham, Malcolm Jenkins and Fletcher Cox.
Former Vikings safety Andrew Sendejo covered 45.2 yards (16th-longest tackle) before bringing Diggs to the turf.
Jenkins had the third-longest tackle of Week 6 when he covered 55.8 yards to track down Alexander Mattison after the rookie running back burst free for a 35-yard gain.
Vikings cornerback Trae Waynes covered 46.9 yards to bring down Eagles receiver Nelson Agholor after a 23-yard gain. It was the 11th-longest tackle of Week 6.
3. First four Vikings and final four Eagles possessions differ dramatically
Minnesota gained 226 net yards — and more importantly scored 24 points — on its first four possessions that included 25 plays.
The successful run included a tone-setting, 13-play drive that included both of the Vikings third-down conversions on the day. The first was a 20-yard pass to Thielen to pick up a third-and-13. The second was a 2-yard run by Cook on which the running back managed to reach the ball across the line-to-gain before he was tackled. The spot was initially marked short, but Head Coach Mike Zimmer successfully challenged, and the Vikings scored two plays later.
Philadelphia gained 98 net yards — and more importantly scored 0 points — on its final four possessions that included 17 plays.
The Vikings forced a punt after the sack by Kendricks and Alexander, who came in on a blitz. According to Next Gen Stats, Carson Wentz was sacked in 3.53 seconds, the 10th fastest time in Week 6.
Kendricks ended the Eagles next possession by forcing a fumble after a 22-yard completion. Anthony Barr collected the football and returned it 19 yards.
Alexander then halted Philadelphia's next drive on the first snap when he undercut a pass intended for tight end Dallas Goedert for an interception.
The final possession began at the Philadelphia 8 and involved four runs for 30 harmless yards before time expired.