Harrison Smith intercepted Nick Foles on Chicago's second offensive play, and the Vikings offense followed with a crisp scoring drive that Adam Thielen capped with a one-armed catch. Smith and the defense brought the necessary attitude in the slugfest, particularly in the final three quarters during which Chicago netted just 79 yards of offense.
Here are three stats that stood out:
Kirk Cousins delivered his best performance as a Viking against the Bears. He finished with a passer rating of 100.7 after completing 25 of 36 passes (69.4 percent) for 292 yards and two scores to Thielen. He suffered an interception when a ball bounced off Thielen and into the arms of Khalil Mack, who had dropped into coverage.
Foles finished 15-of-26 passing (57.7 percent) for 106 yards with the interception for a passer rating of 51.1. Next Gen Stats calculated that Foles was expected to complete 64.8 percent, for a difference of minus-7.1 percentage points that ranked 23rd.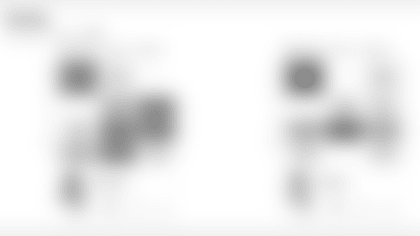 The chart above illustrates Cousins' successes across the field, particularly down the middle to move the ball and on passes between the line of scrimmage and 20 yards beyond it. Foles and the Bears offense under a new play caller (Offensive Coordinator Bill Lazor) never found a spot to attack in the Vikings defense that mixed things up nicely.
Cousins was 17-for-21 with 153 yards, a score and the interception on throws between the line of scrimmage and 10 yards beyond it. Foles was 9-for-11 for 77 yards.
Down the middle, Cousins was 11-for-14 with 170 yards, compared to Foles going 3-for-6 with 36 yards and the pick.
The snag by Thielen against solid coverage for the first score of the game had a completion probability of 26.7 percent, which only trailed the Hail Mary by the Cardinals (16.9 percent chance) and a 46-yard pass from Ben Roethlisberger to Diontae Johnson (25.9) in terms of completion improbability for a Week 10 play that ended with a reception.
Facing third-and-5 on Minnesota's second possession, Cousins took a shot, gave Thielen a chance and reaped the reward.
Justin Jefferson and Kyle Rudolph delivered big plays in the traditional box score, including a reception each late that ranked among league superlatives for "incredible yards after catch."
Jefferson's 54-yard reception was the longest of the game by a wide margin and converted a third-and-11. According to Next Gen Stats, Jefferson totaled 37 yards after the catch on the play but was only expected to gain 13-14. NGS credited Jefferson with an excess of 24 yards on the play, which ranked second in the NFL in Week 10.
Rudolph picked up a first-and-20 with a 22-yard gain in the fourth quarter to set up the winning score. NGS calculated that Rudolph's 17 yards after the catch exceeded expectations by 15 yards, which ranked sixth in the NFL.