MINNEAPOLIS – Someone forgot to tell the Vikings that they were playing the NFL's top run defense on Sunday.
Philadelphia had allowed opponents just 63.0 rushing yards per game through the first five weeks, but Minnesota chipped away and stacked up 122 yards – and a touchdown – on the ground.
Dalvin Cook anticipated a difficult task against an Eagles defensive line that includes Fletcher Cox and Brandon Graham.
"We knew coming into this thing we were just going to have to win in the trenches, and I think we won in the trenches today," Cook said. "We moved guys around, we got some seams, we took the 4-yard gains and the 3-yard gains, and with a type of team like that, with the big guys up front, you've gotta wear them down and try to get it going, and I think we did that toward the end."
Vikings Head Coach Mike Zimmer during his postgame press conference complimented "some good runs" by Minnesota.
"You know, there were a couple negatives, but most of the time we had positive yardage on the runs," Zimmer said. "When you do that, it starts to tighten things up where you can get some balls over the top."
Vikings quarterback Kirk Cousins was able to air it out against an Eagles defense that focused heavily on stopping the run, racking up 333 yards and four touchdowns – including three by Stefon Diggs – through the air.
Cook personally takes pride in the passing game numbers.
"You've gotta defend everything. You can't just sit down and load the box and pin your ears back and stop the run," he said. "We've got guys that can light this thing up, and you saw that today. Once we give them opportunities and let Kirk just do what he does – we only allowed one sack today. When we give him opportunities to do what he does, he's going to be Kirk.
"We knew Malcolm Jenkins, (Rodney McLeod), all those guys were going to be lingering in the box trying to make plays," Cook later added. "Once you get that extra guy in the box, like I said, if Kirk gets out there, he's going to make a good decision."
On the day, Cook recorded 16 carries for 41 yards and ran in a short touchdown midway through the fourth quarter to put the game out of reach for Philadelphia.
It may not have been a hundred-yard performance, but Cook was happy to share the wealth with teammate Alexander Mattison. The rookie led Minnesota with 63 yards rushing on 14 carries. His most impressive run occurred early in the fourth quarter, a 35-yard run that featured Mattison hurdling a defender.
"That felt great to get out there and get in the open field," Mattison said. "I'm just going to continue to work and get some more plays like that."
The move was slightly reminiscent of Mattison's athletic touchdown leap against the Raiders in Week 3.
"I think you're all going to see that a lot in his career," Cook said. "He hurdles guys and makes guys miss. He's a special player, he's learning every week, he's getting better, and I'm just continuing to be proud of him. And he's continuing to make plays."
Minnesota's success on the ground was made possible in part by the Vikings offensive line, which for the most part held its own against Philadelphia in the run game.
"They have a very good front, and we knew they were No. 1 rush defense," said Dakota Dozier, who started at right guard in place of an injured Josh Kline. "But we said, 'You know what, we're going to go at them and see what we can do.' We were able to move the ball, and it felt good."
Added rookie center Garrett Bradbury: "When you're scouting them, you obviously hear they're the No. 1 rush defense in the NFL. We have to understand it's on us. If we do what we're supposed to do and trust our coaches and training, just execute what's called."
Left tackle Riley Reiff left the game with an injury twice during the afternoon and was replaced by Rashod Hill.
"They did well," Zimmer said of the linemen. "I thought Rashod came in and did well, and those guys battled. Their defensive line is a [unit] that's going to come off the ball and attack you, and like I said during the week, we're going to have to come out and attack them, and I thought we did that well."
Diggs added 18 rushing yards on two carries a season after totaling 25 on two rushes at Philadelphia.
The Vikings convincing win over the Eagles improved them to 4-2 on the season heading into next weekend's division matchup at Detroit.
Cook credited Offensive Coordinator Kevin Stefanski and emphasized the importance of stringing together positive performances.
"It's early in the year. If we keep stacking these things up and keep finding way to get guys the ball, we're becoming the offense that we know we can be," Cook said. "Teams just can't sit back and say they've gotta stop the run and load the box up. We've got guys that can make plays, and today you saw what type of special play-caller we have."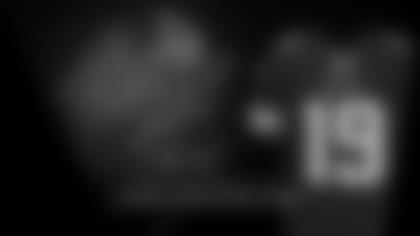 Get Your Primetime Purple Jersey
The Vikings will wear their Primetime Purple jersey, Thursday, Oct. 24 against the Redskins. Visit the Vikings Locker Room Team Store to buy your Primetime Purple jersey today!