The Vikings offense has faced some of the top pass rushing teams in the NFL over the past few weeks, including the top two in team sacks in Dallas (45) and New England (37).
On the defensive side of the ball, Minnesota ranks 14th in the NFL with 29 sacks, despite pressuring opponents just 19.6 percent of the time — the ninth-lowest mark in the NFL — according to Pro Football Reference.
Against New England in Week 12, the Vikings blitzed Patriots quarterback Mac Jones only six times on 39 total passes, which equates to 15.4 percent and is on pace for the eighth-lowest blitz rate in the league for the season.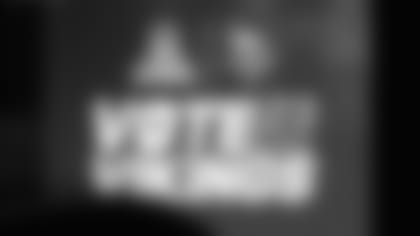 Pro Bowl Voting is Open!
Cast your vote to send your favorite Vikings to the 2023 Pro Bowl Games.
Andrew Krammer of the Star Tribune recently looked at whether or not the Vikings should dial up more pressure.
Krammer said before Minnesota Defensive Coordinator Ed Donatell starts throwing the kitchen sink at opposing quarterbacks, some factors should be taken into account. He wrote:
Donatell didn't blitz Jones until he knew the Patriots quarterback had to hold onto the ball. He clearly wanted as many bodies in coverage as possible against a quick-throwing attack. The first extra Vikings rusher didn't come until a hurry-up drive — a push-the-ball-downfield situation — before halftime. And three successful blitzes at the end were all on longer third downs.
The Vikings seldom-blitzing ways can also increase effectiveness of their extra rushers, said linebacker Jordan Hicks, the team's primary blitzing defender.
"The majority of our pressure looks, a lot of times we're dropping out," Hicks said. "Week after week, we've kind of showed that, and I think they weren't expecting it. When the time came for Ed to dial it up, he did a great job and called it at the right time. Keeping them honest, keeping them on their toes."
Krammer said whether or not the Vikings are blitzing, their defense needs to improve against the pass. Minnesota currently ranks last in the NFL in opposing passing yards per game (276.1).
In the past two games, Minnesota recorded just three incompletions against Cowboys quarterback Dak Prescott and allowed Jones to throw for a career-high 382 yards.
Jones was also able to get the ball out at an average clip of 2.47 seconds against the Vikings, according to PFF. Just six quarterbacks had a faster release time last week.
One of those six was New York Jets QB Mike White, who shredded the Chicago Bears defense for 315 passing yards and three touchdowns. Minnesota will face White and the Jets at noon (CT) Sunday.
Krammer noted while Donatell could provide even more pressure at earlier points in the game, a complete overhaul isn't necessarily needed.
The Vikings don't blitz very often — and it doesn't always go as well as it did last week. It's also the first year with a new coaching staff, therefore they don't have layers of complex blitzes like they did under Mike Zimmer.
What they could use is a more consistent four-man pass rush, which also generated some late-game pressures on Jones through stunts with Za'Darius Smith, as well as some games without major coverage busts. The expected return of defensive lineman Dalvin Tomlinson, who was the team's best interior pass rusher before going down Oct. 30 with a right calf injury, will help.
Hicks said the team can still find plenty of success defensively even with a four-man rush.
"I've been on both," Hicks said. "We were very successful in Philly because we had a dominant [four-man] pass rush, and I think the mentality is similar here. We got a pass rush that can get back there and be very disruptive, and when you have that you don't have to bring five or six guys. We got a lot of faith in those guys."
WR Jefferson, LT Darrisaw land on ESPN's "Top 25 under 25" list
Every NFL team needs veteran players, but in order to truly have success and bring excitement to its fanbases, young talent is a requirement.
Wide receiver Justin Jefferson was ranked second on the list, just behind Dallas linebacker Micah Parsons.
A true difference-maker in the Vikings offense, Jefferson has the ability to take over games. We can look at the savvy route-running traits, the vertical juice or the ability to make contested catches. He wins at every level of the field. And with three straight seasons of over 1,000 yards receiving, Jefferson is already one of the league's best at the position. According to NFL Next Gen Stats, he has made 23.5 receptions over expectation during his career, and his 4,248 receiving yards tops the NFL since 2020 by more than 300.
Left tackle Christian Darrisaw was ranked 23rd, in between Detroit tackle Penei Sewell and Atlanta tight end Kyle Pitts.
Darrisaw has the traits to develop into one of the league's top players at the left tackle position. He's an easy mover who can smoothly climb to the second level in the run game, with the body control and lateral foot quickness to match pass-rushers. Darrisaw has registered a pass block win rate of 86% this season, up from 77.6% in his rookie year, and he has allowed just one sack in 2022.