Now that the Reese's Senior Bowl activities are over, NFL teams, media outlets and analytics sites are reviewing the performances of the players.
Steve Palazzolo of Pro Football Focus listed 10 players that he believes **helped their draft stock** the most during last week's practices and game in Mobile, Alabama.
With the NFL Draft coming up in late April, here are Palazzolo's top three players who caught the eye of NFL scouts and executives:
1. Noah Spence, DE, Eastern Kentucky
For Spence, this week was important for multiple reasons, as his off-field meetings with teams were of utmost importance due to his checkered past, and on the field, it was important to prove that the now small-school prospect could succeed against the best players in the country.* *
Consider it a win, as Spence was unblockable for much of the week, especially as a pass-rusher.
Whether in one-on-ones, team drills, or Saturday's game, Spence's explosion and ability to get to the quarterback were on display, so expect his hype to jump through the roof in the coming weeks.
2. Carson Wentz, QB, North Dakota State
The Wentz hype [last] week was rather predictable, and it had as much to do with his look as his on-field play. Wentz was by far the best "looking" quarterback from a size, athleticism, and arm strength standpoint — so much so that evaluators were willing to overlook his play on the field.*
It's not that he performed poorly, but Wentz was always going to make a strong impression, especially when throwing the ball side by side with an average crop of passers. The ball clearly came out of Wentz's hands better than his peers, and he flashed some of the big-time throws that have wowed scouts. Wentz is by no means a lock as a prospect — there are still some decision-making, timing, and accuracy concerns — but  [last] week solidified his hype as a top-10 prospect as his tools alone will be difficult for a QB-needy team to pass up.
3. Carl Nassib, DE, Penn State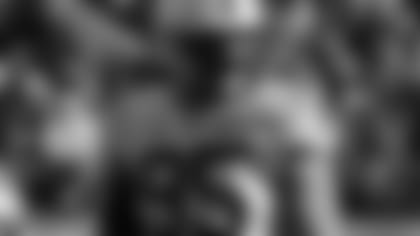 Nassib is the opposite of Wentz, as many scouts will point to his lack of athleticism as a negative. But Nassib simply produced on the field, especially in one-on-ones where he dominated over the course of three days. So while you'll hear that he can't turn the corner and can't rush the passer at the next level, Nassib simply backed up his 27.8 pass-rush grade that ranked 13th in the nation this season. He explodes into blockers, playing with good power and often winning with his hands, even if he's not going to turn heads with a quick first step or change-of-direction ability.
The six other players on Palazzolo's list are Louisville DE/DT Sheldon Rankins, Notre Dame DE/DT Sheldon Day, South Carolina TE Jerell Adams, Arizona State G Christian Westerman, Auburn CB Jonathan Jones, Virginia CB Maurice Canady and Ohio State WR Braxton Miller.
Palazzolo's full summaries of the 10 players can be found here.
Former Viking Allen 'feels great' ahead of Super Bowl 50
Former Vikings defensive end Jared Allen was held out of the NFC Championship game for precautionary reasons with a foot injury.
But Allen says there's no chance he misses Carolina's next game — a Sunday matchup with the Broncos in Super Bowl 50.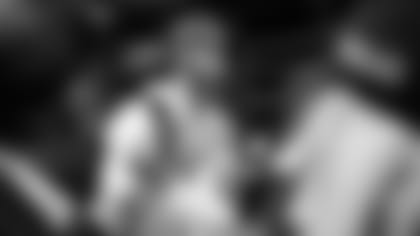 Speaking with NFL Media's Nate Burleson at Monday's Opening Night media event, Allen says his foot isn't an issue anymore.
"I feel great," Allen said. "Honestly, I feel, hopefully, I'll be a tremendous factor in this game. So, as far as physically, 100 percent ready to go, just preparing like normal."
Allen, who started 96 games during his six years in Minnesota (2008-13), recorded 85.5 sacks as a Viking.
Allen says he'll do his best to get after Denver quarterback Peyton Manning, who is known for getting rid of the ball quickly.
More of Allen's comments to Burleson can be found here in a story by NFL.com's Kevin Patra.