All eyes have shifted to a stage in Chicago for tonight's first round of the 2016 NFL Draft. Here are 10 numbers of note about the Vikings, draft history and this year's pool of prospects:
4 — number of times since 1967 that the top two picks in a draft year have been traded; Tennessee sent the top overall pick to Los Angeles, and Cleveland dealt the second spot to Philadelphia in recent separate trades; the third pick also was swapped in the three previous times (1967, 1975 and 1997); San Diego has that spot
6 — most picks ever taken from one school in one first round (Miami, six in 2004); Ohio State will have five players in Chicago who could hear their names called Thursday; Southern Cal (1968), Miami (2002) and Ohio State (2006) are the only three schools to have five players selected  in one first round
7 — years in a row in which at least one Alabama player has been drafted in the first round; the active streak is tied with past streaks by Florida, Ohio State and Pittsburgh for the third longest ever, behind Miami (14 years, 1995-2008) and Florida (nine years, 1983-91)
8 — selections the Vikings are scheduled to make; Minnesota made 10 selections last year and nine of those players are on the roster
10 — minutes allotted per team to make a selection or trade once it is "on the clock" in the first round; the amount of time drops to seven minutes for the second round, five minutes for rounds three through six and four minutes in the seventh round
14 — number of players selected No. 1 overall since 1936 who have been enshrined in the Pro Football Hall of Fame, including Ron Yary, who was drafted by Minnesota in 1968
18 hours, 5 minutes — amount of time that teams were on the clock during the 2007 draft, the longest amount of time for a seven-round draft since 1967; the year that also included the longest first round (6 hours, 8 minutes); the shortest draft in that span was in 2015 and lasted 13 hours, 45 minutes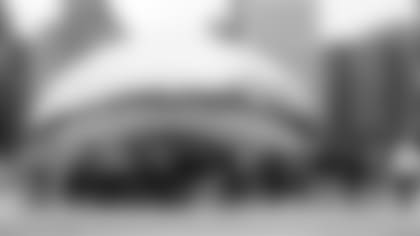 25 — college prospects are scheduled to attend this year's NFL Draft:
CB Eli Apple, Ohio State, RB Ezekiel Elliott, Ohio State, DT Robert Nkemdiche, Mississippi, DE Joey Bosa, Ohio State, QB Jared Goff, California, LB Reggie Ragland, Alabama, DT Vernon Butler, La. Tech, CB Vernon Hargreaves, Florida, CB Jalen Ramsey, Florida State, WR Corey Coleman, Baylor, LB Myles Jack, UCLA, DT Jarran Reed, Alabama, T Jack Conklin, Mich. State, DT Chris Jones, Miss. State, DT A'Shawn Robinson, Alabama, T Taylor Decker, Ohio State, DE Shaq Lawson, Clemson, T Ronnie Stanley, Notre Dame, WR Josh Doctson, TCU, LB Darron Lee, Ohio State, WR Laquon Treadwell, Mississippi, DE Kevin Dodd, Clemson, S Keanu Neal, Florida, T Laremy Tunsil, Mississippi, QB Carson Wentz, North Dakota St.
Click here for Vikings.com's Prospect Profiles series
34 — Vikings on the roster who have been drafted since 2007, which was the first draft under Rick Spielman; **Minnesota leads the NFL** in the percentage of draft picks retained in that time span
68 —players drafted in first rounds since 1967 out of Southern Cal; Miami is second with 58, and Ohio State is third with 56