Carolina Panthers center Ryan Kalil has been able to call on his brother, Vikings left tackle Matt Kalil, for an advanced scouting report on the Broncos in preparing for Super Bowl 50.
Matt Kalil, the younger of the two, played against Denver in Week 4 of the 2015 season.
Mark Craig of the Star Tribune talked with Ryan Kalil at the Super Bowl this week, and Ryan said Matt has given him some inside insight on the Broncos.
Ryan said the two have talked business about the Broncos. The Vikings nearly upset the Broncos in Denver in Week 4. Quarterback Teddy Bridgewater completed 27 of 41 passes for 269 yards and a touchdown, but was sacked a season-high seven times, including the strip-sack by safety T.J. Ward that clinched Denver's 23-20 win in the closing seconds.**
"Matt and the Vikings had some experience with Denver," Ryan said. "So I've been picking his brain and asking him some things the last couple weeks. It's been fun."  **
While the Kalil brothers will surely enjoy their time together in California, Ryan quipped that they won't get as much fanfare as Denver quarterback Peyton Manning and his brother Eli, the quarterback of the New York Giants.
"We don't have money like the Mannings, so Matt probably won't be in a box," joked Ryan, the Panthers' starting center. "He'll just have his comp ticket he gets from the Vikings. If he needs more, he's getting his own tickets. I'm not getting him any tickets. He can afford it."
Looking back at Signing Day stars for the Vikings
There was plenty of hype and hoopla on Wednesday for National Signing Day.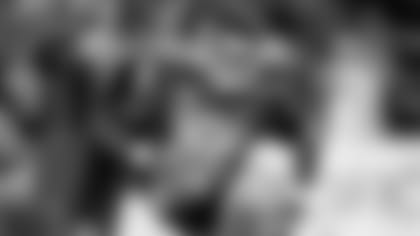 Andrew Krammer of 1500ESPN.com took a glance at the past and looked at how many stars Vikings players were rated as back in the day.
Of the 22 players listed by Krammer, six were five-star recruits. The stars are ranked by Rivals.com and the reports are from ESPN.com.
The six Vikings were RB Adrian Peterson, T Matt Kalil, TE Kyle Rudolph, WR Stefon Diggs, DT Sharrif Floyd and DE Everson Griffen.
Here's what scouts thought of Peterson back then:
RB Adrian Peterson / Palestine, TX / Oklahoma
Recruiting excerpt:* "When I watched his senior film, he reminded me of former Sealy All-American Eric Dickerson. He runs with good body lean, shows remarkable agility, balance and, of course, blazing speed. Another thing I liked about Adrian on film is that he is very tough, always finishes his run and tries to make the defenders pay. As a junior, Adrian carried the ball 246 times for 2,057 yards and 22 touchdowns, averaging 8.8 yards per carry. The nation's top running back has the look of a Heisman candidate." *
Click **here** to read takes on the other players.