If there's anyone qualified to weigh in on running backs, it's Maurice Jones-Drew.
The three-time Pro Bowler played for the Jaguars from 2006-13 and for the Raiders in 2014 before hanging up his cleats. Jones-Drew, now working as an NFL Media analyst, recently took a look at veteran running backs added to rosters during the offseason that he believes will thrive with their new teams.
Jones-Drew listed Latavius Murray seventh on the list while making an interesting prediction. He said that he expects Murray to have 160-200 carries for 700-900 yards and eight touchdowns – unless rookie Dalvin Cook emerges as the front runner. Jones-Drew said he ultimately expects Minnesota's run game to significantly improve behind either running back. He wrote:
Murray looked poised to be the main back in Minnesota after the release of Adrian Peterson. Then the draft happened. Murray's production in 2017 will depend on what Dalvin Cook brings to the table […] If the rookie must learn, the former Raider will get a ton of carries.
The Vikings ranked dead last in rushing last season. Their offseason moves proved that they are dedicated to improving the ground game, bringing in offensive linemen and RBs in free agency and the draft. This team is determined to retake the NFC North and will ride with its hot hand in the backfield, whether it be Murray or Cook.
Topping Jones-Drew's list was Marshawn Lynch, who came out of retirement to sign with his hometown Raiders. Jones-Drew predicted Lynch to record 170 carries for 850 yards and 10 touchdowns during his debut season with Oakland.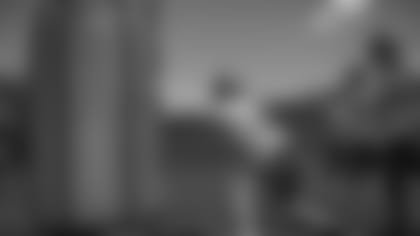 Sam McCaskill grateful for opportunity with Vikings
The Viking signed a number of rookie free agents following the 2017 NFL Draft, one of them being defensive lineman Sam McCaskill out of Boise State.
Recently, The Register-Guard *reporter Steve Mims caught up with McCaskill* **to talk about his opportunity in Minnesota and experience in Organized Team Activity practices. Mims wrote:
McCaskill arrived at Boise State at 215 pounds and sat out a redshirt season. He earned a starting spot as a sophomore and emerged as a pro prospect during his senior season, when his 50 tackles matched the total from his first three years with the Broncos.
"The thing that gets me most excited is I don't feel like I've reached my full potential yet," McCaskill told Mims. "That's a big part of the reason why I want to be on an NFL roster […] I want to see the best version of a football player that I can be.
"It has been an outstanding opportunity, so much different than people talk about with the NFL," McCaskill said. "People say players are in it for themselves, but that's not what I've seen here. There's camaraderie in the locker room, and we're friends outside."
Kramer's 1980 Hail Mary makes NFL's top-10 list
On Dec. 14, 1980, the Vikings trailed the Browns 23-22 with just five seconds remaining on the clock.
With the playoffs on the line, Tommy Kramer dropped back to his own 46-yard line and let it fly. The ball was initially tipped by Browns safety Thom Darden in a crowd near the sideline, and then receiver Ahmad Rashad reaches out, gets a hand on the pigskin and pulls it in at the 2-yard line before stepping into the end zone for the game-winning touchdown.
The win clinched a playoff berth for the Vikings, who finished the regular season 9-7 and fell to the Eagles in the Divisional round.