It's interesting every NFL season to see which offseason moves have the biggest impact on their respective teams.
ESPN's Field Yates said that a "bevy of activity," from front-office moves, to trades and free agency signings, to the NFL Draft, "signaled an opportunity to take the pulse of some of those around the league." Yates polled coaches and scouts to see **which moves most impressed them**.
Among the highlighted transactions was the Vikings signing of quarterback Kirk Cousins. Yates wrote:
*Sensible suitors for Cousins needed to not only be equipped to pay him the lucrative price tag he would fetch … but also be on the precipice of competing for a Lombardi trophy – like the Vikings. *
Yates quoted an assistant coach in the league who said he thinks Cousins "can be a guy that puts them over the top."
While Case Keenum was exceptional for much of 2017, there was a larger body of work to suggest Cousins could sustain his production over time. And while Minnesota was handled by Philadelphia in the NFC Championship Game, the roster profiles as a team ready to make a deep run again this season because of Cousins and other additions.
The coach also emphasized the signing of Sheldon Richardson.
"If Richardson can be a disruptive pass-rusher, it will make them even more dynamic on defense," the coach told Yates.
Which other offseason action caught the attention of coaches and scouts around the league?
Additional moves included the Colts trading back from No. 3 to No. 6 in the NFL Draft; the Chiefs signing Sammy Watkins; the Patriots drafting a "do-it-all back" in Sony Michel; the Browns making "offensive upgrades" overall, including drafting quarterback Baker Mayfield; Chicago's overall approach to the offseason; and the 49ers signing former Vikings running back Jerick McKinnon.
Several Vikings included in Gosselin's 'all-time NFL special teams unit'
There's no question the impact that special teams have on games week-in and week-out in the NFL.
Rick Gosselin of the Talk Fame Sports Network described himself as a "keen observer of the NFL kicking game," starting in 1980 when Chiefs Special Teams Coach Frank Gansz provided his "formula for ranking the league's special teams." Since that time, Gosselin has compiled rankings of clubs' special teams every year.
Gosselin recently **assembled his all-time NFL special-teams unit** and included 22 starting spots: a kicker, punter, kickoff specialist, holder, deep snapper, personal protector for punts, kickoff returner, punt returner, two interior kick blockers, two edge kick blockers and 10 coverage aces.
Add the second-team and nine "wild card" positions, and Gosselin has a 53-man roster focused entirely on special teams.
Of the 53, six spent time with the Vikings.
Two former Vikings were included on Gosselin's first-team: Morten Andersen (kickoffs) and Matt Blair (interior kick blocker). He wrote the following of Andersen, who played 25 seasons in the NFL and was with the Vikings in 2004:
One of only two pure placekickers in the Hall of Fame. NFL all-decade selection for both the 1980s and 1990s. His long leg gave NFL teams the courage to attempt long field goals (Andersen kicked 40 of 50-plus yards with a long of 60), and he also was among the first to make the kickoff a weapon for special teams. According to the *Pro Football Journal, Andersen led the NFL in touchback percentage nine times and finished second four other times. *
Blair spent his entire 12-season career with Minnesota (1974-85).
A six-time Pro Bowl outside linebacker with 23 career sacks and 16 interceptions. But he ranks second all-time in blocked kicks behind Hendricks with 20. He blocked three field goals, 16 extra points and one punt. He blocked five kicks in 1979 alone.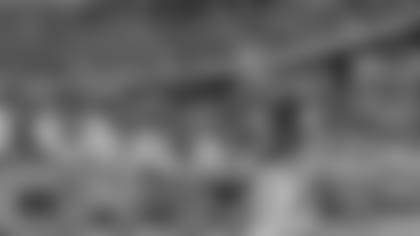 On Gosselin's second-team, Jan Stenerud was tabbed as the kicker. Stenerud, the only other pure placekicker in the Pro Football Hall of Fame, was a four-time Pro Bowler and member of the NFL's 75th Anniversary Team. He played from 1967-85, spending the final two seasons of his career with the Vikings.
*Among the NFL's first wave of soccer-style kickers, Stenerud ranks 13th all-time in field goals (373) and 15th in points (1,699). Stenerud kicked at least one 50-yard field goal in nine of his first 10 seasons – and that was before teams routinely attempted kicks from that distance. *
Lee Johnson, who was with Minnesota for part of the 2001 season, was listed for kickoffs on second-team.
Tabbed as an interior kick blocker on Gosselin's second-team was none other than Hall of Famer Alan Page, who spent the majority of his NFL career in Purple.
Bud Grant built one of the great kick block units in NFL history with Blair and Page on the inside. Page blocked 16 kicks – eight field goals, seven extra points and one punt. Page blocked five kicks in 1976 alone.
Finally, to "round out" the 53-man roster, Vikings Hall of Fame safety Paul Krause was included as a holder. Gosselin pointed out that during a 10-year stretch (1968-77) in which the Vikings won nine division championships, Krause was the team's holder while Fred Cox was the kicker and Mick Tingelhoff was the long snapper.
That trio produced 986 kicking points, with Cox leading the NFL in scoring in both 1969 (121 points) and 1970 (125 points). Krause also threw an 11-yard touchdown off a fake field goal and rushed for a pair of first downs.