Dinnertime at the Rudolph household brings the entire family together.
There's Vikings tight end Kyle Rudolph; his wife, Jordan; 4-year-old twin daughters Andersyn and Finley; almost-2-year-old Henry … and of course Charlie and Bentley, the English bulldogs.
"As soon as we sit down to eat, they know that a lot of Henry's food is going to end up on the floor, so [that's where they hang out]," Kyle said. "And sure enough, you see him take his food, wipe it off his tray and right down to – usually – Bentley, who's sitting right there to eat it.
"But Charlie hasn't missed many meals, either," he added with a laugh.
The elder – and heftier – of the two, Charlie has a brown-and-white coat, wrinkled face and an expression seemingly even more curmudgeonly than a typical bulldog. He'll turn 9 in February. Kyle and Jordan's first "baby" is named after former Notre Dame Head Coach Charlie Weis, who became a father figure to Rudolph during his time with the Fighting Irish.
"Coach Weis came into my house at 16 years old, started the recruiting process, talked to my parents, 'When I leave high school, he expects me to act as if I would if I'm around my parents, and he's going to treat me like a son.' And that's exactly what he did," Kyle said. "He's somebody that I still talk to, probably, weekly – and if not weekly, every other week. Somebody that I'm really, really close to."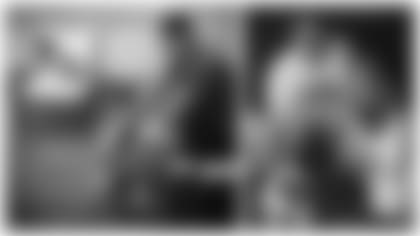 Kyle bought 8-week-old Charlie after his last semester at Notre Dame and shortly before Jordan's 14-year-old Golden retriever passed away.
Jordan has always been a dog person, Kyle noted, and it wasn't long after he got Charlie that she began suggesting a puppy playmate.
Her wish came true three years later. Jordan and Kyle often spent time in California during the offseason, and one day on the golf course he received an excited phone call: while shopping, Jordan had come across bulldog puppies at a pet store. She immediately was drawn to the little black-and-white male.
"I got off the golf course and went and met her, and we left the mall that day with Bentley," Kyle said. "When she called and told me there was an English bulldog at the pet store, I knew there was no chance that she would leave without him.
"Everybody always wants a Bentley," Kyle added. "It's just that ours is a little black [and white] bulldog and not a sports car."
After adding Bentley to the family, Kyle and Jordan were solely dog parents for nearly two years before Fin and Andi came along in October of 2016.
Kyle said that caring for their pups proved to be great parenting practice.
"Dogs are a great way to prepare yourself for kids – especially when you're getting them as 8-week-old puppies," he explained. "You're potty-training, you're getting up in the middle of the night, you're doing the things that you have to do to raise and train puppies. And it does – it prepares you for parenthood.
"I will say it's almost a little unfair to the dogs, but when you do become parents, they immediately become second fiddle to the kids," Kyle continued. "But it's been fun for us over the past four years to see our kids grow up around the dogs and the different personalities between Charlie and Bentley, but just how much the dogs love all three of our kids."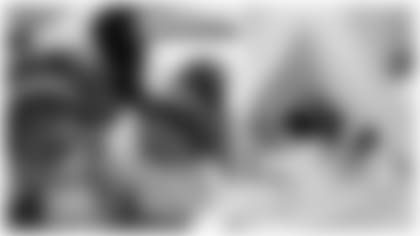 Of the three kids and two dogs, the two youngest boys have formed a special bond.
"Henry and Bentley are best friends. He tends to rough-house with Bentley a little bit, but like most dogs with toddlers, he kind of just lays around and takes it and lets Henry have his way," Kyle said. "Charlie's funny because his whole life, he's kind of had the personality of a grumpy old man. He's that way with the kids, too. He's that grumpy old man that kind of just wants to be left alone. If he's laying and relaxing, the last thing he wants is Henry running over and jumping on him.
"When the kids do come around, [Charlie is] as sweet as can be with them," Kyle added. "But he'd much rather be left alone so he can relax and hang out."
Do Charlie and Bentley's differing personalities remind Kyle of any current teammates?
He pondered the question for just a moment before nodding decidedly.
"Charlie is a lot like Riley Reiff. Kind of that grumpy old man, 'Let me do my thing, leave me alone,' " Kyle said.
Another few seconds to mull over Bentley's demeanor …
"I would say Bentley's kind of like Adam Thielen, where he's all over the place all the time and never really shuts up," Kyle quipped. "Adam's kind of that way – he's always gotta be talking, always gotta be in on the action. Bentley's very much that way and has been since he was a puppy. He's never really grown out of that puppy energy, whereas Charlie's the exact opposite."
The priority ranking of Charlie and Bentley in the Rudolph home may have changed, but the love from their owners certainly hasn't.
"When we first got them, they were our kids. They slept in our bed, they had free reign of the house, they could get on the couches. Pretty much anything went," Kyle recalled. "Then once we had kids, it was, 'You can't jump up on the couch, definitely not on the bed anymore.' … [But now] they've kind of become the kings again because the kids are playing with them.
"Both Charlie and Bentley have been best friends of ours since we got them," Kyle added. "And even though they might have slid down the totem pole a little bit farther because we have humans to take care of, every day when we come home from work and want to hang out on the couch, they'll be right there by your feet. You'll always have a best friend in them."