When Jordan Hicks first met his future wife, Ivana, there wasn't any question where her loyalties stood.
"I told him, 'I have three dogs. You either love them, or you get booted,' " Ivana laughed. "My dogs always came first."
That was just fine with Jordan, a longtime dog-lover himself. His first four-legged friend, he recalls, was Zoey – a greyhound his family adopted. Jordan still cherishes memories of spending time with Zoey and using the patient pup as a jungle gym.
As Jordan's connection with and love for Ivana grew, so did his bond with her trio of dogs.
There's Precious, the only girl – and the alpha – of the group.
"She basically runs the house," Jordan quipped. "She's super loving, super caring, but super feisty at the same time. She's extremely special."
Napoleon is the largest of the group and with a slightly different-colored coat. Of the three, he's the most affectionate – "Everyone who meets Napoleon is like, 'Oh, I want to take him home with me.' "
And last but not least is Blue, who's attached at the hip with Ivana.
"He's the one who's the protector and is making sure that anything that is outside of the pack is on notice. So if there's somebody who comes to the door first, if there's a dog walking across the street, he's the one making sure we all hear about it," Jordan said of Blue. "But he's also the one who will come sit on your lap, and he sleeps with us at all times. He's always with us."
Precious, Napoleon and Blue first entered Ivana's life when her childhood dogs, a Multipoo and Yorkshire Terrier, mated and had puppies.
A sophomore in college at the time, Ivana begged her parents to keep and look after the pups until she graduated.
"After graduation, Jordan got drafted and we moved out to Philly," Ivana said. "Precious was the only one who went with me first – we were in a smaller apartment – and then the following year we got a bigger place, and I brought all three.
"They've been with us ever since," she added. "They've lived in Philly and Jersey, Arizona, obviously Austin – which is where we're from – and now in Minnesota. They are our first babies."
Those "babies" now are 11 years old but still have plenty of energy. They have to in order to keep up with Ivana and Jordan's three children, Ayven, Lukah and Taliyah.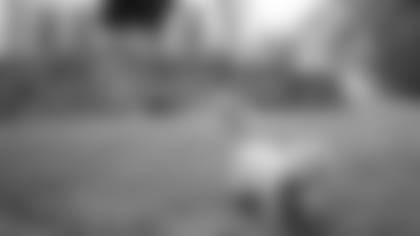 Since Jordan signed with the Vikings in free agency and the family has moved to Minnesota, they especially are thankful for a fenced-in backyard that provides ample play space for all six of their "kids."
Though Precious, Napoleon and Blue weren't adopted from a shelter, Jordan and Ivana share a passion for animal rescue and consistently contribute to organizations in their hometown such as Austin Pets Alive or Emancipet, which provides animal health care aide for families in need.
That passion only increased during the COVID-19 pandemic, when shelters were overrun with animals and many people faced unforeseen financial challenges that hampered their ability to care for an existing pet or created a roadblock for providing a home for a new one.
In April of 2020, Jordan and Ivana partnered with Austin Pets Alive to host a unique adoption event.
The Hicks paid for adoption fees, as well as a gift basket of supplies from a local pet store, for those who applied and were approved to adopt a dog.
"We ended up tripling the adoption rate that month. It was super successful," Jordan said. "Austin is a no-kill city, and their heart for taking in dogs and pairing them with good families and good homes is evident. We like supporting them."
Added Ivana: "A lot of hustle and bustle during that time, but it was worth it. We tried our best to help."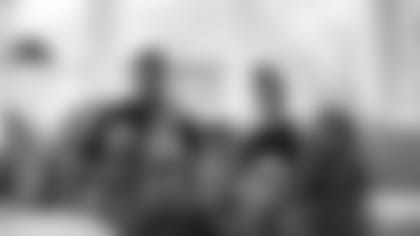 Things really came full-circle for Jordan and Ivana last summer when the couple celebrated their wedding anniversary in Turks and Caicos.
While vacationing, they met another couple poolside from Texas, who lived not far from the Hicks.
As the couples started talking about their families – which, of course, included their pets – they made an incredible, small-world discovery.
"They were talking about their dog that they adopted during COVID through Austin Pets Alive – it turned out that we were the ones who sponsored their adoption!" Ivana exclaimed. "Jordan actually physically drove to their house and dropped off their care package.
"It was really cool because we were like, 'Wait…' " Ivana said with a smile.
"People were really lonely during COVID," Jordan said. "The fact that people were willing to go out and have a pet – [we wanted to make it] as easy as possible."
Jordan and Ivana truly cannot imagine their lives without Blue, Napoleon and Precious.
"It doesn't matter what happens or what went on in my day – good day, bad day – they're always excited to see me and welcome me at the door," Jordan said. "They have a different sense. They know what's going on, they know when something's happening, and these dogs have helped us through a lot."
Ivana added: "They are the one constant. They're always going to be there for you. They've been there with us through our highs, our lows, our day-to-day. We just love them so much."