It really was love at first sight.
When long snapper Andrew DePaola visited the Tampa Humane Society while playing with the Buccaneers, he immediately connected with a cuddly, golden-colored puppy.
Andrew's teammate at the time, offensive lineman Kevin Pamphile, had recently adopted Naya, another girl pup from the same litter, and had encouraged Andrew to visit the shelter.
"My buddy sent me the picture, I went over and took a look at her, and she was just the sweetest little thing," Andrew said. "And I'm a sucker, so I'm like, 'Well, I want her.' "
He right away FaceTimed his wife, Amy, who was attending a farewell work party.
Amy let Andrew's calls roll over a couple of times, texting to remind him she was occupied. He insisted that she take his call, though, so she walked outside on a drizzly afternoon to see what was up.
When she saw the 8-week-old puppy on her phone screen, she melted just as quickly.
"I was like, 'Oh my gosh. Whose is that?' And Andrew said, 'Well, she can be ours if you want her to be,' " Amy recalled.
"Amy came down that weekend, we signed the papers and we took her home," Andrew added with a smile.
Andrew and Amy went through several names before coming up with one they both really liked and that seemed to suit their newest family member: Penny.
A week later, they learned just how fitting the name was.
The DePaolas went to visit Amy's parents and took Penny along with them. While there, she went to the bathroom and out popped … you guessed it. A copper penny.
"We were like, 'All right. There it is,' " Andrew laughed. "I wish I could say we named her Penny because of that moment – but she did that, and it just confirmed it."
Now 5 years old, Penny is just as sweet and affectionate as the day Andrew first met her.
She's been a mainstay in Andrew and Amy's life as they've traversed the ups and downs of an NFL career – and she's made additional friends along the way.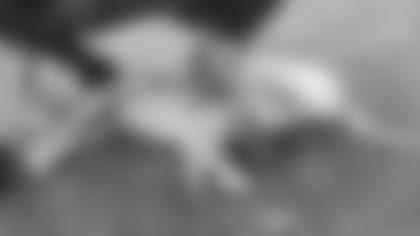 In Tampa, The DePaola and Pamphile families often got together so Naya and Penny could play.
"It was so interesting, because it was like they knew they were sisters," Andrew said. "There was some sort of intuition there between them, and we noticed they played together differently than they played with other dogs."
When Andrew signed with the Bears in 2017 and the family made the move to Chicago, he and Amy became close friends with guard Cody Whitehair and his wife Hannah, who owned a white-and-brown bulldog named Bella.
"They didn't have any kids at the time, neither did we, so our dogs were our babies. We got our dogs together all the time," Amy said. "We took them to the dog park together all the time [and would drop them off at each other's houses].
"They both had a ton of energy," Amy added with a smile. "They were best friends."
Penny's not only good with other dogs but also with just about everyone she meets. The DePaolas now have two children – a 3-year-old daughter, Grace, and 1-year-old son, Drew – who adore their "big sister."
"I like to cuddle Penny," Grace said, leaning over to wrap her arms around the pup's neck.
Though living with rough-and-tumble little ones can pose a few challenges for Penny, there also are plenty of perks.
"I think her favorite part is the food they drop," Amy quipped. "But she's so great with the kids. She loves them and puts up with a lot."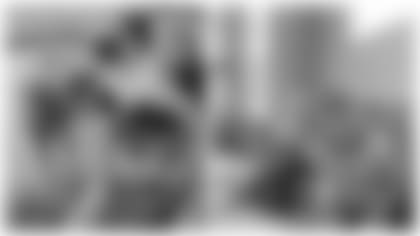 Amy and Andrew both grew up with dogs and always have had a soft spot for the four-legged friends. They especially have a passion for adopting pups who need new homes and are forever thankful that Penny made her way from a Louisiana kill shelter to the Tampa Humane Society and into their lives.
Even allergies can't stop Andrew from being a dog person.
"I dealt with the sneezing and the headaches and the itching and watery eyes and all that. It was just part of life," he said nonchalantly.
Amy talked him into seeing a specialist, who confirmed the suspicion.
" 'Yep, you're definitely allergic to a lot of things, [including] dog and cat.' She's like, 'Do you have a dog?' 'Yep, we do.' 'Is it staying?' And I was like, 'She's staying,' " Andrew recounted.
Though he now receives monthly injections to combat the allergy, it's all worth it to have Penny.
"She's such a good family dog, and she's a very good girl," Andrew said before directing his attention to Penny and giving her ears a scratch. "Are you a good girl?"
The truth is, not always.
But even when Penny misbehaves, such as eating a couple of Andrew's sandals, her owners can't ever stay frustrated for too long.
Andrew recalled an evening last season when he returned home from a long day and sat down to unwrap a sub sandwich he'd gotten en route. He suddenly remembered something he needed to take care of upstairs and left the room for a few minutes – which he'd soon regret.
"I came back down, and the sub was just gone. It's not like the wrappers were even on the ground – the sub was just gone," Andrew laughed. "And she's just lying in her bed looking at me.
"I'm like, 'I can't even be mad. I get it,' " he added. "So I had to go through the cupboards and find something else to make. That was Penny's sub that night."
For the DePaolas, the tough moments are always outweighed by their love for Penny.
"I'm a dog person because they're extremely affectionate, they give you such great companionship," Andrew said. "The great thing with dogs is they wear their emotions on their sleeve. There's no guesswork with them. … I think they can understand that from you, as well. They say a dog is a man's best friend, and I truly believe that."