EAGAN, Minn. — The Vikings have welcomed Curtis Modkins to their offensive coaching staff.
In addition to being hired as Minnesota's running backs coach, Modkins will also hold the title of run game coordinator.
Here are five things to know about the 51-year-old Modkins, who was announced during Minnesota's first wave of new coaches:
1. High-level connections
Modkins has been with numerous NFL teams in his career, including spending the 2016 season with the 49ers.
He was the offensive coordinator in San Francisco that season, when the team endured a 2-14 record in former Head Coach Chip Kelly's only season with the 49ers.
But Modkins made a connection with two people in San Francisco that season who are now in Minnesota — Vikings General Manager Kwesi Adofo-Mensah and Vikings Head Coach Kevin O'Connell.
Adofo-Mensah was the manager of football research & development for the 49ers that season, while O'Connell worked on special projects for the coaching staff.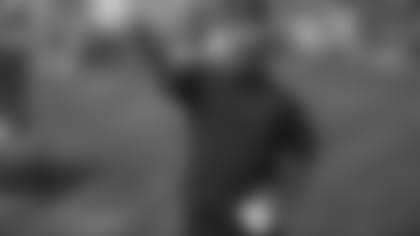 2. From Denver to Minnesota
Modkins was most recently with the Broncos, where he was Denver's running backs coach for the past four seasons.
He helped the Broncos rushing attack finish in the top half of the league in both yards per game and yards per play in every season but 2019. Denver ranked fourth in rushing yards per play (4.85) in 2018 and averaged 119 per game in three of four seasons (119.2 in 2018, 119.9 in 2020 and 119.1 in 2021).
Modkins guided running back Phillip Lindsay to back-to-back seasons of 1,000-plus rushing yards in 2018 and 2019, with Lindsay making the Pro Bowl in 2018.
Modkins nearly had a 1,000-yard rusher in each of his four seasons, but Melvin Gordon fell just short with 986 rushing yards in 2020. Gordon and rookie Javonte Williams each had 900-plus yards in 2021.
The Vikings will be the eighth NFL team Modkins has worked for.
In addition to the aforementioned stops in San Francisco and Denver, Modkins began his NFL coaching career in 2008 as Kansas City's running backs coach and held that same title with Arizona in 2009.
Modkins was Buffalo's offensive coordinator from 2010–2012 before joining Detroit's staff as the running backs coach from 2013–2015.
He was with the 49ers in 2016, and was Chicago's running backs coach in 2017 before landing with the Broncos.
4. Got his coaching start in college
Modkins began his coaching career at TCU, his alma mater, in 1995 as a graduate assistant. He was then TCU's secondary coach in 1996 and the tight ends coach in 1997.
Modkins then went to New Mexico, where he coached the cornerbacks from 1998-2001.
He was Georgia Tech's defensive backs coach in 2002 before switching to the offensive side of the ball as the Yellow Jackets running backs coach from 2003–07.
Modkins played four seasons at TCU, appearing in 43 career games as a running back from 1989-92.
He rushed for 2,763 total yards and 14 touchdowns over four seasons, adding 54 career catches for 440 yards and a score.
Modkins ran for at least 500 yards and scored multiple rushing touchdowns in each season.
Modkins was twice-named as an All-Southwest Conference selection and was a three-year starter for TCU.