Bryant McKinnie was a force on the football field.
Now he's showing an entirely new type of strength – lung power – as a singer and performer.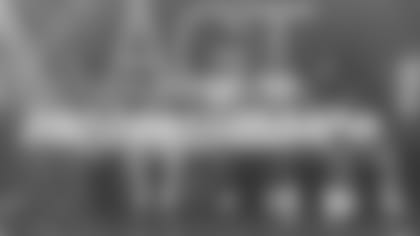 McKinnie is part of the Players Choir, a music group made up entirely of current and former NFL players. The athletes-turned-artists have been competing in this season of America's Got Talent, and they will perform in the semifinals Tuesday night. Viewers can tune in to NBC at 7 p.m. (CT).
McKinnie, along with Bears Legend and fellow choir member Tommie Harris, joined "Voice of the Vikings" Paul Allen on KFAN's 9 to Noon Monday morning. The two talked about being part of the Players Choir and their America's Got Talent experience, which started with a rendition of "Lean on Me" praised by longtime judge Simon Cowell.
McKinnie, who played for the Vikings from 2002-10 and joined the Players Choir in 2004, said the group was inspired by the Super Bowl Gospel Celebration that airs annually on BET.
"A lot of us started in the church, so it was really a Gospel choir," McKinnie told Allen. "We took the song 'Lean on Me' and gave it an even more Gospel feel.
"Some people will be surprised by the song we sing [on Tuesday]," he added. "It will be a little different tune for us. But I think we nailed it."
McKinnie shared a hint about the upcoming performance, telling Allen he and the other men will be putting a spin on a Justin Timberlake song.
Allen recalled seeing McKinnie enter the league 20 years ago and thinking, "His feet are really good for a big man."
"Do we get to see those feet doing some Timberlake dancing?" Allen asked.
"You will," laughed McKinnie.
The former Viking assured fans they'll have something special to watch Tuesday evening.
"You know how you hold back on the playbook until the playoffs? This here is the playoffs," McKinnie said.
Vikings RB rotation ranked NFL's 3rd best
Minnesota has a talented running backs room.
Vikings fans are well-aware, but it's known around the league, as well.
CBS Sports' Cody Benjamin recently ranked the NFL's top 10 running back rotations, and he slated the Vikings – Dalvin Cook, Alexander Mattison and Kene Nwangwu – at No. 3. Benjamin wrote:
There are maybe one or two backs who command more attention than Cook when fully healthy. Even if he's a safe bet to miss a week or three each season, the Vikings star is one of the most gifted natural runners in football. His top speed is unreal. Mattison, meanwhile, is practically a clone in terms of size, and has been an underrated No. 2 for years.
The two teams ranked ahead of Minnesota were Indianapolis (Jonathan Taylor, Nyheim Hines, Phillip Lindsay) and Cleveland (Nick Chubb, Kareem Hunt, D'Ernest Johnson).
The Vikings will welcome the Colts at U.S. Bank Stadium during Week 15.
Star power helps, and Taylor has exactly that, giving Indy maybe the most complete back in the entire NFL. Matt Ryan will be content every time he hands the ball to No. 28. Hines, meanwhile, remains a reliable safety valve as a receiver, and Lindsay at least offers plenty of grit and starting experience. If the Colts return to the playoffs, their run game will surely power them.