Three days down, one to go for more than 100 prospects who are hoping to hear their names get called this spring in the 2023 NFL Draft.
Players on Thursday wrapped up the three-day practice window for the Reese's Senior Bowl, which will take place at 1:30 p.m. (CT) Saturday on NFL Network.
In the secondary, Jeremiah wrote Kansas State cornerback Julius Brents was among his top players at the position.
Miami's Tyrique Stevenson is my highest-rated cornerback here in Mobile, and he was really consistent on Tuesday and Wednesday before not participating in practice on Thursday. He can get a little too handsy in coverage at times, but he proved he can run with the all-star wide receivers. He's a feisty player.
However, the corner that excited me the most this week was Brents. At 6-foot-3, 202 pounds, he's loose and fluid for a big player at the position. South Carolina CB Darius Rush deserves a mention, as well. Stevenson, Brents and Rush are big, athletic guys who can make plays on the ball.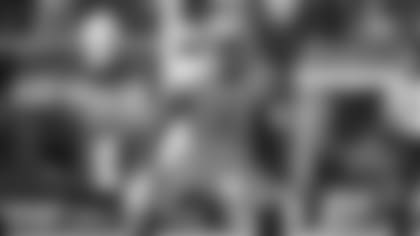 Jeremiah added a pair of edge rushers — Iowa State's Will McDonald IV and Georgia Tech's Keion White — are both in his top 50 in the upcoming draft. He wrote:
McDonald has been the best pure rusher here, with his combination of speed and the ability to bend at the top of his rush. There's no doubt he has the top spin move of anyone at the Senior Bowl. I think he's a lock to be a top-50 pick. He might even go in the first round when it's all said and done. To me, he's a better player than the Titans Harold Landry was back in 2018 as a prospect out of Boston College, and Landry went early in Round 2 (41st overall).
[White] came in as my top-rated Senior Bowl player, and I thought he improved every day. He didn't have that wow moment that jumped out to everyone, but he was steady. White has big-time power, as we saw in some of the 1-on-1s and the team period on Thursday. He's a Round 1 player.
Offensively, Jeremiah noted Tulane running back Tyjae Spears impressed him both in the run and pass game.
Spears was the best running back in Mobile, whether he was toting the rock or catching it. He popped a long run during Wednesday's practice, and when he's matched up against a safety 1-on-1, the defender can't even get a finger on him. He's bigger and stronger than I expected.
Jeremiah added Fresno State quarterback Jake Haener and Stanford wide receiver Michael Wilson could be late-round fliers. He wrote:
There wasn't a stellar group of quarterbacks in Mobile, but I thought Haener flashed the most of this year's crop. The ball jumped out of his hands during practice, and he was accurate. He's already shown he's tough, coming back from an ankle injury last season and spearheading the Bulldogs run to a Mountain West championship. I think Haener's stock could benefit from Brock Purdy's incredible run as a rookie after he was drafted with the final pick last year.
I believe Wilson is going to be an unbelievable special teams player in the NFL. So, we can start there for his floor as a prospect. But the Stanford team captain proved he can make plays on offense over the last few days, too. He might not hear his name called until Day 3 of the draft, but the team that picks him is going to be happy with the decision.
Former Vikings WR Nate Burleson inducted in Shrine Bowl Hall of Fame
Two decades ago, Nate Burleson represented the University of Nevada, Reno in the East-West Shrine Bowl game. Now, he's a part of it forever.
The former Vikings wide receiver was inducted into the 2023 Shrine Bowl Hall of Fame earlier this week ahead of the game Thursday at Allegiant Stadium in Las Vegas, where the West team defeated the East squad 12-3.
Burleson was selected 71st overall in the 2003 NFL Draft by Minnesota, where he played for three seasons. He is ranked 33rd in franchise history in yards (1,789) and is tied for 29th in receiving touchdowns (12) and 42nd in receptions (127).
As a returner for Minnesota, Burleson recorded 31 punt returns for 235 yards (20th in franchise history in both categories) and 51 yards on two kickoff returns. He is also the only player in NFL history to have three punt returns for 90 or more yards.
Burleson then played four seasons apiece in Seattle (2006-2009) and Detroit (2010-2013). He signed a one-year deal with Cleveland in 2014 but was released the same year before he retired.
Burleson recorded 457 receptions for 5,630 yards and 39 touchdowns in his career as a receiver and totaled 2,809 return yards on 213 attempts and tallied four touchdowns.