The Vikings haven't had a .500 record or better at any point this season, but they can get there Sunday with a win over the Cowboys at U.S. Bank Stadium.
Minnesota currently sports a 4-5 mark, but the Vikings are riding a wave of emotion after getting three straight wins over Green Bay, Detroit and Chicago.
And although the Vikings still have a long way to go this season, ESPN Vikings reporter Courtney Cronin tabbed Minnesota as contenders and believes it will be in the running for a postseason spot by the end of the season.
Three wins in a row during a stretch that saved their season has the Vikings in position to make a playoff push even with a 4-5 record. It was a gamble at the time, but Minnesota's belief in this roster in spite of injuries and inexperience persuaded decision makers not to ship off veterans at the Nov. 3 trade deadline. Keeping this team together was the key to getting back on track.
The Vikings are a different team entering Week 11. And the gamble they took on this roster wasn't the only thing that changed the course of their season.
"They just keep fighting," Vikings Head Coach Mike Zimmer said. "That's all we do, we come in there and practice every day. These guys, before the game, they weren't tight. I could tell in the locker room they weren't tight. They seem to go out and practice real hard, they seem to respond in practice — one of the things that we've been emphasizing a lot in the last few weeks is not allowing completions in practice defensively. Maybe that's starting to show up, the competition part.
"It's three games, we're fighting our way back into this thing hopefully. Still got a lot of football left to play, and hopefully we can keep going," Zimmer added.
Minnesota's offense has found a formula that works with a heavy dose of the run game and strong outings from quarterback Kirk Cousins, who has posted three consecutive games with a passer rating above 100.
The Vikings defense has also seemingly turned a corner, setting a new season-low in points allowed per game in each of the past three wins. Minnesota allowed 22 points to Green Bay, 20 to Detroit and 13 to Chicago.
Sunday begins a three-game home stretch against Dallas (2-7), Carolina (3-7) and Jacksonville (1-8).
This is the first season with an extra playoff spot in each conference this year. The AFC and NFC will be represented by seven teams instead of the usual six that made the playoffs from 1990-2019. The top seed in each conference will get a bye, while the No. 2 seed will host the No. 7 team, the third seed will host the sixth, and the No. 4 team will host the No. 5 seed.
Krammer highlights Mata'afa's recent rise
It's been quite a year for Hercules Mata'afa.
The former undrafted free agent began the 2020 season as a defensive tackle in pass-rushing situations, but was released in mid-October.
The Vikings added him to their practice squad right away, where he spent the next few weeks transitioning to defensive end.
Mata'afa was added back to the 53-man roster and has since played meaningful snaps in wins over the Packers, Lions and Bears.
Mata'afa, the third-year former Washington State standout, has earned a role in what has become a seven-man defensive line rotation after the Vikings traded defensive end Yannick Ngakoue over the bye week.
He has averaged 28 snaps in the past three games, many at defensive end, where he's found a spark after a frustrating start to the season led to an October demotion to the practice squad. He vented his frustration on social media.
"I had to reevaluate myself and reevaluate how I wanted to be as a player," Mata'afa said Wednesday. "I wasn't doing enough to be on the team, so as soon as I signed with the practice squad, I went into that week thinking like, 'This is it. Like, I'm going to go out and show every day in practice what I can do for this team.' "
Mata'afa's effort has translated to games. His 10 quarterback pressures in the past three outings trails only rookie defensive end D.J. Wonnum (11) on the team, according to Pro Football Focus.
"I knew how hard it was to stay in this league, and I was frustrated with myself," Mata'afa said. "I've always been an underdog my whole career: high school, college to now. My opportunity is finally coming, and I'm trying to make the best out of it."
Mata'afa has split sacks with a teammate in each of the past two games.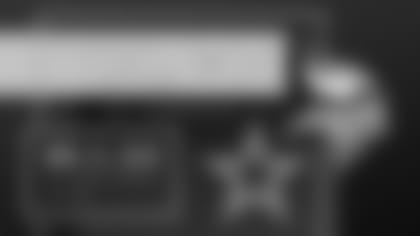 Vikings Bringing Back 'Primetime Purple' Uniforms
The Vikings will again wear their 'Primetime Purple' uniforms for the Sunday, Nov. 22 matchup against the Cowboys at U.S. Bank Stadium...