Vikings Cheerleader Junior Cheer Program | Minnesota Vikings – vikings.com


The Minnesota Vikings Cheerleaders Junior Cheer program promotes confidence, hard work, leadership and FUN all from the safety of your own home. Our MVC Virtual Junior Cheer camp will offer all the things that you love about our in-person camp as well as exciting new additions. Juniors will learn warmups and stretching, professional dance choreography, pom motions and cheers. Character-building themes will be introduced daily to help promote self-esteem and pride amongst our juniors. There will also be a special virtual MVC "big sister" hangout and end of camp dance party.
The program is tailored to young girls ages 3-14 of all ability levels. No tryouts required. Limited space is available, and registration will close as soon as capacity is reached.
We have such an exciting camp planned:

Choose between TWO registration types:
*Participants must be registered individually.
- Virtual Junior Cheer Camp
- Virtual Junior Cheer Camp + Costume
DEADLINE TO REGISTER
Junior Cheer Replica Costume Registration closes - July 26
Junior Cheer Virtual Camp Registration closes - August 3
2020-2021 Junior Cheer Replica "Purple Reign" Costume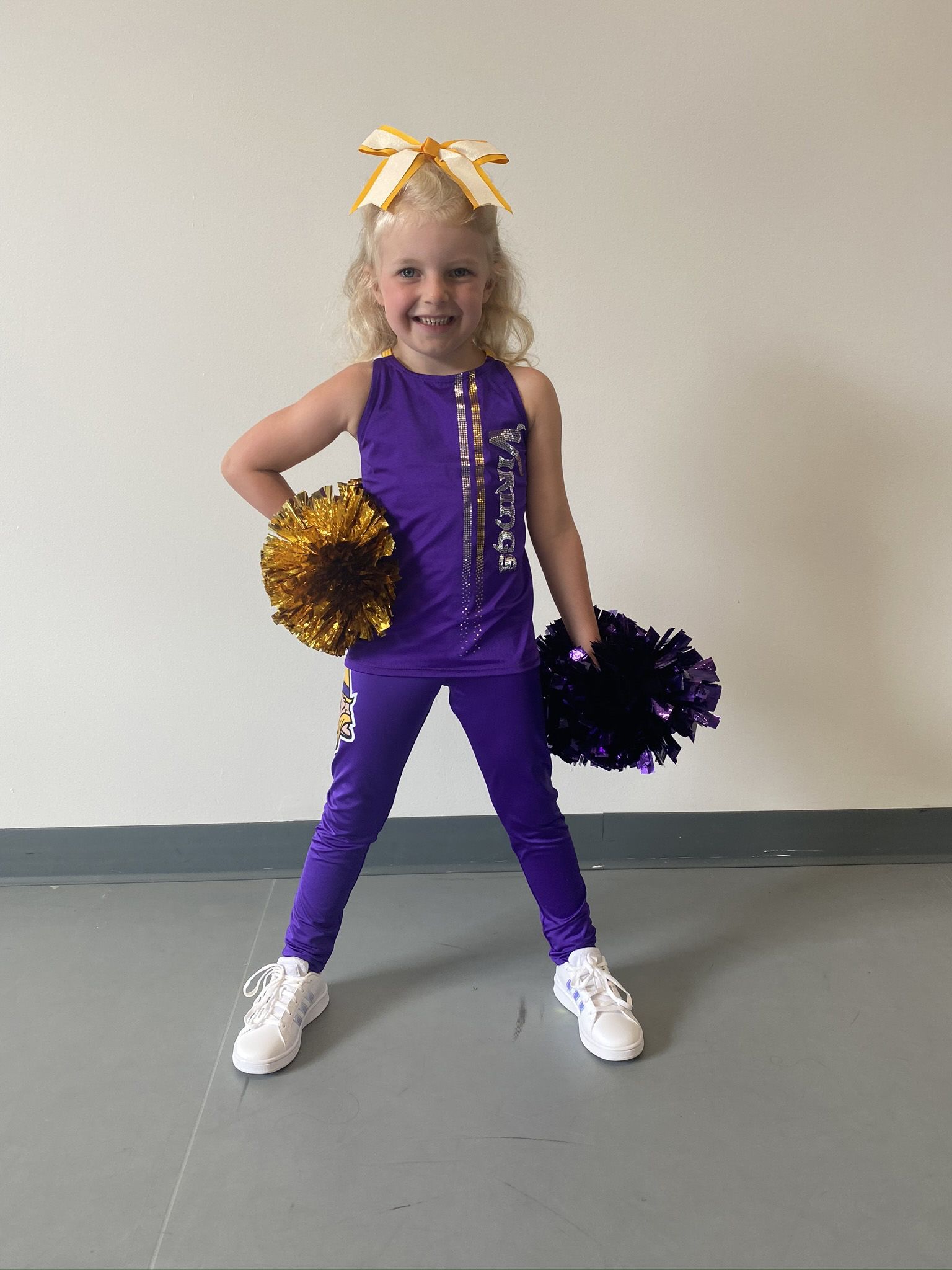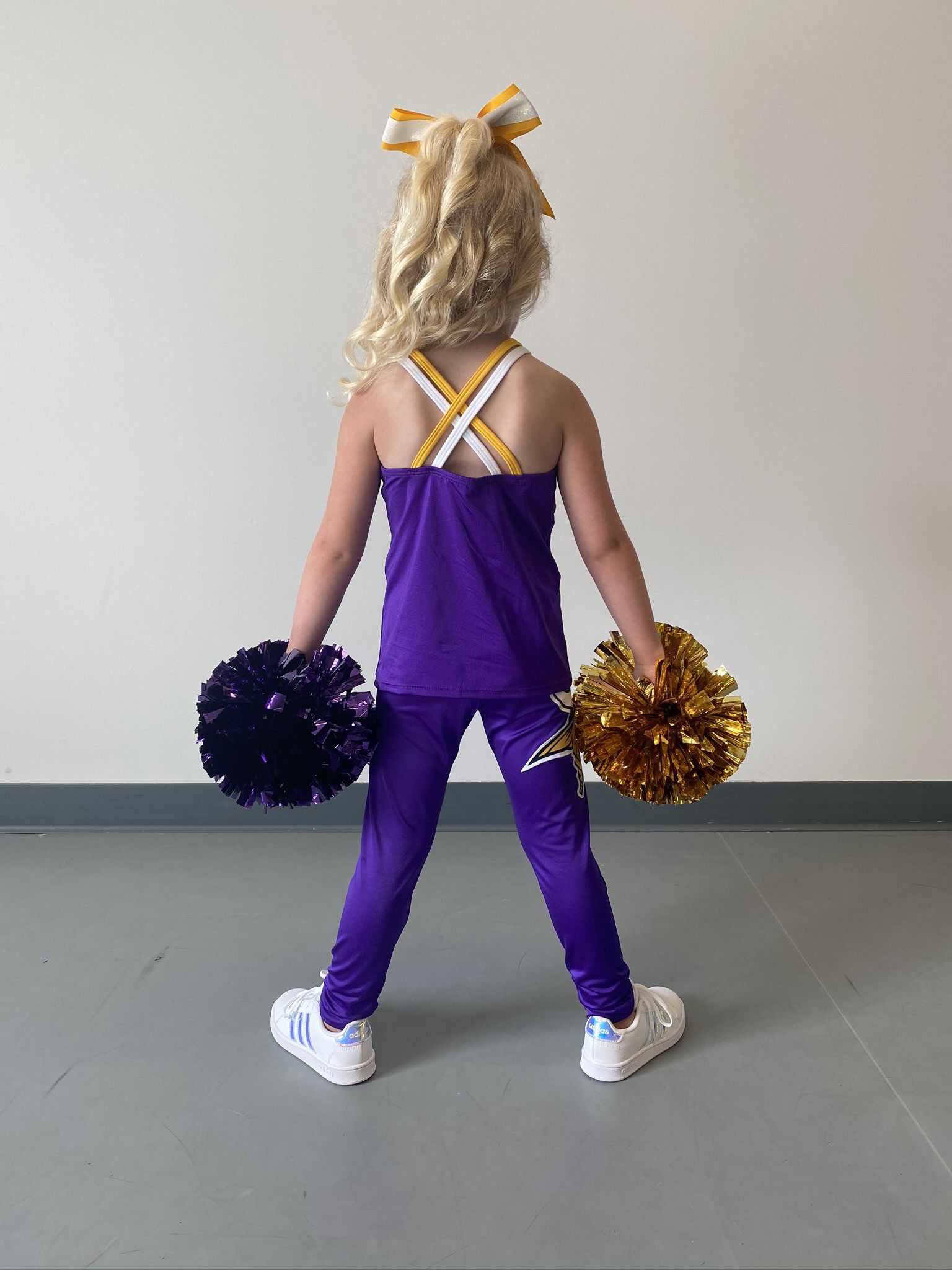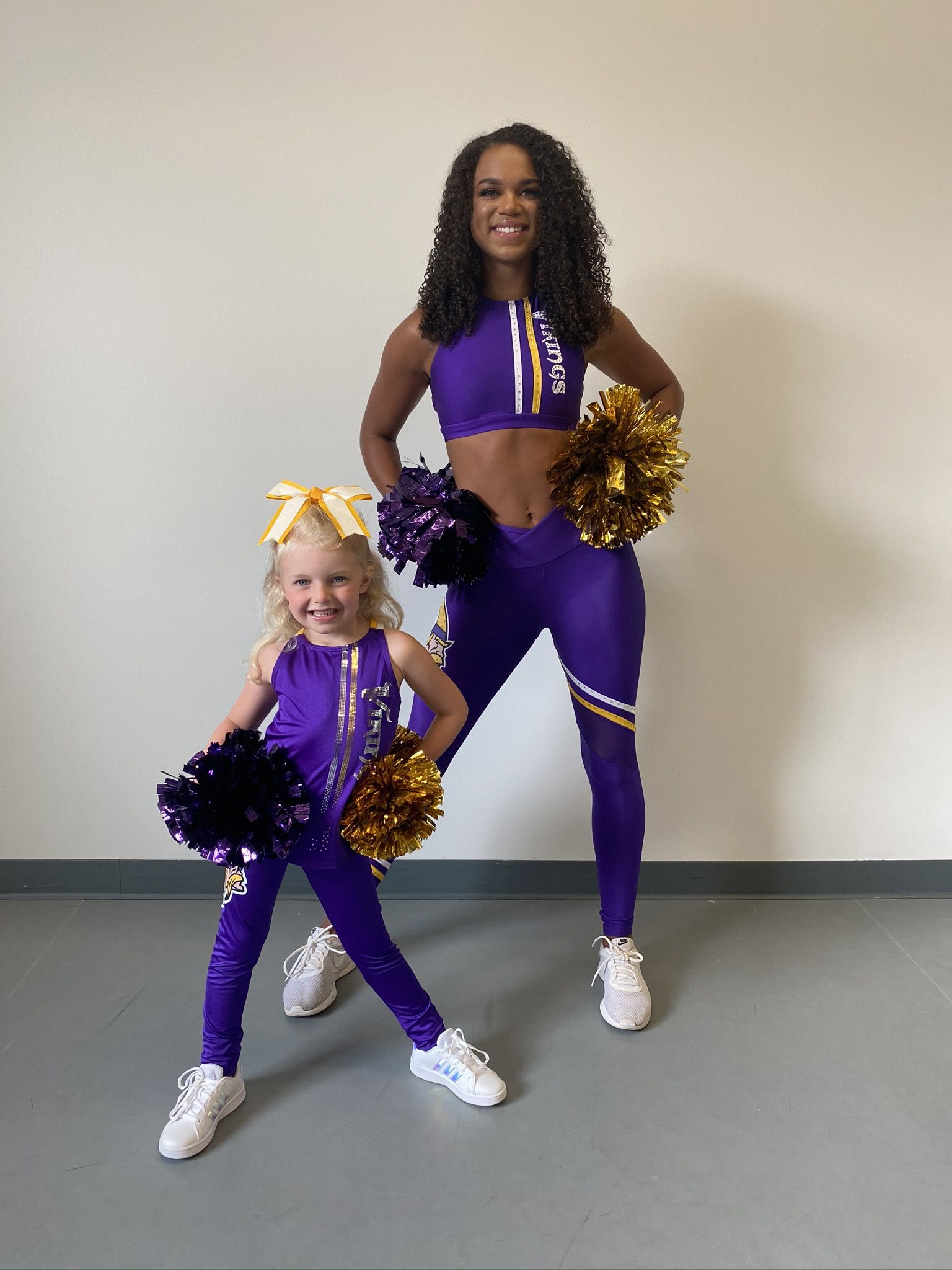 ** NOTE: This is year ONE of this replica costume!
This costume will be worn for both the 2020 and 2021 Junior Cheer camps.
For virtual camp this year the replica costume is an optional purchase. If you wish to purchase a replica costume please select the registration with the costume included. We welcome Juniors to wear their replica costume for the performance and dance party on Thursday, August 27th.
Hair bow not included with costume. Poms may vary from the picture above.
Program Details
All parents of participants will need to have a Facebook account, Zoom app with free account, and an email address. Specific directions on how to download and use these apps will be emailed out.
You will be given access to a private Facebook group where you can join our Facebook LIVE at 6:30 pm on the scheduled nights. See the calendar listed above for more specifics. All Live videos will also be recorded and shared to the Facebook page. If you are unable to join us LIVE you will be able to go back and watch the videos on demand at any time.
Performers must be 3 - 14 years of age to participate.
Participants must be registered individually.
Big Sister virtual hangouts will be determined by age. A link for your Zoom hangout will be sent to you via email. Big sister virtual hangouts will be conducted by your 2020 Minnesota Vikings Cheerleaders.
Curriculum around confidence, hard work, leadership and fun will be incorporated!
We are excited to offer new designs for our Junior Cheer optional merchandise. This year we will be offering the optional merchandise as an add-on bundle. The bundle contains a tank top, shorts and hair bow (see pictures below). If you wish to purchase the Junior Cheer merchandise you will need to select it during your registration.
Items will ship directly to you.
Items will not be sold individually, you must pre-order.
All participation items will be mailed or e-mailed directly to you. Please list your current address with your registration.
No refunds on fees, t-shirts, costumes, or optional junior merchandise.
No alterations or size exchanges will be offered.
Items will be shipped prior to the start of camp however, we will not be responsible for delayed shipping.
A full refund will be given to participants if the program fills and your registration cannot be accepted! No other refunds can be offered.
Everyone will electronically receive a Junior Cheer Participation certificate that you can print yourself at home.
Junior Cheer participation awards for 5 and 10+ years will be mailed to you.
2020 Junior Cheerleader Notes
You will receive a confirmation e-mail of your acceptance into the program (based on a first come, first serve policy) following your registration payment. This email will also contain information on how to join our Private Junior Cheer Facebook page.
A reminder e-mail will come out on Tuesday, August 18. This will include reminders, more detailed information for the first day of camp and answers to your last-minute questions.
Emails will be sent daily during our Junior Cheer camp. These could be daily fun worksheets, time reminders and links to Zoom class, etc. Please make sure to check your email every morning.
Junior MVC optional merchandise will ONLY be available for pre-sale. You must order your optional camp attire at the time of your virtual camp registration. There will be no size exchanges.
Please plan to reference this detailed information for answers to your Junior Cheer questions. Print off a copy of this page for your easy access and/or bookmark the URL.
WE LOOK FORWARD TO HAVING YOU JOIN US! REGISTER TODAY - LIMITED AVAILABILITY!
NOTE: Please know that we are doing a virtual camp this year for the health and safety of everyone involved. At this time, we are unsure of what health and safety protocols will look like in the coming months and therefore cannot plan an in-person Junior Cheer camp. We are so proud of our Junior Cheer program and cannot imagine not having one in 2020, so we have revamped and reimagined it into a virtual camp. While we will not be able to conclude our camp this year with a large centerfield production at U.S. Bank Stadium, we will still offer exciting and unique MVC content that is sure to get your dancers moving and feeling confident!
SKOL,
Your 2020 Minnesota Vikings Cheerleaders & Staff