EAGAN, Minn. – The Vikings (4-4) will visit the Falcons (4-4) at noon (CT) Sunday in Week 9.
It will be the 33rd overall meeting between the squads. Minnesota is 20-12 (including 1-1 in playoff games) against Atlanta and 8-7 as a visitor.
Here are all the ways to catch the action, followed by three things the Vikings.com editorial staff will be watching for during the game.
FOX (KMSP FOX 9 in the Twin Cities)
Play-by-Play: Chris Myers
Sideline reporter: Kristina Pink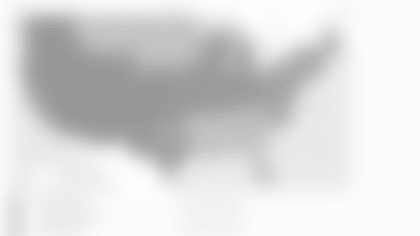 People in the green areas shown on the map from 506sports.com will be able to watch the game on their iOS mobile devices with the Vikings app or Vikings mobile site (Safari browser only). The Yahoo! Sports app for smartphones and tablets offers another method for viewing live local and prime-time NFL games.
KFAN (100.3-FM), KTLK 1130-AM and the five-state Vikings Radio Network
Sideline reporter: Ben Leber
Note: The pregame radio show on the Vikings Radio Network will begin at 10 a.m. (CT).
Audio Streaming Option: Catch the audio broadcast on your smart devices through the KFAN channel on the iHeart app.
Catch the Vikings on Tico Sports at WREY "El Rey" 94.9 FM and 630 AM in the Twin Cities and on Tico-Sports.com, elrey949fm.com and Vikings.com.
Play-by-Play: Gabriel Rios
Minnesota: SiriusXM 111 or 386/Or in the app
Atlanta: SiriusXM 85 or 225/Or in the app
Click **here** for the full bevy of options that include over-the-air, cable, satellite, over-the-top and streaming methods.
NFL+ and NFL+ Premium provide all the action when you are on the go. It is available in the NFL app and at NFL.com/plus.
NFL+ is available for $6.99/month or $39.99/year and offers the following:
Live out-of-market preseason games across devices
Live local and prime-time regular-season and postseason games on your phone or tablet
Live game audio (home, away & national calls) for every game of the season
NFL Films' on-demand content, ad-free
NFL+ Premium is available for $14.99/month or $79.99/year and offers all the NFL+ features and the following:
Full game replays across devices (ad-free)
Condensed game replays across devices (ad-free)
Coaches film (ad-free)
THREE THINGS WE'LL BE WATCHING
Defending against quarterback Taylor Heinicke | By Ellis Williams
After a 2-0 start, the Falcons have lost four of their past six games.
Despite leading the NFC South, Falcons Head Coach Arthur Smith decided to change starting quarterbacks ahead of Sunday's matchup against the Vikings. On Wednesday, Smith announced Taylor Heinicke would start in place of Desmond Ridder.
Heinicke, who has started 25 games in five seasons, mainly with the Washington Commanders, entered the Falcons game last weekend versus the Titans in relief of an injured Ridder. He led scoring drives on his first three possessions and brought the Falcons within five points with 3:46 left in the game.
The Falcons lost 28-23, but Heinicke finished 12-for-21 with 175 yards and a touchdown. He helped Atlanta score 20 points, and the offense generated 253 yards of offense with him in the game.
Defensive Coordinator Brian Flores said preparing for Heinicke, who first entered the NFL as an undrafted free agent with the Vikings, starts with understanding the Falcons offensive scheme.
"My first thought goes to Arthur [Smith] and that scheme, the run game, and from a protection standpoint," Flores said. "Just from a conceptual standpoint, in the run and the pass game, and accomplishing what they are trying to do, I think both quarterbacks do that well."
The Vikings defense and NFC Defensive Player of the Month for October, Danielle Hunter, are preparing for a Falcons team that wants to run the ball and then complement those runs with play-action throws. No team uses the pistol formation more than Atlanta, which helps the Falcons deploy multiple running backs and alter its mesh points in the run game.
Minnesota will look to continue its streak of three consecutive games of forcing at least one turnover.
How does the offense adjust with Hall? | By Lindsey Young
Jaren Hall will make his first NFL start Sunday against the Falcons.
The rookie stepped in last week when Kirk Cousins suffered a torn Achilles and played 11 snaps. Hall was complimented by teammates for his confidence and command of the huddle then, and now he'll have a week of preparing for the starting role.
Hall was asked by reporters how much of an NFL offense he thinks he can run, and he didn't blink an eye.
"I think you've gotta have the mindset you can run it all. I don't think we'll hold anything back," Hall said. "But again, it's just a matter of, if I can be dialed in on my preparation and take advantage of every minute [of prep this week]."
Does Hall expect the Falcons to immediately blitz the first-year QB?
Atlanta has a blitz rate of 26.0 percent, which is below the NFL average of 29.7 percent and ranks 19th in the NFL.
It's important to prepare for everything, he emphasized.
"It'll definitely be a mindset if they were to blitz and [pressure] but, you know, coaches are kind of in charge of all that. They know the looks, and they'll be prepared for anything they decide to show or not show," Hall said.
Vikings Head Coach Kevin O'Connell also addressed an offense led by Hall rather than Cousins, saying it's a combination of factors.
"It's about execution, it's about doing the little things right around Jaren, allowing him to feel like he's in a position where he can just go out and do his job that he's been coached to do, and then we kind of frame what that job looks like based upon the responsibilities at the line of scrimmage or some of the things that he's been preparing," O'Connell said. "It's going to seem like we're getting him ready for his first start, but I really look at it as if we've been doing our jobs, he's been getting ready for this for a while, just not knowing when that time would come."
Special teams' snapback? | By Craig Peters
Against the backdrop of losing Cousins, who was playing at a top-tier level, everyone wants to do a little bit more to help the team extend its three-game win streak.
The Vikings special teams provided key plays at multiple times during the 2022 season. Last week, Special Teams Coordinator Matt Daniels assessed that "we didn't hold up our end of the bargain."
"There were too many penalties on our end. Some that we just can't have happen. Others that are understandable," Daniels said. "As you look at what the outlook looks like, we've got an amazing opportunity ahead of us of really pouring into each other and leaning on each other. At the end of the day, we just have to do the basics better, but that's what it's all about, playing good technique, fundamental football. That's what this game is all about, and that's really what we're built on, doing the basics better and being fundamentally sound, holding each other accountable and playing our style of football."
Vikings players, coaches and fans know full-well the threat that Cordarrelle Patterson poses as a kick returner. Patterson has returned nine kickoffs for touchdowns, including the first five of his career with Minnesota. His opportunities have been a bit more limited in Atlanta with just 31 returns (four this season) since 2021, but he also had a 103-yarder last year for the Falcons.
It will be the sixth time Patterson has faced the Vikings, and he's helped his squads go 4-1 against the team that drafted him in 2013 (1-0 with New England in 2018 and 3-1 with Chicago from 2019-20).
Containing Patterson could be highly important in a game featuring QBs making their first starts with each team.
Another former Vikings first-round pick, Mike Hughes, has been Atlanta's primary punt returner, but the Falcons have fair caught 11 of 24 punts they've fielded.
Falcons kicker Younghoe Koo is nearly perfect on the season, making 10 of 11 extra points and 16 of 17 field goals, accounting for 58 of Atlanta's 138 points this season.
That's about as automatic as it gets, so it will be tough for the Vikings to force pressure on Koo. Perhaps the special teams group and defense can work together to win the field position battle and keep him out of range.