EAGAN, Minn. – The Vikings (1-3) will host the Chiefs (3-1) at 3:25 p.m. (CT) Sunday in Week 5.
It will be Kansas City's first appearance at U.S. Bank Stadium.
Here are all the ways to catch the action, followed by three things the Vikings.com editorial staff will be watching for during the game.
CBS (WCCO in the Twin Cities)
Sideline reporter: Tracy Wolfson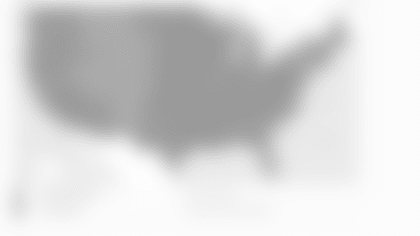 Fans who live in the red areas shown on the map from 506sports.com will be able to watch the game on their iOS mobile devices with the Vikings app or Vikings mobile site (Safari browser only). The Yahoo! Sports app for smartphones and tablets offers another method for viewing live local and prime-time NFL games.
KFAN (100.3-FM), KTLK 1130-AM and the five-state Vikings Radio Network
Sideline reporter: Ben Leber
Note: The pregame radio show on the Vikings Radio Network will begin at 1 p.m. (CT).
Audio Streaming Option: Catch the audio broadcast on your smart devices through the KFAN channel on the iHeart app.
Catch the Vikings on Tico Sports at WREY "El Rey" 94.9 FM and 630 AM in the Twin Cities and on Tico-Sports.com, elrey949fm.com and Vikings.com.
Play-by-Play: Gabriel Rios
Kansas City: SiriusXM 109 or 384/Or in the app
Minnesota: SiriusXM 104 or 225/Or in the app
Click here for the full bevy of options that include over-the-air, cable, satellite, over-the-top and streaming methods.
NFL+ and NFL+ Premium provide all the action when you are on the go. It is available in the NFL app and at NFL.com/plus.
NFL+ is available for $6.99/month or $39.99/year and offers the following:
· Live out-of-market preseason games across devices
· Live local and prime-time regular-season and postseason games on your phone or tablet
· Live game audio (home, away & national calls) for every game of the season
· NFL Films' on-demand content, ad-free
NFL+ Premium is available for $14.99/month or $79.99/year and offers all the NFL+ features and the following:
· Full game replays across devices (ad-free)
· Condensed game replays across devices (ad-free)
THREE THINGS WE'LL BE WATCHING
Chiefs Playmakers Beyond Mahomes & Kelce | By Ellis Williams
Each Kansas City Chiefs game this season has ended with a different receiver leading the team in yards. Sunday night's victory over the Jets marked the lowest output from Kansas City's receiving corps of the season.
The group of rookie Rashee Rice, Kadarius Toney, Marquez Valdes-Scantling, and Justin Watson combined for seven catches for 65 yards.
But do not let those statistics fool you. Patrick Mahomes is the reigning MVP, and Kansas City remains the reigning Super Bowl Champion. The Vikings know that. And Defensive Coordinator Brian Flores sees talent beyond just Mahomes and future Hall of Fame tight end Travis Kelce, regardless of what a box score reads.
"They've got a slew of guys who we have to know who they are. We have got to know their skill sets. And they're all skilled. All of them," Flores said. "When you think of the Chiefs, you think of Mahomes and Kelce. But there is another group of guys who are very, very skilled. And if you don't know about them, then they are going to beat you."
Seven different receivers have recorded at least one reception for Kansas City. That number jumps to 13 when including running backs and tight ends.
Mahomes spreads the rock. His eight touchdown passes are tied for fifth most through four games. Eight Chiefs players have caught a Mahomes touchdown this season. Only the Dallas Cowboys (10) and Buffalo Bills (9) feature more players with touchdowns this year than Kansas City.
Keeping up with Chris Jones | By Lindsey Young
The Chiefs defensive lineman can wreak havoc on an opposing offensive line, and the Vikings know they have to be on their Ps and Qs as they prep to face Jones Sunday afternoon. The 29-year-old missed Kansas City's Week 1 game, a loss to Detroit, while a contract extension was negotiated. But in three games back on the field, he's recorded 3.5 sacks, five QB hits and three tackles for loss.
Jones has made an impact for the Chiefs since being drafted 37th overall in 2016, and he's demonstrated an ability to play from different spots on the line and keep offenses on their toes.
"Another great player that's put it in on tape for a long time. He can play a variety of positions and a variety of situations," Kirk Cousins told media members this week. "He's good against the run, good against the pass. He's one of those guys you've gotta have a plan for, and he's certainly a challenge."
The Vikings only play the Chiefs every four years, but members of Minnesota's coaching staff are well-acquainted with Jones. Vikings offensive line coach Chris Kuper (2019-21), assistant offensive line coach Justin Rascati (2019-21) and running backs coach Curtis Modkins (2018-21) all shared a division with Jones during their time with the Broncos coaching staff – so they're no stranger to game-planning for the First-Team All-Pro.
But familiarity doesn't guarantee a solution.
"Yeah, they've got experience, and the experience they have, quite honestly, is this guy's had a tremendous impact on the game in the run and the pass," Vikings Head Coach Kevin O'Connell said. "Like I said, even when you know where he is and you have a plan for him, he can overcome that sometimes. So, I think play calls matter. I think the ability to hopefully be efficient on early downs when we can so we can stay out of those predictable longer yardage [down and distances] will be big. Then, personnel-wise, how we want to attack and think we can be at our best on offensive will be big."
Davenport's Impact on the Defense | By Craig Peters
Some defenses have been built relying on the same system and strategy from week to week, but Flores' influence on the Vikings has led to tailored game plans for each opponent.
"I've got a lot to game plan for, as you guys know," he mentioned as he walked to the podium Thursday morning for his weekly media session.
"Really at the forefront of it is Andy Reid. They've got a very dynamic offense, the run game, pass game, play-action, RPOs, it's very diverse in all areas," Flores said. "They're very intentional with how the go about offensive football. It's constructed in a way that is, honestly, it's fun to watch and hard to defend. I think they've got answers for pretty much anything someone would do defensively. I think it's important to mix things, so pressure, I think you can. You have to, but you've got to mix your pressures and regular four-man coverages, some man, some zone, because any one thing you do, there's an answer for it, so the best bet is to mix things."
As he proceeds toward Sunday's game, Flores can look forward to the expected availability of Marcus Davenport. The edge rusher played 45 snaps Sunday at Carolina after being limited to just four snaps over the course of Minnesota's first three games.
Davenport's impact seemed to cascade beyond his own line of the box score. The offseason addition was credited with four tackles, a sack, a tackle for loss and a quarterback hit. He also affected other plays that teammates finished with tackles for loss and sacks.
"I thought he played well. He was disruptive," Flores said. "I thought he gave us a bolt of energy. He brings juice. He brings energy. He brings a play style that's physical, and we saw that, and we needed it. We're going to need everybody against this group for sure. He'll be part of that."