EAGAN, Minn. – The Vikings (1-4) will visit the Bears (1-4) at noon (CT) Sunday in Week 6.
It will be the 125th overall meeting between the division rivals as Minnesota plays its first of six scheduled NFC North games this season.
Here are all the ways to catch the action, followed by three things the Vikings.com editorial staff will be watching for during the game.
FOX (KMSP FOX 9 in the Twin Cities)
Play-by-Play: Brandon Gaudin
Sideline reporter: Jen Hale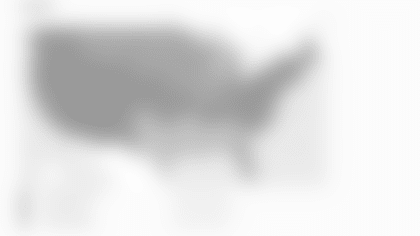 Fans who live in the blue areas shown on the map from 506sports.com will be able to watch the game on their iOS mobile devices with the Vikings app or Vikings mobile site (Safari browser only). The Yahoo! Sports app for smartphones and tablets offers another method for viewing live local and prime-time NFL games.
KFAN (100.3-FM), KTLK 1130-AM and the five-state Vikings Radio Network
Sideline reporter: Ben Leber
Note: The pregame radio show on the Vikings Radio Network will begin at 10 a.m. (CT).
Audio Streaming Option: Catch the audio broadcast on your smart devices through the KFAN channel on the iHeart app.
Catch the Vikings on Tico Sports at WREY "El Rey" 94.9 FM and 630 AM in the Twin Cities and on Tico-Sports.com, elrey949fm.com and Vikings.com.
Play-by-Play: Gabriel Rios
Minnesota: SiriusXM 134 or 383/Or in the app
Chicago: SiriusXM 81 or 226/Or in the app
Click here for the full bevy of options that include over-the-air, cable, satellite, over-the-top and streaming methods.
NFL+ and NFL+ Premium provide all the action when you are on the go. It is available in the NFL app and at NFL.com/plus.
NFL+ is available for $6.99/month or $39.99/year and offers the following:
· Live out-of-market preseason games across devices
· Live local and prime-time regular-season and postseason games on your phone or tablet
· Live game audio (home, away & national calls) for every game of the season
· NFL Films' on-demand content, ad-free
NFL+ Premium is available for $14.99/month or $79.99/year and offers all the NFL+ features and the following:
· Full game replays across devices (ad-free)
· Condensed game replays across devices (ad-free)
THREE THINGS WE'LL BE WATCHING
Can the Vikings improve in the red zone, even without Jefferson? | By Ellis Williams
The Vikings know their offense is leaving too many points on the field.
"Disappointing to lose the way we did. Left too many plays out there. You have to score touchdowns in the red zone to win in this league," Head Coach Kevin O'Connell said after the Vikings went 1-for-4 on trips to the red zone against the Chargers in Week 3. "I would think it wouldn't be any one thing. I think it would probably be a combination. When you go to each play, what happened on that specific play, and I don't think it's a repeating pattern."
Scoring touchdowns inside the 20-yard line has remained an issue for Minnesota. The team went 1-for-2 at Carolina and 2-for-4 against Kansas City.
But the Vikings have an opportunity to shore up those numbers. The Bears allowance rate of touchdowns on opponents' trips into the red zone is on 77.8 percent, which ranks 31st in the NFL.
Minnesota has been pass-heavy in the red zone, with 31 pass attempts compared to 13 rushing attempts, a reflection of a Vikings squad that leads the NFL in pass attempts. But Offensive Coordinator Wes Phillips said those numbers do not necessarily reflect how the Vikings will continue to play.
"Leading the league in pass attempts, I wouldn't say that is what our style is," Phillips said. "We don't have a mindset that we're going to lead the league and attempts. … We want to have some sort of balance. Running the football is important."
With Justin Jefferson out for at least the next four games, the Vikings may have to run the ball more, especially in the red zone.
Making the most of takeaway opportunities | By Lindsey Young
When Minnesota's defense is on the field, the first priority is to disrupt the opponent's offensive plan and pass catchers' ability to move the chains.
But it seems every week, there's a situation in which a Vikings DB is in position to make a play and – in some cases – prevents the catch but doesn't complete an interception. Such was the case last week when safety Camryn Bynum reached for a pass by Patrick Mahomes but jumped early and didn't come down with it. In other instances, in Minnesota and across the league, players sometimes "do too much" to attempt a pick and end up instead giving up a catch to the receiver.
How does one find that balance? To know when to settle for a PBU and when to secure the interception?
"We've had a few instances this season where that's occurred, and those are always potentially game-changing plays one way or the other. We've been on the wrong side of a couple of those," Vikings Defensive Coordinator Brian Flores said. "You just coach high-pointing the ball and things like that. We've done it. I've seen our guys do it. We've just gotta get it done in the game. It's a game of inches, as we all know, and the margin for error's very slim. We need to make some more of those plays, especially when we're in the position to do that. Our guys know that. I don't think it's a situation where we want to beat them down about it.
"I think it's important to those guys, they know they're in position at times," Flores continued. "We've got to continue to put them in position. We've gotta put them in better positions as a staff. That's where my mindset is. How do I get them in position to make plays? How do we, as a staff, put them in position to do the things they do well? I totally understand the question. I feel like it's happening every week. But we'll just continue to coach the guys up as best we can, try to put them in position, and I think it'll turn."
The Vikings on Sunday will play Justin Fields, a younger and less-experienced quarterback than Mahomes, and takeaways could make all the difference in leaving Soldier Field with a win.
In Fields first 28 career starts he threw 27 touchdowns and 24 interceptions. In his past two, he's thrown eight scores and been picked off just once.
Turn the tide of turnovers | By Craig Peters
Minnesota's struggles to protect the football are nothing new, but that aspect of the game will be important until it is fixed.
The 2022 Vikings lost the turnover margin in six games and went 2-4. The squad went 7-0 when winning the turnover margin and also went 4-1 when both teams committed the same number of turnovers.
The only loss Minnesota experienced with a neutral or winning turnover margin occurred in the NFC Playoffs.
This season, the Vikings have lost the turnover margin in all five games and have a 1-4 record to show for it, with all five contests being decided by one score.
Minnesota has lost the football on the first possession in each of its past three games.
Opponents followed each giveaway (two fumbles, one interception) with a touchdown as the Vikings have been outscored 21-3 in the past three first quarters.