Laura Bethke has been a lifelong Vikings fan but never imagined she would have a chance to attend a Super Bowl. But thanks to the Vikings Rewards program, she and her husband, Joe, received the surprise of a lifetime.
In the weeks leading up to Super Bowl LII at U.S. Bank Stadium, Laura decided to enter her accrued Vikings Rewards points into a sweepstakes to attend the Walter Payton Man of the Year Fan Forum.
When she received a call from the Vikings telling her that her name had been drawn for the unique experience, Laura was ecstatic.
"I was so excited," Laura recalled. "Not only to get up close and personal with the players and [NFL Commissioner Roger Goodell] but just to be kind of inserted into all of the Super Bowl hype."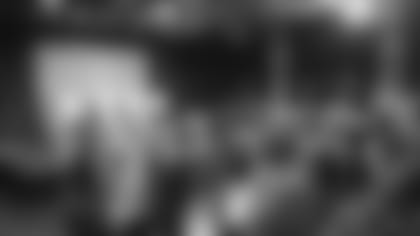 Laura, a native of Northeast Minneapolis whose family has been Season Ticket Members for more than 30 years, especially appreciated the "intimate setting" with other NFL fans who received tickets to the forum.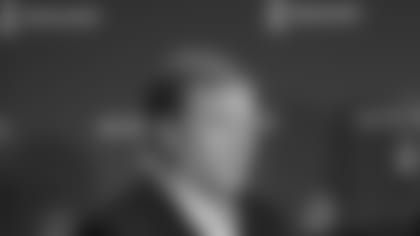 When Laura and Joe arrived early to the event, they were welcomed, told they were the first pair of Vikings fans to arrive, and directed to a seat. They met and interacted with fans of other teams as well, and the group then heard from Man of the Year finalists Greg Olsen (Panthers), J.J. Watt (Texans) and Benjamin Watson (Ravens).
Laura even had the opportunity to ask a question of the panel.
"I congratulated all of them and said they are truly are inspirations and role models for kids these days. So I asked them who inspired them as they were coming up to be the men that they are today," Laura said. "They all responded to my question, and Benjamin Watson said it was his parents, who were actually there – so that was really fun."
Laura wondered if she and Joe, recognized as the first Vikings fans to arrive, might have a chance to snap a photo with the three players and Goodell. But as the panel wrapped up, she received a surprise that far exceeded any possible expectations.
Olsen announced to the audience that the NFL had placed envelopes under three of the guests' chairs.
"So I take a look … sure enough, there was an envelope," Laura said. "Greg Olsen said, 'You guys are going to the Super Bowl,' and I just lost my mind."
Two days later, Laura and Joe found themselves once again walking into U.S. Bank Stadium, this time to watch Super Bowl LII.
Laura called the experience "once-in-a-lifetime." She and Joe had discussed the possibility of attending if the Vikings advanced past the NFC Championship game but ultimately decided it wasn't within their means.
"When we got there, it was a little crazy since we go to U.S. Bank Stadium all the time … so that part of it was comfortable," Laura said. "But then when you sit back and think, 'Oh my gosh, we are here for the biggest game of the year.' It took a while to sink in."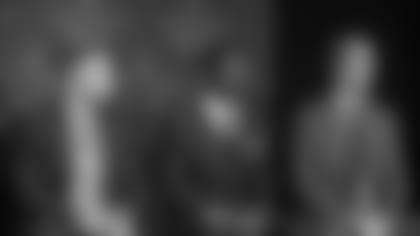 ---
Laura is just one of the 45,000-plus fans who have created Vikings Rewards accounts and are racking up points by attending Vikings events, watching videos and reading Vikings.com content, and interacting on social media. Those points can then be exchanged for a number of fun perks, memorabilia items, experiences and rewards.
To sign up for Vikings Rewards, click ****here***.*