By Tom West, For Vikings.com
The early spring in 2016 had outdoors enthusiasts eager to get into the field or their boats to chase their favorite species throughout Minnesota's waterways.
The official kickoff for this year occurred May 14th with the 69th annual Governor's Fishing Opener, held this year at Big Sandy Lake near McGregor in Aitkin County.
Two great Minnesota passions, Vikings football and fishing, have come together in recent years to spread the message about the bountiful recreation options available to young and old alike and to encourage people to try something new out-of-doors.
Home-grown Vikings TE Brian Leonhardt of Spring Lake Park and Bemidji State University didn't take much convincing to jump at the chance to bait a hook in the annual spring rite.
"I was very fortunate to come from a family that hunts and fishes every chance we get," Leonhardt said. "Not every kid grows up that way, and if we can get those young people to set down their video games and tablets and explore the great outdoors, they will be better off for it. I think if you try it and are taught the right way, it can grow into a lifelong passion."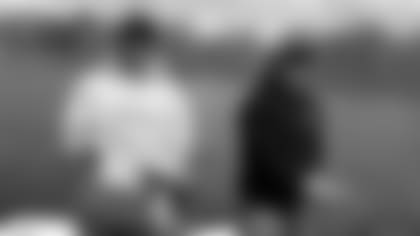 LB Audie Cole, DE Brian Robison and former DT Doug Sutherland joined Leonhardt this year. Sutherland, who stayed in Minnesota following his days as a Purple People Eater has been assisting the Minnesota Department of Natural Resources and Explore Minnesota for several years in different outdoors initiatives.
Cole, who finds Minnesota's lakes and woods very similar to the ones he tromps through in his native Michigan, relaxes in the outdoors regularly during the football season.
"To be able to be so close to good fishing has really been an added perk to getting drafted by the Vikings," Cole said. "A few guys on the team and I will take advantage of days off or time in the offseason to get out and fish, deer hunt, goose and duck hunt. It's a great way to take your mind off football for a while."
Leonhardt and Cole took part in a youth fishing clinic at Big Sandy Lake on Friday and were part of the flotilla of boats that shoved off early on Saturday morning to pursue the wily walleye on a gray, frigid day. Catches were few and far between, but good fellowship and fishing tales made the day.
The Governor's Fishing Opener has been a tradition in Minnesota since 1948. The event was designed to promote the development of Minnesota's recreation industry, and in recent years, it has served as an iconic opening celebration for the summer tourism season. Travel and tourism generate $13 billion in leisure and hospitality gross sales in Minnesota annually.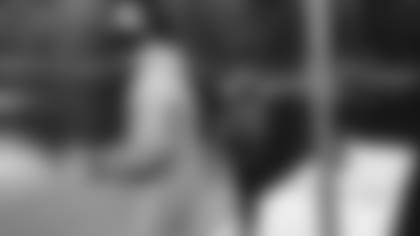 The Minnesota Governor's Fishing Opener provides the host community with an opportunity to highlight local fishing and other travel activities, attractions and points of interest. Media from throughout the Midwest region attend the event, resulting in significant publicity for the host community and Minnesota.
The Minnesota Governor's Fishing Opener is coordinated by Explore Minnesota, in partnership with the Minnesota Department of Natural Resources and host community. 
As the state's tourism promotion office, Explore Minnesota pursues an entrepreneurial approach, leveraging the state's tourism investment with increased involvement by the private sector. A council of representatives from the state's tourism industry strongly connects Explore Minnesota with tourism businesses and organizations.
Tourism is a $13 billion industry in Minnesota, and a key sector of the state's economy. The leisure and hospitality industry – a major provider of tourism services – employs more than 250,000 workers, representing 11 percent of Minnesota's private sector employment. Leisure and hospitality also generates 17 percent of the state's sales tax revenues. An estimated 69 million domestic travelers and 270,000 international travelers vacationed in Minnesota in 2013. These figures do not include the 700,000 Canadian travelers who visit Minnesota annually.