It's not uncommon for Stephen Weatherly to bring baked goods in for teammates, coaches and even staff at Twin Cities Orthopedics Performance Center.
Recently, a from-scratch rum cake made an appearance. Weatherly's avocado brownies have also been a hit, perhaps jumping to the leader board.
The Vikings defensive end learned how to cook from his mother and grandmother, both of whom he's extremely close to. Weatherly called them "outstanding chefs" and from time to time will call his grandmother to ask how to make something.
"The best part is that she uses non-traditional measurements. It's not a cup or even 'a pinch,' " Weatherly said. "She'll say, 'Well, throw in this much. Add a fist of this, two shakes of that.'
"And I'm like, 'What are you saying? Is this metrics?' I mean, seriously," Weatherly laughed. "She'll just tell me, 'You'll figure it out.' "
He usually does figure it out. Earlier this fall, Weatherly baked several sweet potato pies and then passed them out around the facility the following day.
"We told him, 'It's good, bro. Just a little bit more brown sugar,' " quipped teammate Sheldon Richardson. "He has some cupcakes that are pretty good, too. Yeah, he's been doing his thing."
For Weatherly, "doing his thing" has pretty much always been his mantra.
The Georgia native is an only child but avoided boredom growing up because his array of interests kept him occupied. From music, to robotics, to athletics, he did it all.
Weatherly's elementary school required all students to take an extracurricular course in music, either band or orchestra. He chose band, starting with the flute and excelling at an early age.
Ask him what came first – his passion for the football field or for music – and Weatherly will tell you that it was the latter.
"I was good at it; I enjoyed it. I liked learning how all the instruments tied together to make one ensemble and things of that nature," Weatherly explained.
He didn't stop at the flute. In the years leading up to college, the student-athlete also played clarinet, trumpet, trombone, baritone, tuba and tenor saxophone.
"At first, it was just me moving through and trying new things," Weatherly said of the progression. "And then during middle school it was, 'Hey, you know how to read bass clef; can you come over? We need someone over here [in this section].' And I said, 'Sure, yeah, I don't mind.' "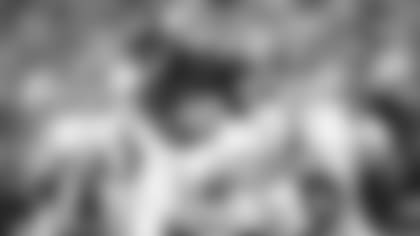 Turning attention toward football
Weatherly graduated from Shiloh High School in Snellville, Georgia, and went on to attend Vanderbilt University, where football took over his focus. He played defensive end for two seasons before moving to outside linebacker when new Head Coach and former Vikings assistant Derek Mason switched to a 3-4 defense.
He first made an impression on the Vikings at the 2016 NFL Scouting Combine in Indianapolis. But interestingly, he may never have ended up in Purple had it not been for the travel schedule of Vikings defensive line coach Andre Patterson.
Patterson hadn't watched a minute of tape on Weatherly, being that he was categorized in another position group. But after watching the defensive linemen work out, Patterson had time before an evening flight back to Minneapolis and opted to stay and watch the linebackers train.
There, Weatherly caught his attention.
"I saw this tall, long, athletic guy down there who didn't look right with the linebackers. He ran a fast 40 time, and then I saw him change direction, and I'm like, 'This guy ought to be on the list to be a defensive end,' " Patterson recalled.
Patterson and assistant d-line coach Rob Rodriguez waited until the athletes made their way back to the hotel and caught up with Weatherly in the lobby. Patterson told him that he would study his tape as soon as he got back to Minnesota – and he did, digging out cut-ups from Weatherly's first two seasons.
"I watched him play, and I was like, 'OK, this guy can do it,' " Patterson said. "I was standing on the table to draft him from the fifth round, and we finally got him in the seventh."
Did Patterson have any hesitations drafting a player who had so many other interests and hobbies outside of football?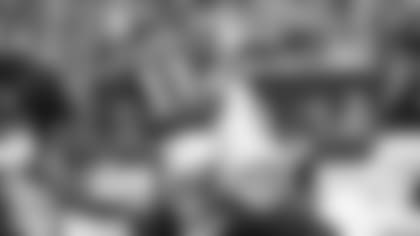 While he believes that could be a concern for some coaches, Patterson said he appreciates having players from different backgrounds and experiences in his position room. What he did need to determine, though, was just how important football was to Weatherly.
"If you're only playing football because it happens to be something that you're good at, not something that you love, then that's not a guy you want," Patterson said.
"He hadn't played defensive end in so long. So he had to work on changing his body again," Patterson added. "He had to work on changing his mentality. Would he put in the time and effort to get those things done? And he did."
Weatherly's drive and determination were never again questioned.
But even so, his first season didn't go quite the way he had hoped. The rookie spent most of the 2016 campaign on practice squad before being elevated to the 53-man roster in Week 11. He was inactive for all but two games, during which he contributed on special teams.
His own worst critic, Weatherly felt frustrated heading into his second year that things didn't click as quickly as he would have liked.
It was at that point, during the late spring and summer of 2017, that Weatherly went back to his first love: music.
While he had focused mainly on football at Vanderbilt, Weatherly still managed to squeeze in time to learn two more instruments: the steel drums and piano. It was the last instrument he took on that turned into his go-to.
"I had a piano … so after a long day and if I felt like I wasn't being as effective in practice, I would just go and play something I had learned in college, or I'd try to find new things online or on YouTube tutorials and just bury myself in that – get my head off of football for a while," Weatherly said. "Instead of beating myself up, I would [play the piano]. That actually helped tremendously, honestly – being able to take a step back, think about something else for a while. Reset, refocus and then attack the next day on the field.
"That ability to de-stress, I feel like that helped me to become a better football player," Weatherly added.
Weatherly went on to play 15 games in the 2017 season, during which Patterson saw his young student take great strides.
"He learned to just let it go," Patterson said. "At some point, you just have to learn to let it go and just go out there and trust yourself, believe that you've mastered the things you've been taught.
"[He was] trying to do it right. So you're thinking, 'My feet go here. My hands go here. My eyes go here.' Well, you're not going to look athletic," Patterson continued. "It takes a while for you to let that go and just trust yourself."
During the 2018 training camp, Patterson had another conversation with Weatherly to remind him: "Just. Let. It. Go. Just go out there and play. Be fast. Be physical."
And it worked. So far this season, Weatherly has started six of 10 games played and has 31 tackles (coaches' tally), 3.0 sacks, a pass broken up, six tackles for loss, 25 quarterback hurries (coaches' tally) and a forced fumble.
Weatherly said he's learned to rely on his natural instincts and make the necessary adjustments during a game rather than repeatedly perform the same move that worked in practice earlier that week but wasn't effective against the opponent.
"Try something, go to something, keep it fresh," Weatherly said. "That's been able to work out in games and lead to some production."
He's improved as a football player, but what he hasn't changed is anything about himself.
Weatherly will have a 20-minute discussion with teammates about Bitcoin or debate with a Vikings.com writer the psychological effects of seeing a Halloween flick during the daytime. He's quick with a Rubik's cube. He still enjoys playing the piano and learning new music, and it's almost a guarantee that he'll bring in home-baked treats for his teammates to enjoy.
To borrow a music analogy, Weatherly beats to his own drum.
He might not fit the stereotypical mold, but one thing is for sure – Weatherly's teammates have embraced him wholeheartedly.
Patterson pointed out that when Everson Griffen was away from the team for five weeks to focus on a personal matter and Weatherly stepped in to start for him, no one was a bigger supporter of the younger end than Griffen.
"That gives you an idea of how much they care about him," Patterson said. "I think those guys have become a close-knit group. They all come from different places, they all have different things that are important to them, they all have different things that motivate them. But the common goal they share is that football is important to them, and they're willing to put in the hard work to try to be the best player they can be."
Asked about Weatherly's personality and how he meshes with the group, Vikings Head Coach Mike Zimmer smiled.
"Yeah, he's quirky," Zimmer acknowledged. "He's a little bit out there, but he fits in good. He works real hard. I think the rest of the guys like him. He's just a different dude."
Richardson said that Weatherly puts his heart and soul into the defense.
"He puts the same type of energy and effort in as Danielle Hunter," Richardson said. "He watches film just like anybody else. Comes in, he knows his job; Coach trusts him to make the calls on the field for us in games."
When the Vikings signed Richardson as a free agent in March, he had never met Weatherly. Now, he's his biggest fan.
"OK, first impressions? … He's weird," Richardson said, letting out a laugh. "But when you get to know him, you just understand him. You have to understand guys' backgrounds, you know?
"We jam pretty good," Richardson added. "That's my guy. He turned out to be my guy. I love my guy, you know? For real."