Vikings Owner/President Mark Wilf made the rounds on Radio Row in Houston on Thursday to visit with several programs, including "Moving the Chains," which is hosted by Jim Miller and Pat Kirwan on SiriusXM. 
Wilf discussed multiple topics, ranging from the state of the Vikings and the NFL to the excitement that Minnesota is "on deck" to host Super Bowl LII in a year.
"Houston is doing a great job," Wilf said. "There's a lot of people and a lot of excitement starting to build."
Members of the Super Bowl Host Committee have been in Houston this week observe multiple events and the handling of logistical operations for one of the largest undertakings in sports.
The (MNSBHC) has done a considerable amount of work already, and that will only escalate, beginning Monday, the morning after the Falcons and Patriots face off for the title.
"It was almost three years ago that we got the announcement that we were going to host," Wilf recalled. "I know Minnesotans love their football, and it's going to be outstanding. The 'Bold North' … bring a sweater, you might need a coat even, but we're going to embrace the cold and have a great time."
Wilf said he believes that U.S. Bank Stadium, which opened this past season, will deliver the "ultimate fan experience" for the sport's biggest game. He also expects Minnesota to display a uniqueness, especially when compared to warm weather cities that have most often hosted the game.
"We're going to have some fun things like ice bars and all kinds of fun things [like] snowmobiling," Wilf said. "But the building is going to be the showpiece, and we're very proud of it. It's been a great public-private partnership."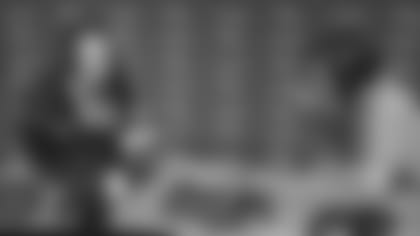 The Vikings want to become the first team to play in a Super Bowl in their home stadium by bouncing back from their 8-8 finish after starting 2016 on a roll that began a season before when Minnesota won the NFC North.
"We're working hard to get back to the playoffs next year and make another run," Wilf said. "It was a disappointing season, obviously, but we're hard at work getting ready for next year."
Wilf told Miller and Kirwan he was pleased with the way that Head Coach Mike Zimmer led the team through difficult challenges.
"You know Zim', he's a straight shooter," Wilf said. "The players appreciate it, the fans appreciate it, and I know we, as owners, appreciate it. He's done an outstanding job, and he had a lot of adversity last year. He's not one to complain about this injury or that, but with the challenges we had … obviously us and our fans were disappointed after the great start we had and then how we finished."
One of the toughest challenges was when Teddy Bridgewater suffered a season-ending knee dislocation on Aug. 30, just days before the Sept. 11 season opener. The Vikings executed a trade for Sam Bradford on Sept. 3 and started 5-0 before injuries mounted.
Bradford threw for a career-best 3,877 yards and 20 touchdowns against five interceptions on his way to breaking the NFL's record for completion percentage (71.6) in a season. Those successes were in spite of Adrian Peterson missing most of the season, several combinations of starting offensive linemen and a change in offensive coordinators. 
"He came into a very tough situation with Teddy going down," Wilf said. "Sam did an outstanding job picking up the offense quickly … Week 2 coming right in there. The players gravitated toward him; he made our receivers better. We love him."
Wilf also spoke with Chris Tomasson of the *Pioneer Press *on Thursday evening, and Tomasson asked about the status of Peterson, who is under contract for 2017.
"I'm leaving it up to [General Manager] Rick Spielman to deal with football matters, and we have a lot of faith in how they do it, but Adrian is such an important part of our organization, and he's a great player and is still a great player.
"We'll see how the business stuff works out," Wilf continued. "He's going to have a Purple Jacket [for Vikings Ring of Honor], a Gold Jacket [for Pro Football Hall of Fame] and all of the accolades he deserves. He's one of the greatest Vikings of all-time and certainly one of the greatest players of all-time."