EAGAN, Minn. — The Vikings 2019 season has come to a close after 18 games filled with plenty of ups and downs.
Minnesota went 10-6 in the regular season to earn a Wild Card berth as the sixth seed and promptly shocked the football world with an overtime win over third-seeded New Orleans.
And although the Vikings playoff run ended Saturday with a loss to the 49ers in the Divisional round, there were still numerous memorable moments that won't be forgotten anytime soon.
The Vikings.com digital crew sat down this week and compiled the 10 best moments of the season that we felt helped tell the story of the 2019 Vikings. For this list, Vikings.com's Lindsey Young, Craig Peters and I condensed hundreds of plays into 10 defining moments.
As you'll soon read, some sequences were grouped together. So while Adam Thielen's overtime grab against the Saints in the playoffs certainly lives in Vikings lore, it was combined with Kyle Rudolph's game-winning touchdown catch against New Orleans to highlight the offense's overall performance.
Here are our top 10 Vikings moments from the 2019 season: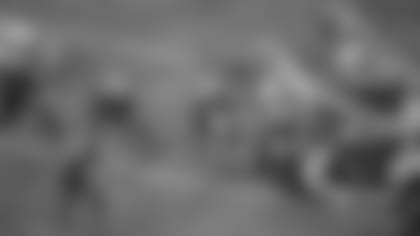 1. Vikings Offense Thrives in OT in New Orleans | By Eric Smith
The Vikings had endured a roller-coaster 60 minutes against the Saints and were now headed to overtime at the Superdome. But with the noise deafening, Minnesota's offense simply put together a lethal nine-play, 75-yard touchdown drive to seal the deal.
Minnesota faced an early third-and-1 but converted when Kirk Cousins fired a strike to Stefon Diggs on a slant for 10 yards. Dalvin Cook then moved the chains with an 11-yard run into Saints territory.
Cousins and Thielen delivered a dagger, a 43-yard reception on a perfect throw and catch that put the Vikings at the Saints 2-yard line. That helped set up Rudolph's game-winner in the back left corner of the end zone, as his 4-yard score gave the Vikings their first overtime playoff win in franchise history.
The sequence left the Superdome crowd stunned, set off a raucous celebration in the Minnesota locker room and sent the Vikings onto the Divisional round.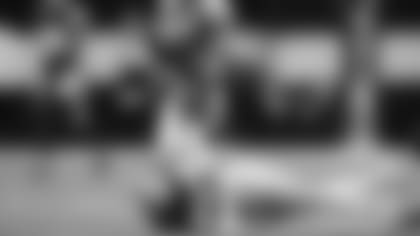 2. Vikings Defense Makes Big Plays in Playoffs vs. Brees | By Lindsey Young
The Vikings were counted out before even arriving in New Orleans for the Wild Card game, but all three phases showed up en route to an overtime upset of the Saints.
Particularly key was a pair of takeaways by Vikings defensive end Danielle Hunter and safety Anthony Harris.
Late in the second quarter and with Minnesota trailing 10-6, Harris picked off a deep third-down pass by Drew Brees, who had thrown just four interceptions during the regular season. Harris returned the ball 30 yards to set up a Vikings touchdown and lead just before halftime.
With New Orleans driving late in the fourth quarter, Hunter took down Brees for a strip sack, and the ball was recovered by Jalyn Holmes. The turnover halted the Saints drive and gave them less time on the clock on their final possession, forcing them to settle for a game-tying field goal to send the contest into overtime.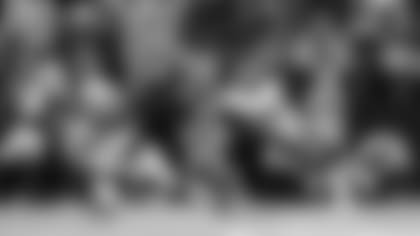 3. Kendricks' 4th-Down Pass Deflection in Dallas | By Craig Peters
Those who have followed Kendricks' career through five seasons with Minnesota weren't shocked when the middle linebacker correctly traced an out route by Dallas running back Ezekiel Elliott, reached out his hand and tipped away the pass by Dak Prescott.
The heroic action at a critical moment — fourth-and-5 at the Minnesota 14 with 44 seconds remaining — on one of the NFL's biggest stages — at Dallas on NBC's Sunday Night Football — may have helped spread the word of Kendricks' diverse merits to a national audience. Although he was snubbed by the Pro Bowl, he garnered his first All-Pro First-Team selection by the Associated Press.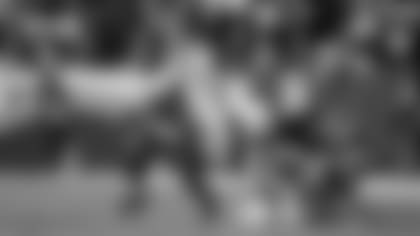 4. Odenigbo's Fumble Return for a TD against Chargers | By Eric Smith
Entering Week 15's clash against the Chargers, Ifeadi Odenigbo had never scored a touchdown at any level of his football career. That changed on Dec. 15 for the Vikings defensive end, who actually grew up a Chargers fan.
Minnesota led 12-10 in the second quarter with less than 30 seconds remaining before Odenigbo and the Vikings defense made a game-changing play.
First, Hunter powered his way past two blockers and stripped the ball from Philip Rivers. The pigskin bounced from Odenigbo toward the sideline, but Kendricks kept Chargers running back Austin Ekeler from securing it.
That set up Odenigbo to recover the fumble and race 56 yards untouched into the end zone thanks to a key block from a hustling Hunter.
The takeaway was one of seven on the day for Minnesota as the Vikings took a 19-10 lead into the half.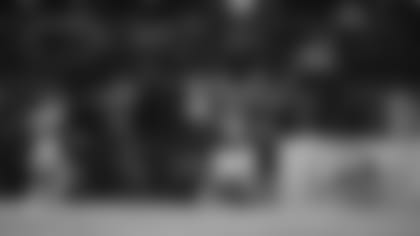 5. Vikings Rally to Beat Broncos | By Lindsey Young
When things seemed dire, Minnesota didn't hang its head.
Instead, the Vikings orchestrated a comeback like no other. Trailing 20-0 at halftime and 23-7 entering the fourth quarter, Cousins and company broke through. After a 3-yard score by Dalvin Cook to open the fourth quarter, Cousins hit Stefon Diggs for an incredible 54-yard touchdown that shrunk the deficit to 23-20.
Four minutes later – and after Minnesota's defense shut down Denver – Cousins connected with tight end Kyle Rudolph for a 32-yard touchdown.
The Broncos worked for a game-winning score, but Vikings safety Jayron Kearse recorded back-to-back pass breakups in the end zone to close out the game.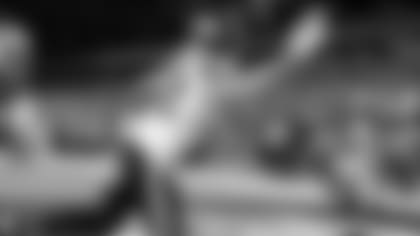 6. Rudolph's 1-Handed Catch in Dallas | By Craig Peters
The Vikings scored a touchdown on their opening drive against the Cowboys thanks to an unbelievable one-handed catch by Rudolph for his first of two 1-yard touchdowns in the first quarter.
Facing third-and-goal, Minnesota used a play-action pass with Cousins faking a handoff to Cook and bootlegging to the left. This bought time for Rudolph to sell a run block then make his way past Cowboys defenders.
Cousins threw the ball to a spot where only Rudolph could reach it, and the tight end stretched out his right arm and hand. A little-known element that made the play even more special was the fact that Rudolph was wearing a bracelet on his right wrist that had been given to him by a patient at the University of Minnesota Masonic Children's Hospital.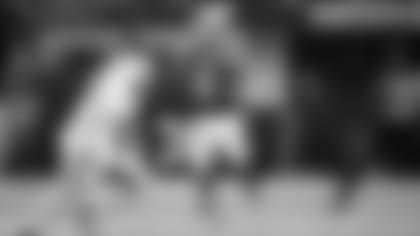 7. Cousins, Diggs Pick Apart Eagles Secondary | By Eric Smith
Diggs was off to a quiet start for the 2019 season, as he had recorded 16 catches for 253 yards and a single touchdown in the first five games of the year.
But he broke out in a big way in a Week 6 home game against the Eagles, hauling in seven catches for 167 yards and three touchdowns to light up the Philadelphia secondary.
The Vikings led 10-3 a few minutes into the second quarter before Cousins went deep to find Diggs for a 62-yard touchdown, a play that ended up being the Vikings longest-scoring play on a pass in 2019.
Less than two minutes later, the pair connected again, this time on a 51-yard touchdown reception. The duo then capped off its impressive day with an 11-yard touchdown connection late in the third quarter.
Diggs' performance marked the first time a Vikings player recorded three touchdown catches in a game since 2005. Cousins threw for 333 yards with four touchdowns and a passer rating of 138.4 in the 38-20 win.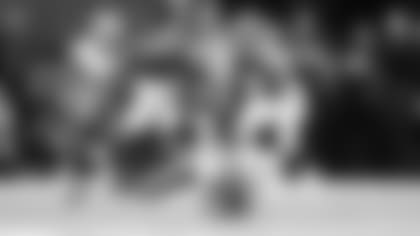 8. Hunter Sets Sack Record Against Lions | By Lindsey Young
Hunter needed one-half sack to set an NFL record.
For good measure, he got 3.0. After back-to-back pass deflections by Shamar Stephen and Harrison Smith to start the division matchup, Hunter smelled blood in the water on third-and-10.
Hunter took down rookie QB David Blough for a loss of 6, effectively becoming the youngest NFL player to record 50 career sacks (since it became an official stat). The 25-year-old went on to notch two more sacks of Blough for the hat trick on a historic day.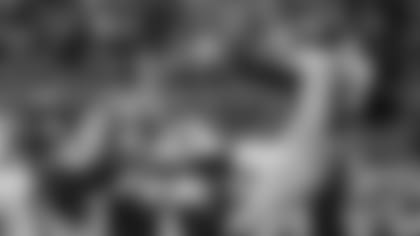 9. Wilson's Blocked Punt Sets Tone vs. Falcons | By Craig Peters
The Falcons were stunned from the get-go. Three plays after Anthony Barr sacked Matt Ryan on Minnesota's first snap of the season, Eric Wilson zipped through the line and put it all on the line.
Wilson blocked Matt Bosher's punt with a spectacular dive and overcame getting kicked in the facemask during Bosher's follow-through. Thankfully, Wilson was wearing a clear visor for eye protection. He still received a gash on the play but was OK.
The blocked punt was the first by the Vikings since 2014 when Minnesota stuffed two punts by Carolina in one game. It gave Minnesota the ball at the Atlanta 21-yard line, and the Vikings scored on a 23-yard touchdown pass from Cousins to Thielen three plays later.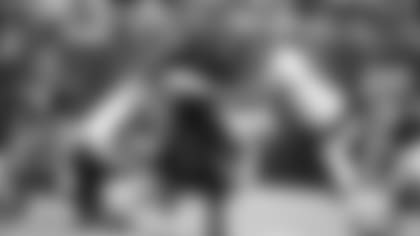 10. Dalvin's 2-Minute Drill Against Washington | By Eric Smith
There was no chance we were leaving Dalvin Cook off this list. And while it was hard to find one moment to signify his strong season, he was just downright impressive in the final two minutes of the second half against Washington.
The teams were tied at 6 with 1:57 left in the second quarter when the Vikings took possession at their own 25-yard line. Cook promptly gobbled up 55 of the 75 yards on the ensuing scoring drive in impressive fashion.
Cook opened the sequence with a 5-yard catch, and he followed with a 15-yard reception on a screen pass where multiple Washington defenders missed him.
That set up one of his most impressive plays of the season, a 31-yard catch thanks to a phenomenal effort on another screen pass. At least five Washington defenders had a chance at the Pro Bowl running back, who appeared to be gliding around the turf as he moved into the red zone.
Two plays later, Cook punctuated the drive with a 4-yard touchdown run that gave the Vikings a lead they wouldn't relinquish. Cook had 172 total yards on 28 touches (6.1 yards per touch) in the 19-9 win.
Cook rushed for 1,135 yards and 13 touchdowns on 250 carries in 2019. He also added 53 receptions for 519 yards.