It was only fitting for Taquarius "TQ" Wair to receive the Jimmy V Award for Perseverance from someone who inspires him.
TQ received a surprise video call from Seahawks linebacker Shaquem Griffin, who "presented" him with the ESPY award.
"I heard you've been doing your thing, man, ballin'," Griffin said.
At age 4, TQ suffered third-degree burns that covered more than 55 percent of his body during a devastating house fire. His 6-year-old sister, Shawneece, did not survive, and doctors told TQ's mother, Shawnee, that his chance of survival was 20 percent. He spent one month in a coma and endured countless surgeries and procedures, including skin grafts and reconstruction. One hand was unsalvageable, his fingers reduced to stumps.
"But Taquarius fought. He fought, and he's still fighting," Shawnee told Vikings.com last year. "He's never going to give up."
At age 7, TQ began playing football and fell in love with the sport.
His burns and scars have presented unique and painful challenges over the years: He's had to endure additional surgeries to remove built-up scar tissue and improve the range of motion in his arms. He's accustomed to being extra careful in the sun due to the sensitive nature of his skin.
And yet, TQ faced every challenge head-on and has impressed football coaches along the way.
The Vikings recognized TQ as their Hometown Hero during Minnesota's preseason game against Seattle last August.
"I just keep grinding," TQ told Griffin, whose hand was amputated at age 4 due to complications from amniotic band syndrome.
"On behalf of the ESPYs, they brought me here, and I couldn't ask for a better spot to be in to be able to talk to you," Griffin said. "Jimmy V talked about perseverance and overcoming all obstacles, [someone] who shows nothing but grind, nothing but perseverance and attitude and grit, and I want to let you know that you're that guy. And I'm proud of you, bro."
The Jimmy V Award is annually presented to a "deserving member of the sporting world who has overcome great obstacles through perseverance and determination." The award is named in honor of former North Carolina State University men's basketball coach Jim Valvano, who gave an acceptance speech after receiving the Arthur Ashe Courage Award at the 1993 ESPY Awards ceremony. Valvano died from adenocarcinoma two months after receiving the honor.
Griffin and TQ shared a connection over the video conference, saying they felt "chills" during the exchange.
Surrounded by family members, TQ grew emotional as he lifted the silver ESPY award from its box.
"Many more to come, brother. Many more to come," Griffin said.
TQ held the trophy up to the computer screen, turning it over in his hands. He thanked Griffin for being a part of the event, describing the surreal moment as "ridiculous."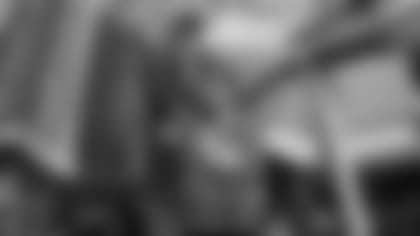 "This is humbling for me right now," TQ said of accepting the honor. "I've been through a lot. It's just in my nature not to give up. My family won't let me give up. They've been through every part of my life with me. It's just another part of my life they get to enjoy with me – and I get to enjoy with them.
"I chased what I believed in, and I'm here," he added. "Let's see where I can go from here. Stay tuned."