The Vikings are sitting in a good spot heading into Day 2 of the 2021 NFL Draft.
Minnesota got its guy in Virginia Tech tackle Christian Darrisaw Thursday night and, thanks to a trade down from No. 14 to No. 23, General Manager Rick Spielman has plenty of flexibility for the next two days.
Spielman joined "Voice of the Vikings" Paul Allen on KFAN's 9 to Noon Friday morning and talked about a variety of topics, including his thoughts on Darrisaw, his rigorous offseason travel schedule and the team's approach to college free agency.
A heavy topic of focus also was the amount of draft capital Minnesota could use to move into Round 2 or load up in Round 3.
While last night's trade may have tested the patience of fans and Spielman's daughter alike – "She came storming home last night after the 14th pick and said, 'Why does Dad always do that? It's so irritating.' " – the move allowed the Vikings to add another two third-round picks.
Currently, the Vikings are slated to make four picks in the third round (Nos. 66, 78, 86 and 90) and three in the fourth (119, 125 and 134). Add that to two fifth-rounders (157 and 168) and a sixth-round spot (199), and Spielman has 10 total selections to play with.
Whether or not the Vikings trade up or town Friday night, though, Spielman is confident in the depth of players remaining on the board.
"Having four thirds and the second pick overall in the third round will give us an opportunity to do some things if we elect to do it," Spielman told Allen. "But I also know the depth of this draft, and the sweet spot in this draft is right in that third- and fourth-round range where there's a lot of good football players. I think we'll able to help our team today."
Spielman elaborated on the "sweet spot" descriptor, saying there may be more of a drop-off this year due to the COVID-19 pandemic and many players who may have entered the draft in previous years opting for another season of college ball.
According to Spielman, there were approximately 500 fewer players available in this year's draft compared to springs prior.
"You want to make sure you guard your picks for next year, anticipating it's going to be a very deep draft," Spielman said. "And who knows – we've done that in the past, where we've taken a couple of these extra picks and converted them into picks for next year, too.
"We'll see how it all plays out. There's a lot of different directions we can go today," he added.
Spielman, who has now traded down 28 times and up only nine since becoming GM before the 2012 NFL Draft, knows that sliding down always carries with it an element of risk.
"If you're in this business long enough, you're going to get sniped. There's no one that hasn't been sniped in this business if you've been doing it as long as I've been fortunate enough to do," he said. "Those are the things that, to be honest with you, we were trying to trade back up to make sure we were able to get Darrisaw. We weren't able to get that accomplished, so we just sat patient once we got to a certain point. You just sit there."
Spielman referenced last April, when the Vikings hoped for Justin Jefferson at No. 22 and breathed a sigh of relief when Philadelphia opted for receiver Jalen Reagor one pick ahead of Jefferson. Spielman also reflected back to his first season in Minnesota, when the Vikings drafted Adrian Peterson seventh overall in 2007.
"At that time, we felt that maybe Arizona, who was right in front of us, was going to go with him," Spielman said. "You do get anxious just waiting, and when you hear the name the team above you takes and it's not your guy, it's an incredible feeling."
On the flip side, trading up also costs a team – literally.
Spielman noted that Executive Vice President of Football Operations Rob Brzezinski reminded of the $3 million discrepancy in salary the team could be looking at if they moved up to grab Darrisaw.
"I said, 'Don't worry about it, Rob. You'll figure it out. That's what you get paid to do,' " Spielman quipped.
No matter what happens over the next two days, Spielman is confident in his colleagues when it comes to making fair trades that will benefit the team.
He credited Brzezinski and Football Administration Coordinator Taylor Young for their hours of research on the history of trades and the usefulness of various trade charts. He also mentioned Director of Analytics Scott Kuhn and his crew.
"[They've] done an incredible job. We've created these buckets of what these point systems are and where you want to trade in and out of the bucket, so I think we use something a little bit more unique [than other teams],' Spielman explained. "Rob can punch in these things, and right up on our big board, it will tell you the value within seconds.
"It's right there in front of you, everything's so automated right now, and that's from our IT [department] and all the people who, like I said, we have a very talented group of people in this building," Spielman continued. "So when you're on the clock and you're trying to make split-second decisions – and listening and looking at players and trying to figure out if you can get them or not, and then looking at the trade values of everything – this is all going on at the same time, and you're on the clock. We have a pretty good system, but that's what makes this job fun."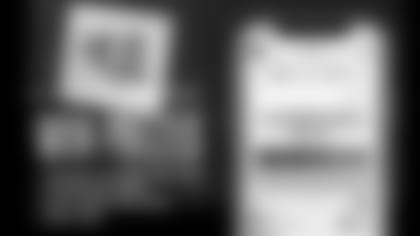 Vikings I.Q. Presented By Pepsi
Pepsi will partner with the Minnesota Vikings to offer fans an interactive, free-to-play social and gaming experience through the Vikings App called Vikings I.Q. Fans will have an opportunity to make real-time Draft predictions, socialize with other Vikings fans and win prizes from Pepsi! To play, simply download or open the Vikings App then click Menu > Fantasy Games > Vikings I.Q.