The Vikings selected Mekhi Blackmon 102nd overall in the 2023 NFL Draft.
Blackmon wasn't the highest-rated defender on the board, and he certainly wasn't the biggest, but Minnesota is confident that he can be a special player. The Vikings have followed Blackmon's unique journey to the NFL, which Andrew Krammer of the Star Tribune recently chronicled.
Krammer wrote that Blackmon's path began "in south Bay Area communities in California that hang tightly to hope amid poverty and crime."
The cornerback didn't have a scholarship coming out of high school, and he played on three college teams for five head coaches over six seasons. After starting at the College of San Mateo, he transferred to Colorado for three seasons and then to USC, where he starred in 2022.
Blackmon started all 14 games for the Trojans last season, totaling 66 tackles, three interceptions, 12 pass breakups, one fumble recovery and a forced fumble.
It's been a long and winding road, but it's all paying off.
Donte Williams, Blackmon's position coach [at USC] last fall, said the Vikings are getting a "grown man off the field" who forms tight relationships with people and sticky coverage with receivers.
Williams, the Trojans defensive backs coach, pursued Blackmon in the transfer portal, landing his top cornerback for the 2022 season. Williams began to trust Blackmon's outspoken confidence and often bet on his ability to handle receivers alone in man-to-man coverage.
Seeing the 1-on-1 matchup, teams kept throwing at Blackmon. Only six Pac-12 corners were targeted more last season, and only three other cornerbacks allowed a stingier catch rate than Blackmon (49.2%), per Pro Football Focus. Few were penalized as often as Blackmon, too; he drew seven flags while deflecting a career-high 12 passes as an All-Pac-12 selection.
"We put him in honestly maybe not the best situations," Williams told Krammer. "We rolled the coverage away from him. ... Sometimes when they went to his guy three plays in a row, we still rolled the coverage away on play four.
"Our money was always on him," Williams added.
To read Krammer's feature in entirety, click here.
Mark Wilf among dignitaries accompanying Ethiopian Jews on immigration to Israel
Vikings Owner/President Mark Wilf and Owner/Chairman Zygi Wilf continue to make a great impact in the Jewish community not only in the United States but around the world.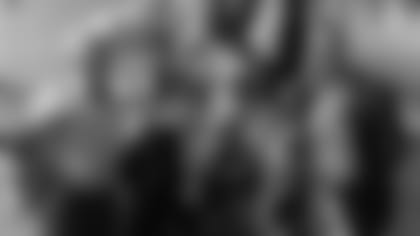 Mark Wilf, Jewish Agency Board of Governors chairman, recently accompanied 111 Ethiopian Jews on their immigration journey to seek refuge in Israel.
"Touching down in Israel with a flight of new olim from Ethiopia is a breathtaking moment that reminds us how lucky we are to have the State of Israel as a homeland and safe haven," Wilf told Emily Golden of The Jerusalem Post. "Bringing these olim to start a new life in Israel embodies the Jewish Agency's dedication to our historic role as an unwavering advocate for the Jewish people, wherever they may be."
The new olim will be sent to one of 17 Jewish Agency-run absorption centers for Ethiopians where they will be provided subsidized housing that caters to their specific cultural needs. They will also receive financial support and guidance, Hebrew language education, and preparation for the Israeli employment market and education system.
A continuation of Operation Zur Israel, initially launched in December 2020, aims to eventually reunite 3,000 Ethiopians with their families in Israel. The Jewish Agency is preparing Ethiopian immigrants for Aliyah in coordination with government ministries as the Aliyah and Integration, Interior, Foreign and Health ministries.