Two weeks from today, Sam Bradford will report to his first training camp in Purple.
As Bradford prepares for his second season with the Vikings, NFL.com writer Gregg Rosenthal expects the quarterback to have a breakout year as a "post-hype All-Star."
In a recent article, Rosenthal said that Bradford "played his best season in 2016." Rosenthal wrote the following of the 29-year-old Bradford:
This season is Bradford's chance. With improved teammates and scheme continuity, he makes a logical pick to quarterback my team of players whom buzz forgot.
He's here because he quietly excelled last season in areas he was once mocked for. Pro Football Focus' numbers showed Bradford was the most accurate passer under pressure and most accurate on throws over 20 yards downfield.
Also included on Rosenthal's list were RB Thomas Rawls (Seahawks), WR Breshad Perriman (Ravens), TE Austin Seferian-Jenkins (Jets), T La'el Collins (Cowboys), WR John Brown (Cardinals), TE Dwayne Allen (Patriots), DT Timmy Jernigan (Eagles) and LB Alec Ogletree (Rams).
Minnesota will face Perriman (Oct. 22) and Ogletree (Nov. 19) this season when the Vikings host the Ravens and the Rams, respectively, at U.S. Bank Stadium.
Adams adjusting to the playbook
Wide receiver Rodney Adams, whom the Vikings selected in the fifth round of the 2017 NFL Draft, is working hard to overcome his biggest hurdle in the pros thus far: the playbook.
Tim Yotter of *Viking Update *caught up with Adams, who explained that South Florida's offensive system was much more simplistic.
"My sophomore year actually, we had cards. And then we got away from cards and had hand signals. I've had the best of both worlds with cards and hand signals," Adams told Yotter. "Coming now and getting into a huddle and hearing a play that's a paragraph long, it's different for me."
At 6-foot-1, 189 pounds, his athleticism and length made him an attractive selection for the Vikings. As a junior, Adams had 822 yards, as well, but did it on 45 catches, adding nine touchdowns.
With a fairly deep receiver corps, Adams may have to forge a role on special teams. As a senior, he returned 22 kicks for 534 yards, and he was a staple on kickoff return drills during the Vikings spring practices.
Yotter added that Adams will still need to show promise as a receiver, however, and it's something that the rookie is dedicated to demonstrating to coaches at training camp just around the corner.
"In college, teams don't really run that many different coverages because of the fact that they play to the strength of each player," Adams told Yotter. "At that level, kids are still confused on different coverages. It's all a big jump, just learning everything fast. It's a learning process. You just try to get one percent better each day."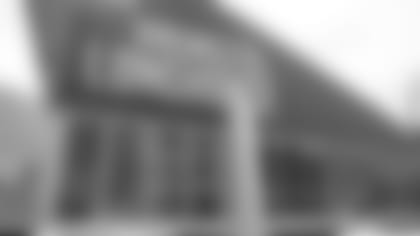 Vikings Longhouse Named 'Best' in Minneapolis
U.S. Bank Stadium introduced many unique elements in and out of the venue when it opened last season. One of the unique areas, the Vikings Longhouse, was named the top bar in the "Best of 2017 Minneapolis" listing by the Minneapolis Award Program.
The Minneapolis Award Program website says the program "identifies companies that we believe have achieved exceptional marketing success."
The Vikings Longhouse provided a 6,000-square-foot, climate-controlled gathering space on the west end of U.S. Bank Stadium for fans with or without game tickets to enjoy a festive atmosphere.