The entire Vikings roster has been hard at work this week as they look for a better outcome Sunday against the Colts.
Arif Hasan of The Athletic was recently asked in his weekly mailbag about players he expects to play better than they did in Week 1.
Here is the question to Hasan:
Lots of (understandable) negativity, so I will try to go against the grain with this one: Give us one player on the offense and one player on the defense you expect to have a big bounce-back against Indy.
Hasan went with safety Anthony Harris and right tackle Brian O'Neill as his bounce-back candidates.
I think we'll see a bounceback performance from Anthony Harris, who is coming off of what might be his worst game as a Viking after allowing the deep receptions he did as well as some miscues in the running game. He was phenomenal last year and has had a history of strong performance. On offense, I expect to see a better game from Brian O'Neill, who was genuinely disappointing last week even after accounting for the fact that he lined up against Za'Darius Smith. He's been a much better pass protector throughout his career, and though Justin Houston isn't an easy matchup, it's not as difficult as Smith.
According to the analytics website Pro Football Focus, Harris had an overall grade of 34.6 in the Week 1 loss, and was in coverage on a Packers touchdown pass.
Harris, who tied for the NFL lead with six interceptions in 2019, had an overall grade of 90.5 from PFF that season, which ranked third among all safeties.
PFF gave O'Neill a solid grade of 72.6 against Green Bay, but as Hasan noted, the right tackle did allow a sack. According to PFF, O'Neill did not allow a single sack during the 2019 regular season.
U.S. Bank Stadium earns top-5 ranking
There's no doubt that the Vikings missed their fans Sunday inside U.S. Bank Stadium.
The sound of 66,000-plus doing the SKOL Chant and proving the energy all game long is one reason why the team was 23-9 in the venue's first four regular seasons.
The atmosphere and notable features of the stadium each made up 20 percent of the criteria, while traditions and tailgating combined for another 30 percent. The final 30 percent was made up of the stadium's location, cost and history.
ESPN Vikings reporter Courtney Cronin wrote that while U.S. Bank Stadium hasn't been around long, it has already made its mark on the sports world.
As new stadiums go, though, this is the standard, Cronin wrote.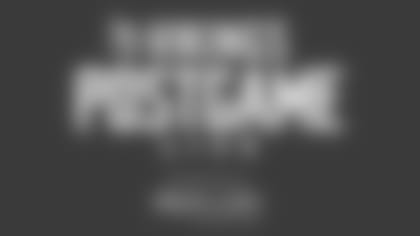 Vikings Postgame Live
Tune in after each Vikings game on the team's digital and social platforms to watch a live postgame show.
The baby of the top five, U.S. Bank has already seen its share of memorable moments, including two name plays in the "Minneapolis Miracle" and the "Philly Special." Not a bad start, kid. Pair those plays with the raucous [SKOL Chant], the indoor/outdoor aesthetic provided by the glass walls and a superb downtown location, and it's not hard to figure out why this purple palace is already ranked so high. Never hurts having a Viking ship out front, either.
Age is just a number. While U.S. Bank is only 4 years old, its traditions, like the chill-inducing Skol clap, sounding of the Gjallarhorn prior to kickoff and the fire-breathing dragon tunnel that players run out of, make it worthy of being at the top of this list. Members of Minnesota's defense have constantly lauded the advantage they get from the crowd noise that reverberates inside, thus creating an uncomfortably loud scenario for opposing offenses to work with while defenders hunt down quarterbacks in the process.
In addition to hosting Super Bowl LII, the stadium has also played host to a Final Four, multiple X-Games and Minnesota high school football all-star and playoff games.
The top four stadiums, according to the rankings, were Lambeau Field (Packers), CenturyLink Field (Seahawks), Arrowhead Stadium (Chiefs) and Heinz Field (Steelers).