The Vikings have finally reached their bye week, and it tastes a lot sweeter heading into the break with an 8-3 record.
The headline in the Vikings 27–23 win over the Broncos on Sunday is that Minnesota became the first team in the last 100 league-wide tries to come back from a 20-point halftime deficit, and the first team to climb out of that big of a hole while scoring on every second-half possession in 40 years, which is crazy.
But as Kirk Cousins reflected on the win, he saw it more as another step for the team's much-scrutinized passing offense under [Offensive Coordinator] Kevin Stefanski.
In the first half, Broncos [Head Coach] Vic Fangio got the Vikings a little off-balance with replace rushing (switching coverage players and rushers), pressures and coverage disguise, while his team ran up a 20–0 lead. In doing so, he took Minnesota out of its comfort zone by taking away stud [running back] Dalvin Cook early, then making it harder to lean on him later as the Vikings deficit grew. Which meant it'd be on Cousins and the passing attack to win the game.
Breer explained that Stefanski "got more aggressive with his play calling" and directed Minnesota to a no-huddle offense that allowed the team to claw its way out of the deficit.
That the Vikings showed that they could win without Cook gashing a defense, which is what's happened all year, was significant, to Cousins at least.
Breer quoted Cousins, who called the Vikings offense "a work in progress."
"One game, we run for 200 yards and we have 10 pass attempts and another game we have almost 40 pass attempts and run for 37 yards," Cousins said. "You have to kind of play the game that's called and react to what's going on. I think when you're 8–3 and you're doing a lot of good things offensively — we're running the football and converting third downs, and working in screens and explosives to Stefon Diggs — there's a lot of things to be excited about and feel good about.
"But they don't get any easier from here," he added. "We've got three divisional games against good football teams, and we have to go to Seattle and L.A. We're going to get tested, I'll put it that way."
Craig's 'Five Extra Points' cover highs & lows of Vikings-Broncos game
After Minnesota's exciting defeat of Denver, Craig covered some highs and lows from the Week 11 matchup. He first pointed out the lack of Dalvin Cook production against a stout Broncos defense:
It wasn't the ideal approach, but the Vikings found out they can fall behind 20-0 and still win a game without Dalvin Cook producing like the best back in football. The reigning NFC Offensive Player of the Week, who had 183 yards on 33 touches in last week's 28-24 victory at Dallas, was held to 57 yards on 16 touches in Sunday's 27-23 win over Denver. According to this press box observer, Cook, the master of making the first guy miss, had only three plays in which he was able to do just that. And Cook gained only 13 yards after a first defender missed. Seven of those came on Cook's first two touches, both runs. The other six came on a 9-yard reception.
Craig also delved into a costly fourth-down penalty by linebacker Eric Wilson, the Vikings struggle to put consistent pressure on Broncos quarterback Brandon Allen, and the success of a QB sneak by Cousins early in the third quarter.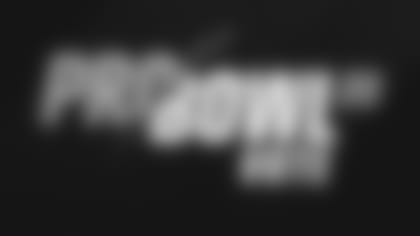 Pro Bowl Voting
Last chance! Vote to help make sure all your favorite Vikings make the 2020 Pro Bowl in Orlando. Voting ends Dec. 12, 2019.
He wrote that the Vikings were "already in a desperate-times-call-for-desperate-measures moment" after Cook was stopped for no gain on third-and-1 from the Minnesota 45.
From the outside, it felt like a punt in that situation would be a spine-snapping turn of events. The Vikings brain trust must have felt the same way. There was no hesitation. The offense hurried to the line of scrimmage. And before the Broncos were even set, quarterback Kirk Cousins basically goosed center Garrett Bradbury's backside. The hurry-up sneak gained the one yard necessary to keep alive a nine-play, 75-yard touchdown drive that set the tone for the second half. The Vikings went no-huddle on the entire drive.
Craig additionally praised Trae Waynes for the effectiveness of his tackles.
The cornerback's ability to read, react and make an old-fashioned, two-arm, wrap-him-up tackle came in quite handy on a call the Broncos made on third-and-1 early in the fourth quarter. The Vikings had just scored to make it a 10-point game. Denver needed a first down at its 34 to keep from going three-and-out. The Broncos had been having success with misdirection end arounds and gadget-type plays. One of them was Sutton's 38-yard pass to Patrick. Denver called for tight end Noah Fant to start on the left side and take a handoff around right end. Waynes saw it the whole way and dropped Fant for a 5-yard loss. According to Pro Football Focus, Waynes is the best run defender among the Vikings' starters in the secondary. He showed it on that play.