The Vikings defensive corps has been together quite a while, and it shows.
Under Head Coach Mike Zimmer, Minnesota has consistently been at the top of the league in various defensive categories, and this year is no different. The unit has experienced a couple of ups and downs but by-and-large has lived up to its stout reputation.
In his recent rankings of the league's defenses, NFL Media's Gil Brandt put the Vikings at No. 5. Through six games, they are sixth in points allowed, fifth in yards, seventh in the pass game and ninth against the run. He wrote:
Ever since Mike Zimmer, a former defensive coordinator for the Bengals, became the Vikings head coach in 2014, defense has been a strength of this team. The 2019 edition features a game-changer at every level. Danielle Hunter has six sacks already up front; he brings impressive speed (4.75 [40-yard-dash]) for a man his size. Outside linebacker Anthony Barr, meanwhile, has learned how to play better in space, while safeties Anthony Harris and Harrison Smith both rank in the top 10 among safeties in Pro Football Focus coverage grades. Continuity has no doubt helped this defense, which is in its sixth season under Zimmer and [Defensive Coordinator] George Edwards. The Vikings defense is a steady unit that just seems to refuse to give up big plays.
Who did Brandt rank above the Vikings, you ask?
He topped the list with the Patriots, who rank first in points allowed and yards allowed, second against the pass and third against the run. Coming in at Nos. 2-4 were the Bills, 49ers and Bears.
Brandt said the following of Chicago, which Minnesota will not face again until the regular-season finale:
[The Bears] still have [Khalil] Mack, the game's preeminent edge rusher. And they still have a strong complement of cornerbacks, led by Kyle Fuller and plenty of speed. Plus, there's the encouraging fact that the defense is performing as well under [Defensive Coordinator] Chuck Pagano as it did under Vic Fangio last season.
Rounding out Brandt's rankings were the Broncos, Saints and Panthers.
Wilson readying for return home against Lions
Vikings linebacker and Detroit native will head home this weekend when the Vikings take on the Lions at Ford Field.
"They were bad. That's why I wasn't a fan at the time," Wilson told Tomasson. "They just weren't good."
He added, however, that friends of his support the Lions and are "always excited, regardless of how they're actually doing."
The Lions (2-2-1) have been doing better lately and have a shot at a fourth winning season out of the last six.
As for Sunday, Wilson is expecting some who are normally Lions fans to be rooting for him. He said about 30 friends and family members will be on hand to watch him at Ford Field.
As an undrafted rookie out of Cincinnati in 2017, Wilson was in for just 20 plays on special teams at Detroit. However, last December, with Eric Kendricks out with a hamstring injury, he started and had perhaps the best game of his career in a 27-9 win. He was in for 72 defensive snaps and, according to Pro Football Reference, made nine tackles, including a sack and three for loss.
Hartman: Dozier at home with Vikings, Dennison
Dakota Dozier entered the season as a reserve guard for the Vikings. He already has carried more than his weight, having played in all six games and made three starts.
In 37 career NFL games going into this season, Vikings offensive lineman Dakota Dozier had played 503 snaps on offense. But this season, Dozier has really been key for the Vikings line, as he has played 227 snaps, 60 [percent] of the offense's total plays.
Dozier, 28, said he had an offer to return to the Jets, and New Orleans wanted him to take a visit, but he felt comfortable with the Vikings and their coaching staff, having previously worked with offensive line coach Rick Dennison, the Jets offensive line coach last year.
"It's good to have that connection. Very glad to still be with [Dennison]," Dozier told Hartman. " 'Rico' is awesome. I feel like he does a really great job explaining the schemes, letting guys understand and learn the plays.
"I really enjoyed the coaching and the man he was," Dozier added. "I had the opportunity to be in the same room with him again, so I said, 'Let's do it.' "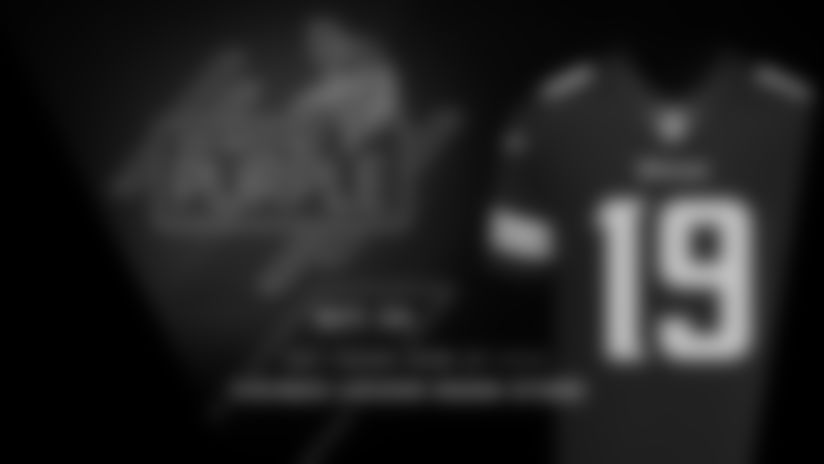 Get Your Primetime Purple Jersey
The Vikings will wear their Primetime Purple jersey, Thursday, Oct. 24 against the Redskins. Visit the Vikings Locker Room Team Store to buy your Primetime Purple jersey today!